State and federal agencies are ramping up their focus on the U.S. opioid misuse epidemic—but public health experts say other drugs are making a resurgence in the United States and require officials' attention.
Your top resources for combatting the opioid epidemic in one place
Keith Humphreys, a professor at Stanford University School of Medicine who advises governments on drug prevention and treatment policies, said, "We have multiple drug problems in the United States," adding, "We need to focus on more than one drug at a time."
In particular, data suggests use of cocaine and methamphetamine—two drugs the United States previously worked to combat—are on the rise, contributing to a significant portion of drug-related overdose deaths. But the uptick in use has gone underreported amid the debate over fentanyl, heroin, and prescription opioids.
Cocaine use on the rise
While a RAND report found that cocaine use fell by 50% between 2006 and 2010, in recent years, the drug has made a comeback. CDC data show from 2010 to 2014 cocaine was among the top three drugs related to drug overdose deaths.
Humphreys noted that opioid misuse and cocaine use can be connected, as purchasing opioids on the illegal drug market presents a pathway to cocaine use.  
But unlike with opioid misuse, the New York Times' "The Upshot" reports, there are few ways to treat cocaine use: There's no medication to ease withdrawal, and it's not typically injected, making common harm-reduction initiatives, such as syringe exchanges, ineffective.
Cognitive behavioral therapy—in which patients learn to recognize and redirect thought patterns that lead to negative behavior—and contingency management—in which patients are rewarded for positive behavior—have shown promise for treating cocaine use, but in order for these approaches to be effective, patients must have access to such treatments, "The Upshot" reports.
Meth use on the rise
Another drug making a comeback in the United States is methamphetamine, the New York Times reports.
Congress in 2005 passed a bill that restricted access to pseudoephedrine, a key ingredient to making meth that is found in many common cold medications. Several states also took action to further restrict access to the drug. However, more than a decade later, experts say meth has come back in a purer, cheaper, and deadlier form: According to the Times, Mexican drug cartels are now making meth out of phenyl-2-propanone, known as P2P, and have swamped the market, causing prices to drop.
Branden Combs, a Portland officer assigned to the street crimes unit, said, "We're seeing a lot of longtime addicts who used crack cocaine switch to meth," adding, "You ask them about it, and they'll say: 'Hey, it's half the price, and it's good quality.'"
According to the Times, CDC data show in 2015 nearly 6,000 people died from stimulant use, with most related to meth, in the United States—up 255% from 2005.
However, as with cocaine, public health experts say the rise in meth use has gone unnoticed amid the opioid misuse epidemic. Experts also say there are fewer ways to combat meth use, and that like cocaine, meth use often can be tied to opioid misuse.
Paul Lewis, the public health officer for the Portland metropolitan area, said, "We need to think about substance abuse much more broadly," adding, "Eighty or 90% of heroin users are also using meth. It deserves more attention" (Frakt, "The Upshot," New York Times, 3/5; Robles, New York Times, 2/13).
Learn more: How to combat the opioid epidemic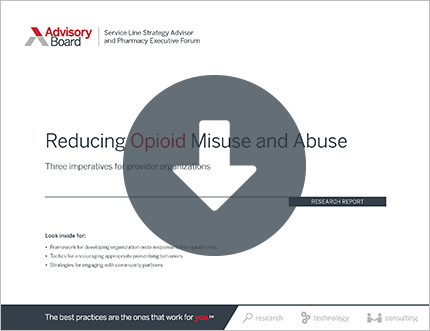 Opioid misuse and abuse is one of the most pressing public health issues in the U.S., and hospitals and health systems are on the front lines. Currently, most health systems focus their opioid management efforts on select medical specialties.
This report outlines three imperatives to guide hospitals and health systems in their efforts to reduce the impact of inappropriate opioid prescribing and misuse.