Amazon in August 2017 quietly began selling its own line of over-the counter health products—a move that some experts say could put pressure on pharmacy retail chains to lower prices, CNBC reports.
Learn more: 4 questions to ask about your retail pharmacy strategy
The news comes amid other moves by Amazon that suggest the company has a growing interest in entering the health care sector. For instance, Amazon last fall said it will use its pharmacy licenses in Tennessee and Indiana to sell medical devices and supplies. In January, the company teamed up with Berkshire Hathaway and JPMorgan Chase to unveil a new health care company for their U.S. employees. In February, news broke that Amazon is looking to expand its medical supplies business and offer health systems a new, simplified purchasing model.
Amazon's OTC line
Amazon's Basic Care line includes 60 products, ranging from ibuprofen to hair regrowth treatment. Amazon does not own the drugs or produce them itself. Instead, the products are produced by Perrigo, a private-label manufacturer.
An Amazon spokesperson said the company "works hard to offer low prices across its entire selection," but declined to disclose specific margins on the products.
According to CNBC, some of the products are priced well below those offered at pharmacy retail chains. For instance, a 500-pill bottle of Basic Care's 200 mg ibuprofen is priced at $6.98, according to CNBC. In comparison, the same dose and quantity costs $12.41 on average across CVS Health, Rite Aid, Walgreens, and Walmart, CNBC reports.
Implications
Amazon's effort could bring about a "price war" and add pressure to store-brand profit margins, CNBC reports.
According to CNBC, private-label consumer health brands draw higher margins than branded alternatives. Stores can price the private-label products close to the branded option, just so long as the non-branded product is priced lower. In this sense, Amazon can turn to its signature move of using "razor-thin profit margins" to keep prices below its competitors' prices, CNBC reports.
Matthew Oster, head of consumer health research at global market research firm Euromonitor International, said, "[H]aving Amazon jump in is not a good sign for existing brands, either branded or private label, because the way Amazon works is its ability to take on unprofitable ventures for a time to see how things go." He added, "And the fact they have a near monopoly in e-commerce gives them a lot of scale that can allow them to undercut price."
But CNBC reports that Amazon's low-pricing strategy is not a death nail for conventional pharmacy retailers. Consumers usually wait until they are sick to buy medicine for their ailments—so a nearby store is still an appealing outlet, according to CNBC.
Danny Silverman—chief marketing officer at Clavis Insight, an e-commerce analytics insight provider—said Basic Care might be well suited to selling products that consumers buy in larger quantities, such as allergy medicine or nicotine gum.
A spokesperson for Amazon said the Basic Care line will not provide Amazon an avenue into prescription drug sales (LeVito, CNBC, 2/20; Paavola, Becker's Hospital Review, 2/21; Helfand, FiercePharma, 2/21). 
Next: 4 questions to ask about your retail pharmacy strategy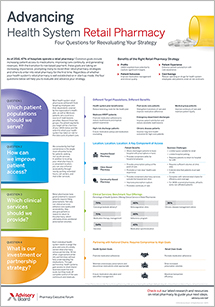 Patient access, care continuity, and revenue goals are more important than ever, and as a result, many hospitals are entering retail pharmacy for the first time or revisiting their retail pharmacy strategies. Here's how to evaluate and advance your strategy, whether it's new or established.
Get the Infographic