As health care organizations become more complex, the CEO role can become more difficult—but a full-time chief of staff can help, Andrew Cox and Andrew Chastain write for Hospitals & Health Networks.
Cox, chief of staff at WellStar Health, and Chastain, an executive search consultant, write that chiefs of staff "are common in the corporate and political worlds, and they can play a critical role in health systems as well." They can fill a range of roles, from serving as an occasional surrogate for the CEO to helping manage the entire executive team, Chastain and Cox explain.
The makings of a good health system chief of staff
The chief of staff role in health care is still taking shape, Chastain and Cox write. They outline four rules of thumb for health system CEOs and boards looking to hire a chief of staff:
Shape the position around the CEO to ensure personal chemistry;
Consider hiring an insider who is already familiar with the organization and its culture;
View the role as a way to support a new CEO's transition; and
Look at candidates from different professional backgrounds.
That said, they note that "each organization must define the role within its operational and strategic needs" and that each senior leader in each organization must design the chief of staff role based on his or her organization's specific needs.
For instance, Chastain and Cox cite one health system that is currently searching for a chief of staff to, among other responsibilities, serve as an advisor and counselor to the CEO, an operational and strategic manager for the executive suite, and an integrator to oversee "cross-functional planning on major initiatives." In addition to those core roles, the health system lists "other assigned duties," such as overseeing staffing and budget issues in the C-suite and supporting process improvement initiatives.
What health care CEOs told us in 2016
Wellstar CEO Candice Saunders said that she initially looked for a chief of staff to help her navigate the transition from her previous role as COO to CEO. WellStar ended up defining the core responsibilities for the chief of staff as being "responsible for the central coordination of activities (operations and planning) and ensuring timely flow of information to and from the executive office."
Saunders said personal chemistry—both with her and other leaders—was also an essential qualification.
"I felt that the person who would fill the role would need to possess the skills to create and sustain productive and honest relationships with the executives, physicians, leaders, and team members across the organization and in the communities we serve," Saunders said.
She added that a chief of staff should also be mission-oriented and "understand that our purpose in health care is to provide the highest quality care to our patients and that all business strategies and decisions ultimately must have a positive impact on the patient and the community."
Chiefs of staff of the future
When asked if the chief of staff role should be formalized throughout the industry, Saunders said, for now, the question "is more an organizational question" that is unique to each health care organization.
But, she added, "as the role grows and becomes more established, I see an opportunity to create a formal network through hospital associations or advisory groups to establish a platform for dialogue and best practices" (Chastain/Cox, Hospitals & Health Networks, 4/20).
12 things CEOs need to know in 2017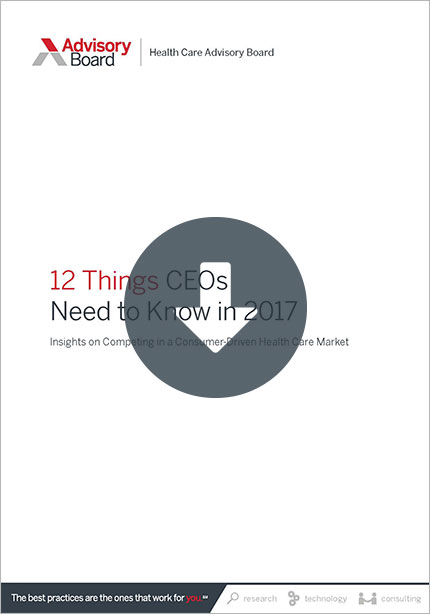 The continued growth of the consumer-driven health care market threatens the durability of patient-provider relationships—and, at the same time, the push toward population health management and risk-based payment is greater than ever.
Hospitals and health systems must adopt a two-pronged strategy to respond to these pressures and serve both public payers and the private sector.
At the core of that strategy? A formula of accessible, reliable, and affordable care that wins consumer preferences and drives loyalty over time. Below, we share 12 key insights for senior executives working to create a consumer-focused health system.