Editor's note: This popular story from the Daily Briefing's archives was republished on Feb. 28, 2019.
Physicians spend much more time entering data than talking directly with patients, according to a study published Tuesday in Annals of Internal Medicine.
Researchers from Dartmouth-Hitchcock health system, the American Medical Association (AMA), Sharp End Advisory, and the Australian Institute of Health Innovation observed 57 U.S. providers who practiced cardiology, family medicine, orthopedics, or internal medicine in four states. They observed the physicians for 430 work hours, and 21 of the providers kept journals to log any after-hours work.
Findings
The study found that physicians spent 27 percent of their office day on direct clinical face time with patients and spent 49.2 percent of their office day on EHRs and other desk work. When in the examination room with patients, physicians spent 52.9 percent of their time directly talking with patients and 37 percent of their time on EHR and other desk work.
Desk work included reviewing test results, logging information, writing medication orders, and other tasks. Just 1 percent of physician time was spent on administrative tasks, such as insurance and scheduling.
The researchers found that physicians spent up to two hours of their personal time every night "catching up" on additional clerical work.
They also found that the physicians who used documentation support engaged in more direct face time with patients than those who did not use documentation support. Based on these findings, the researchers said that increasing physician documentation support, such as through a medical scribe or dictation assistance, could increase time spent on patient care and reduce burdens on providers.
Potential link to burnout
Lead author Christine Sinsky, VP of professional satisfaction at AMA, said, "If we look at the total clinic day, less than a third of that time a physician is actually giving direct patient care," adding that " despite spending half of the work day on EHR/clerical work, physicians are still taking home one to two hours of data entry work at night."
Sinsky also said that increasing documentation burdens could be linked to rising physician burnout rates.
Reaction
In an editorial accompanying the study, Susan Hingle, a professor at Southern Illinois University School of Medicine, wrote, "These data document what physicians have long believed: The work of physicians has changed dramatically in recent years, at least partially due to EHRs."
In a statement, AMA Immediate Past President Steven Stack said, "This study reveals what many physicians are feeling—data entry and administrative tasks are cutting into the doctor-patient time that is central to medicine and a primary reason many of us became physicians."
Meanwhile, athenahealth President and CEO Jonathan Bush wrote in a STAT News opinion piece that the findings "reinforce[e] what we already know too well: the more our country spends on traditional EHR software, the more time providers must spend on them, the more dissatisfied they become, the more frustrated patients feel, and the more expensive health care gets."
"This is a shared problem with more than enough culpability to go around," he added. "Vendors like my company, athenahealth, and others have been required to develop EHRs that satisfy government regulations rather than the needs of providers and patients." Bush suggested that EHRs that run on network-enabled technology offer a better path forward than EHRs that are run on software (Japsen, Forbes, 9/6; Monegain, Healthcare IT News, 9/6; Hall, FierceHealthcare, 9/6; Slabodkin, Health Data Management, 9/7; Bush, STAT News, 9/6).
How to reduce physician burnout during EHR optimization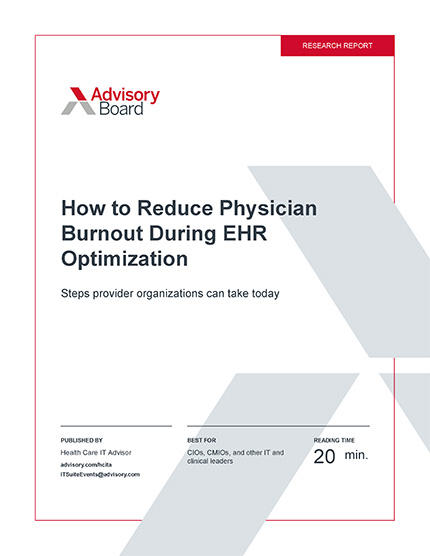 This report examines the root-cause of these challenges using insights from the field of human factors research and explores the steps provider organizations can take to target these usability and safety issues during EHR optimization