IMPORTANT NOTE FOR READERS
July 26, 2013
We are no longer updating this version of the Medicaid map, which tracked each governor's stance on the Medicaid expansion.
Check out our new Medicaid Map
(Beyond the pledges: Where the states stand on Medicaid
), which tracks executive and legislative action taken to achieve—or totally rule out—expansion in each state.
The Supreme Court's ruling on the Affordable Care Act (ACA) allowed states to opt out of the law's Medicaid expansion, leaving each state's decision to participate in the hands of the nation's governors and state leaders.
Based on lawmakers' statements, press releases, and media coverage, the Daily Briefing and American Health Line editorial teams have rounded up where each state currently stands on the expansion.
We will continue to update this map and list as more information becomes available. Send us news, tips, and feedback by commenting below or emailing dailybriefing@advisory.com.
Click to expand.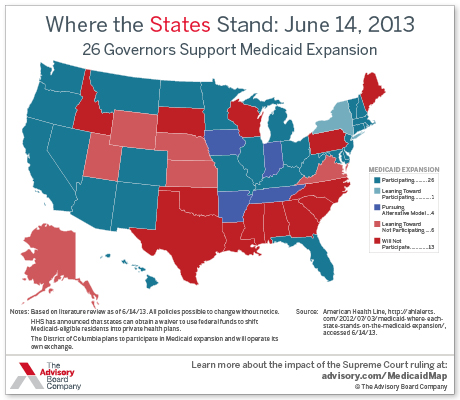 Embed this map on your website
Like this map? Browse our library of popular graphics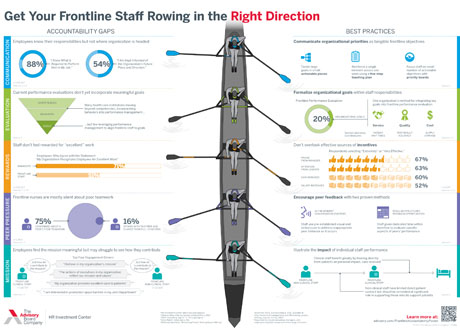 Check out more than 30 other infographics, including:
> Tactics to get your staff rowing in the right direction.
> An interactive map on pay-for-performance programs.
> A look at how your health compares to an Olympian's.
> A field guide to Medicare payment innovations.
A state-by-state look at governors' stances
Text last updated on June 14, 2013. States are categorized based on statements from governors or enacted state laws.
 * indicates a state's participation in the multistate lawsuit against ACA
NOT PARTICIPATING (13 states)
LEANING TOWARD NOT PARTICIPATING (6 states)
LEANING TOWARD PARTICIPATING (1 states)
New York: Gov. Andrew Cuomo (D) in a statement on his website on June 28 said he was "pleased the Supreme Court upheld the [ACA]" and looks forward "to continuing to work together with the Obama administration to ensure accessible, quality care for all New Yorkers." On July 26, Danielle Holahan—project director for New York's health insurance exchange planning—said the state "largely meet[s] the federal required Medicaid levels already." Although Cuomo's office has not officially announced a decision, the Associated Press reported on Nov. 13 that New York will expand Medicaid (Office Gov. Cuomo release, 6/28/12; Grant, North Country Public Radio, 7/27/12).  
PARTICIPATING (26 states and the District of Columbia)
Arizona*: The Arizona Legislature on June 13 approved a fiscal year 2013-2014 budget blueprint that includes a plan to expand the state's Medicaid program under the Affordable Care Act. Gov. Jan Brewer (R)—who in January announced her support for the expansion, which would extend Medicaid coverage to about 300,000 additional state residents—is expected to the sign the budget measure (Viebeck, "Healthwatch," The Hill, 6/13; Schwartz, Reuters, 6/13/13; Christie/Silva, AP/Yahoo! News, 6/14/13).
California: Gov. Jerry Brown (D) in a statement on June 28 said the Supreme Court's ruling "removes the last roadblock to fulfilling President Obama's historic plan to bring health care to millions of uninsured citizens." California got a head start on expanding its Medicaid program in November 2010 with its "Bridge to Reform" program, which aimed to bring at least two million uninsured Californians into Medicaid (Office of Gov. Brown release, 6/28/12; DeBord, "KPCC News," KPCC, 6/28/12).
Colorado*: Gov. John Hickenlooper (D) on Jan. 3 announced that his state will participate in the expansion. In a news release, his office said the move would extend Medicaid coverage to about 160,000 low-income residents and save Colorado an estimated $280 million over 10 years without affecting the state's general fund (Stokols, KDVR, 1/3/13; Wyatt, AP/Denver Post, 1/3/13).
Connecticut: Gov. Dannel Malloy (D) was among the first governors to sign up for the Medicaid expansion after the ACA was enacted in March 2010. Soon after the Supreme Court ruling on June 28, Malloy said "it's great … [and a] very important decision for the people of Connecticut. 500,000 people would have lost coverage if Republicans had their way" (Davis, WTNH, 6/28/12).
Delaware: Gov. Jack Markell (D) in a statement on June 28 said, "The Supreme Court's ruling enables Delaware to continue to implement provisions of the Patient Protection and Affordable Care Act to provide access to health care benefits for Delawareans." He added, "On the Medicaid front, Delaware already voluntarily expanded the state's Medicaid coverage program in 1996 to cover many Delawareans not previously covered" (Office of Gov. Markell release, 6/28/12).
District of Columbia: D.C. Mayor Vincent Gray (D) in a statement on June 28 said, "The District is not at risk of losing any Medicaid funding as a result of this ruling, because District officials have already begun implementation of the ACA's Medicaid-expansion provisions and will continue to implement the expansion" (Executive Office of the Mayor release, 6/28/12).
Florida*: Gov. Rick Scott (R) on Feb. 20 announced that the state will participate in the ACA's Medicaid expansion, citing HHS's conditional support for a waiver to shift most of the state's Medicaid beneficiaries into a managed-care program. However, Scott said that Florida would only participate in the expansion for three years before reevaluating the decision. Supporters of the ACA heralded Florida's shift as a major reversal; Scott mounted his successful campaign for governor in 2010, in part, by being one of the nation's foremost critics of President Obama's planned health reforms (Kennedy/Fineout, Associated Press, 2/20; Office of Gov. Scott release, 2/20/13).
Hawaii: Gov. Neil Abercrombie (D) in a statement on June 28 welcomed the Supreme Court's ruling and said the ACA "is our ally" in the effort to "support a health care system that ensures high quality, safety and sustainable costs." Pat McManaman, director of the state Department of Human Services, said Hawaii's Medicaid eligibility requirements in July would fall in line with the law' guidelines, meaning an additional 24,000 people will be eligible for the program by 2014 (Office of Gov. Abercrombie release, 6/28/12).
Illinois: Gov. Pat Quinn (D) on June 28 praised the court's decision and said he "will continue to work with President Obama to help working families get the healthcare coverage they need," including expanding Medicaid (Office of the Governor release, 6/28; Thomason, Rock River Times, 7/3/12; Ehley, Fiscal Times, 8/20/12).
Kentucky: Gov. Steve Beshear (D) on May 9 announced that Kentucky will participate in the Medicaid expansion. He called the decision "the single-most important decision in our lifetime for improving the health of Kentuckians" (Halladay, Louisville Courier-Journal, 5/9/13).
Maryland: Gov. Martin O'Malley (D) in a statement on June 28 said the Supreme Court's decision "gives considerable momentum to our health care reform efforts here in Maryland," adding that the state will move forward to implement the overhaul (Office of the Governor release, 6/28/12).
Massachusetts: Gov. Deval Patrick (D) in late June said Massachusetts is "an early expansion state as you know and we're expecting further resources from the federal government to sustain the experiment here in Massachusetts." Patrick called the ruling "good news for us" (Walker, YNN, 6/28/12).
Michigan*: Gov. Rick Snyder (R), in a statement released on Feb. 6, announced that his fiscal year 2014 budget proposal includes a plan to expand the state's Medicaid program under the Affordable Care Act. The plan would extend Medicaid benefits to about 320,000 eligible residents. Snyder said the plan contains safeguards that will ensure the financial stability of the program and protect against changes in the government's financial commitment to the expansion (Office of Gov. Snyder release, 2/6/13).
Minnesota: Gov. Mark Dayton (D) said in a statement on June 28, 2012, said, "Today's ruling will be met with relief by the Minnesotans whose lives have already been improved by this law." On Feb. 19, 2013, Dayton signed a bill authorizing expansion the state (AP/KARE 11, 2/19/13).
Missouri: Gov. Jay Nixon (D) on Nov. 29 announced that Missouri will participate in the Medicaid expansion. Nixon said he will include the expansion in the state budget proposal he submits to lawmakers. "We're not going to let politics get in the way of doing the best thing for our state," he said (Crisp, "Political Fix," St. Louis Post-Dispatch, 11/29/12).
Montana: Gov. Steve Bullock (D) in January 2013 said he planned to expand Medicaid in Montana. However, the state Legislature defeated all bills that would expand the state health care program in 2013. On the last day of the legislative session, Bullock said, "Let me be clear, we will reform healthcare in Montana. We will do it with or without the Legislature's help" (Johnson, Billings Gazette, 1/5/13; KXLH, 5/2/13).
Nevada*: Gov. Brian Sandoval (R) on Dec. 11 announced that the state will participate in the Medicaid expansion. "Though I have never liked the Affordable Care Act because of the individual mandate it places on citizens, the increased burden on businesses and concerns about access to health care, the law has been upheld by the Supreme Court," Sandoval said in a statement, adding, "As such, I am forced to accept it as today's reality and I have decided to expand Nevada's Medicaid coverage" (Damon, Las Vegas Sun, 12/11/12).
New Jersey: Gov. Chris Christie (R) in his Feb. 26 budget address announced that New Jersey will participate in the Medicaid expansion. The ACA provision is expected to extended Medicaid coverage to about 300,000 uninsured New Jersey residents (Cheney, Politico, 2/26/13).  
New Hampshire: Gov. Maggie Hassan (D) in her Feb. 14 budget address said that New Hampshire will opt into the ACA's Medicaid expansion because "it's a good deal...[that will] allow us to save money in existing state programs, while increasing state revenues." A state report estimates that the expansion will cost New Hampshire about $85 million through 2020, but will bring in $2.5 billion in federal funds and help reduce the number of uninsured residents from roughly 170,000 to 71,000 (Ramer, AP/Seacoastonline.com, 2/14)
New Mexico: Gov. Susana Martinez (R) on Jan. 9 announced that her state will participate in the Medicaid expansion, which potentially could extend health coverage to nearly 170,000 additional low-income uninsured residents. Martinez noted that contingency measures will be established if federal funding for the expansion diminishes, which would mean scaling back the expansion by dropping newly covered beneficiaries from the Medicaid rolls (Schirtzinger, Santa Fe Reporter, 1/9/13; Reichbach, New Mexico Telegram, 1/9/13).
North Dakota*: Gov. Jack Dalrymple (R) in January said the politics associated with the ACA should not prevent North Dakota from participating in the Medicaid expansion. In April 2013, he signed a legislation that expanded Medicaid in the state (AP/Prairie Business Magazine, 4/16/13).
Ohio*: Gov. John Kasich (R) on Feb. 4 announced that the state will be participating in the Medicaid expansion, the Cleveland Plain Dealer reports. He made the announcement in his two-year budget announcement, but warned that Ohio would "reverse this decision" if the federal government does not provide the funds it has pledged to the expansion (Tribble, Cleveland Plain Dealer, 2/4/13).
Oregon: Gov. John Kitzhaber (D) said on June 28 that he is confident that the Oregon Legislature will approve a state Medicaid decision. In an interview with the Oregonian just hours after the Supreme Court issued its ruling on the ACA, Kitzhaber said, "We'll make a decision on whether or not to expand the Medicaid program really based on, I think, the resources we have available in the general fund for that purpose going forward" (Budnick, Oregonian, 6/28/12).
Rhode Island: Gov. Lincoln Chaffee (I) in a statement on his website on June 28 said, "I have fully committed to ensuring Rhode Island is a national leader in implementing health reform whatever the Supreme Court decision, and this just reinforces that commitment." According to Steven Costantino, the state's secretary of health and human services, "The expansion is easy to do and makes sense." Moreover, on July 12, USA Today reported that Chaffee planned to participate in the expansion (Chaffee statement, 6/28/12; Wolf, USA Today, 7/12/12; Radnofsky et al., Wall Street Journal, 7/2/12).
Vermont: Gov. Peter Shumlin (D) on June 28 said Vermont's Medicaid program already meets the requirements under the health reform law's Medicaid expansion (Steimle, WCAX, 7/1/12).
Washington*: In an email responding to a query by American Health Line, Karina Shagren—a deputy communications director in Gov. Chris Gregoire's (D) administration—in early July said "the governor supports the Medicaid expansion—and Washington will move forward." U.S. Rep. Jay Inslee (D)—who supports the expansion—was elected governor on Nov. 6 (Shagren email, 7/5/12; Washington Secretary of State website, 11/12/12).
West Vir