Volumes approached or exceeded pre-Covid-19 levels in 2021
Health system volume performance improved across all categories of volumes in 2021 compared to 2020. Compared to pre-Covid-19 volumes, emergency department visits, inpatient admissions, and inpatient surgeries remained suppressed, but providers observed strong return of demand during the second half of 2021. 
In the outpatient setting, non-hospital-based surgeries recovered stronger than hospital-based surgeries. Outpatient office visit utilization was a mixed bag, with variable performance based on a practice's staffing levels, throughput, and embrace of telehealth. 
Estimated health system volume performance in 2021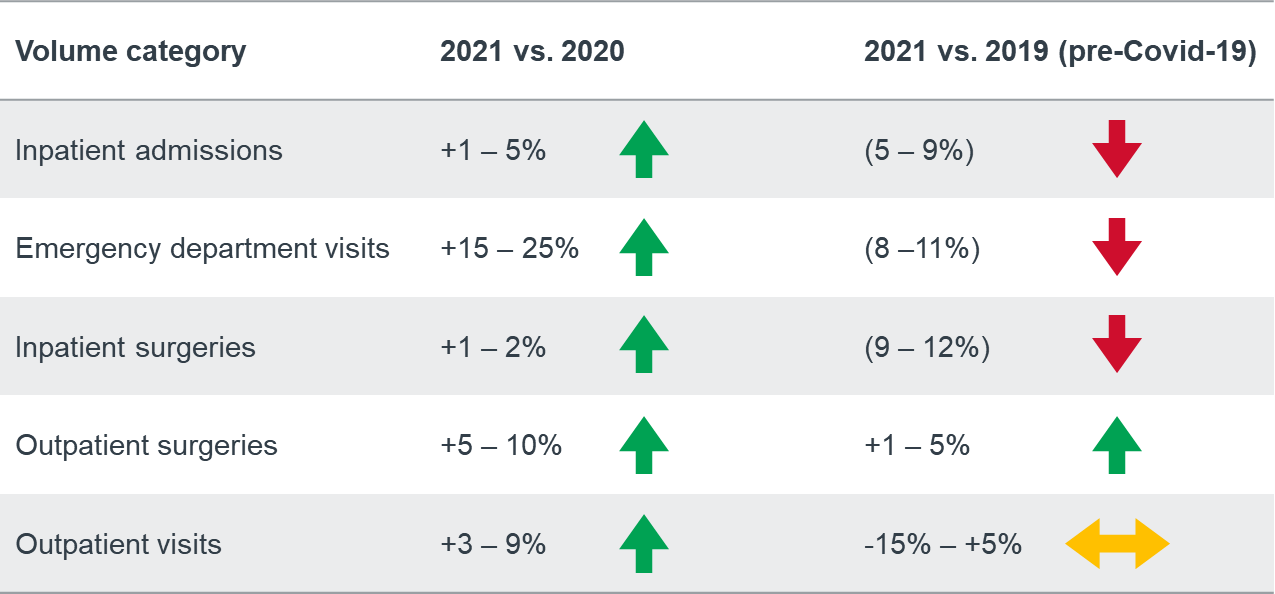 End-of-year challenges remained
Despite positive volume trends, providers faced end-of-year challenges headed into 2022—even without omicron. Margins were thin due to heightened costs from premium labor, wage pressures, and supply price growth. Patients were presenting with more complex needs due to delayed care earlier in the pandemic. And finally, the complexity of patients along with persistent Covid-19 Delta admissions and post-acute care bottlenecks were leading to prolonged lengths of stay in inpatient units.
Omicron wave presents new challenges across volume categories
Emergency department volumes
Unlike in 2020 when ED volumes were consistently down 20-30%, we expect omicron to cause prolonged volume increases. Overall, patients are not avoiding the ED to the extent that they were early in the pandemic and in areas with omicron surges, masses of patients are seeking out the ED for testing. This may crowd out non-Covid-19 patients who potentially have higher priority needs.
Many hospitals are also feeling acute staffing pressures in the emergency department as staff call out sick. On top of staffing issues, there are backlogs of patients who are ready to be transferred to new points of care but have to wait days because many insurers are no longer waiving insurance authorizations.
Verdict: Expect prolonged increases in ED volumes during this wave compared to past waves as Covid-19 patients and non-Covid-19 patients alike seek out the ED for tests and access to providers (who are already stretched thin.) After the omicron wave subsides, ED diversion tactics such as virtual triage and walk-in appointment availability will, once again, put downward pressure on volumes.
Inpatient admissions
Covid-19 patients, which hospitals will admit in record numbers, will crowd out a portion of inpatient admissions for non-Covid-19 patients. Many hospitalizations will show up as incidental and breakthrough cases. Predicting surge capacity will be difficult due to the widening use of at-home tests which aren't automatically reported to local public health agencies. On top of this, omicron's simultaneous assault on multiple parts of the country will challenge organizations' ability to find travel nursing support, limiting surge capacity.
There are some bright spots for inpatient admissions though: according to new research, omicron produces a 70% shorter length of stay then Delta and requires less ventilators than past waves. Because omicron causes less severe illness, it will be medsurg units, rather than ICU units, where demand is greatest.
Verdict: Although the hospitalization rate and length of stay for omicron cases is lower, the sheer volume of infections, post-acute discharge delays, and rising staff shortages will strain inpatient capacity as much or more than previous waves. This may require providers to postpone or divert non-urgent volume from the hospital setting.
Surgical volumes
Health systems in nearly half of U.S. states have announced postponement of hospital-based elective surgeries out of necessity due to staff shortages and infections. Some organizations have even postponed surgeries at ambulatory surgical centers to divert much needed staff to hospital sites—but this action seems specific to hot spots.
In a recent survey, 73% of hospital executives reported that outpatient surgery is being performed without disruptions, delays, or cancellations. Instead, inpatient surgeries, especially elective surgeries in orthopedics and general surgery service lines are the most likely to be postponed.
Verdict: Expect a slight dip in elective surgery volume for three to four weeks—especially in the inpatient space—but not as severe a decline compared to previous waves.
Outpatient visits
Early in the pandemic, outpatient office visits declined dramatically due to office closures, stay-at-home orders, and patient avoidance of health care settings. This time around, we again expect volumes to be suppressed, but it will instead be due to patient and staff illness.
With omicron averaging 700,000 new daily infections each day (and other illnesses circulating), many patients will need to reschedule their appointments. Staff testing positive will limit capacity as well.
Verdict: Anticipate a slight decline in outpatient office volume corresponding to levels of community transmission with a sharp return when the omicron wave is on the decline.
Conclusion
Omicron presents significant new challenges for the provider workforce, but we do not expect the same level of non-Covid-19 volume suppression to occur during this wave compared to the initial waves. Even so, volume expectations for 2022 should be tempered and recovery of non-Covid-19 volumes will likely experience a two-month delay, in the best-case scenario.