The Covid-19 pandemic changed patient behavior, cancelled elective procedures, shifted care between settings, and restricted the pipeline for hospital care. While we knew that these factors drove down hospital volumes in aggregate, recent access to 2020 Medicare data allowed us to explore how volumes were impacted across various service lines.
Specifically, we were able to use Medicare fee-for-service facility claims data from the peak of the pandemic—Q2 and Q3 of 2020—to compare hospital volumes with the same time period in previous years. Here's what we found.
1. Hospital volumes dropped by a fifth
Inpatient volumes fell by 22% from 5.0M cases in Q2-Q3 2019 to only 3.9M in 2020.1 That's equivalent to about $6.7B in foregone Medicare revenue. Outpatient volumes fell 20% from 87.9M to 70.5M, translating into about $4.7B in foregone Medicare revenue.2
As expected, we saw the biggest volume declines in service lines with a high proportion of elective procedures, like orthopedics or ENT, or those with a high proportion of inpatient admissions from the ED, like cardiac services. We saw smaller volume drops in service lines comprised chiefly of plannable procedures for urgent, lifesaving care: inpatient neurosurgery dropped 15%, and outpatient oncology only 8%.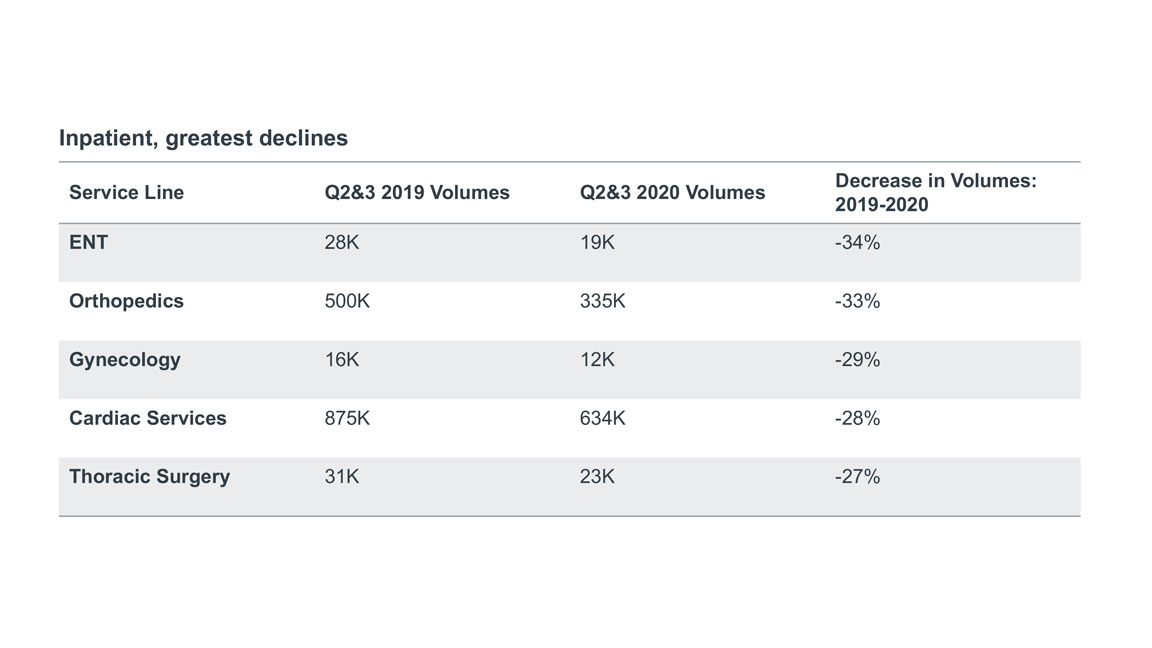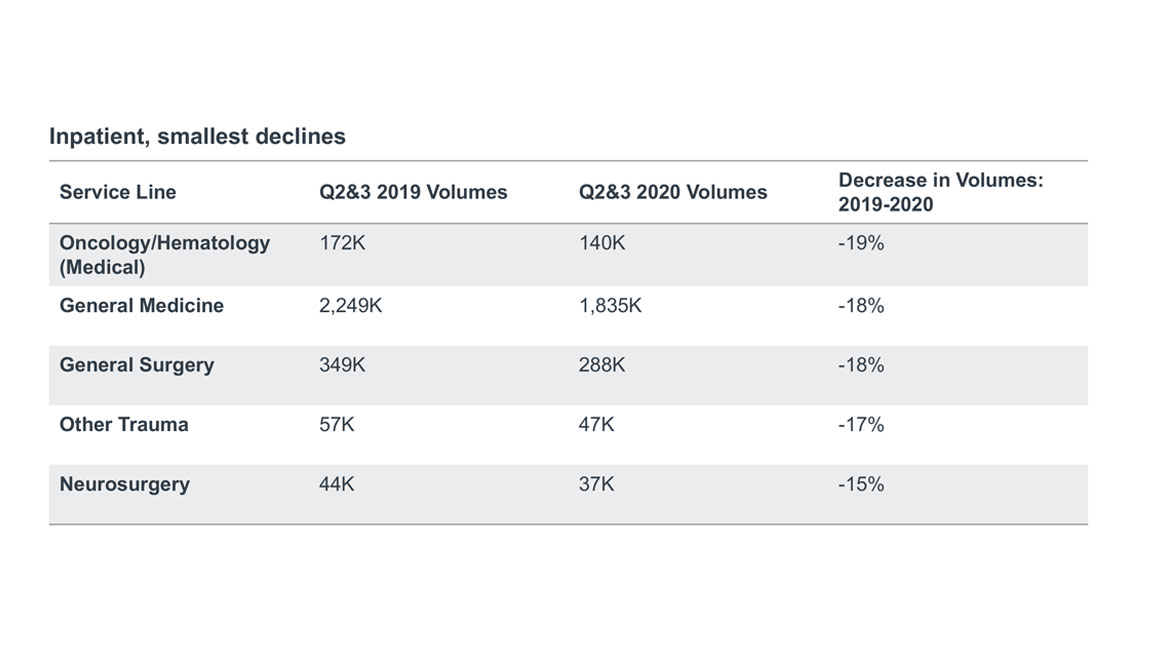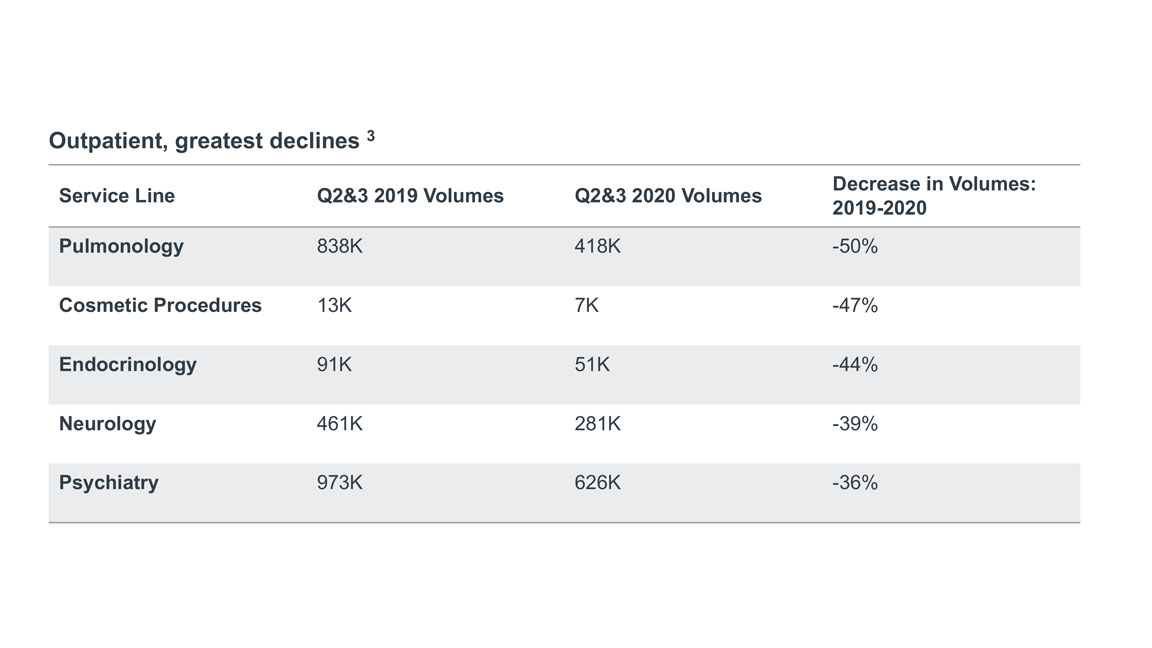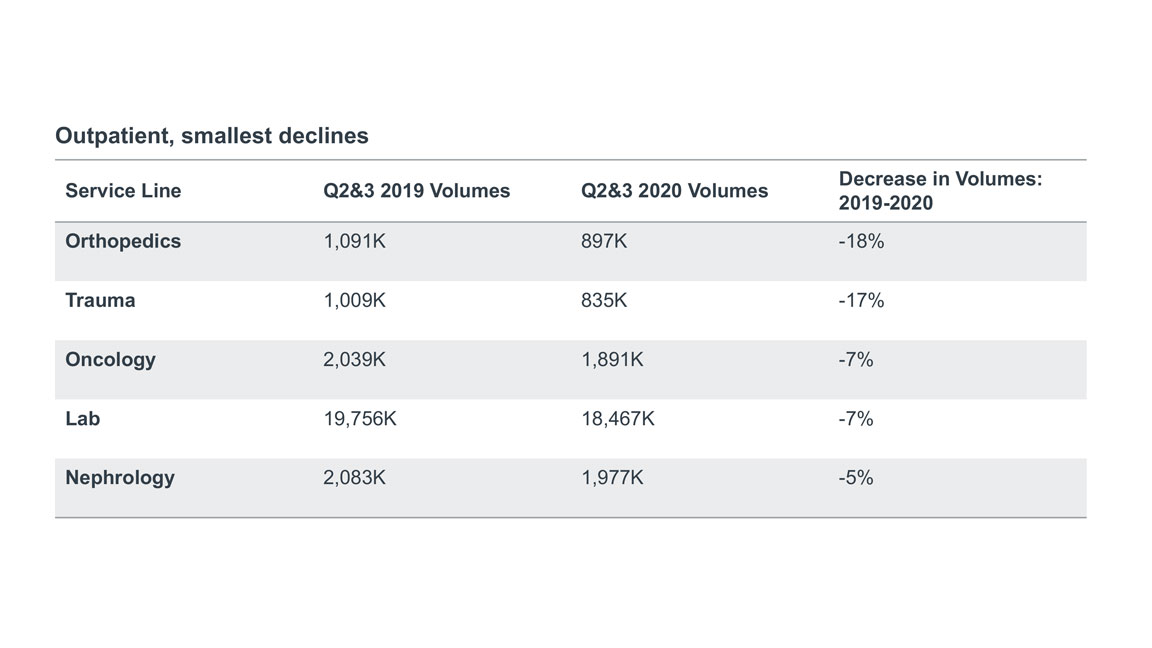 We expect that in some service lines, a large proportion of inpatient volumes shifted to the outpatient setting during the pandemic. For example, orthopedics saw the second-largest volume drop on the inpatient side, but the second-smallest on the outpatient side.
2. Patient complexity grew—but not as much as expected
We then layered patient Hierarchical Condition Category (HCC) scores into the analysis.4 That gave us a sense of average patient complexity for patients admitted to the hospital. We excluded patients with Covid-19 for these analyses to make sure we were looking at comparable populations across years.
We found that the average HCC of admitted Medicare fee-for-service patients rose from 3.25 in 2019 to 3.34 in 2020, indicating that hospitalized patients were on average more complex than before. That seems to confirm many of the assumptions we heard and made ourselves during the pandemic: only the most complex patients, who are truly in need of hospital care, would go to the hospital.
When we looked farther back to contextualize the trend, we found that the average HCC score in the same period for 2018 was 3.18, meaning that average HCCs increased by 0.07 in 2019, and then increased further by 0.09 in 2020. Although the slight increase in average patient complexity is not a dramatic departure from the historical trend, we did see in Q2&3 2020 that the clinical risk components to the HCC risk scores had an outsized impact on this average. We've long argued that hospitalized patients are growing more comorbid and it seems like Covid-19 may have accelerated that trend.
Focus recovery efforts at more elective, pipeline-driven service lines
As you think about volume recovery from the last year, focus on service lines with the biggest recoverable dips: those with high proportions of elective procedures with a long upstream pipeline before procedural care, like orthopedics. Service lines with more emergent volumes, like cardiovascular, are unlikely to offer significant volume recovery opportunity—although those patients may need care for more advanced conditions this year.
Stay tuned to the Advisory Board blog for more insights from our analysis of claims data from the pandemic and what it means for you! Still to come: which procedures defied expectations and grew despite the pandemic, how patient behavior might continue to shape utilization in the year to come, and what 2020 Q4 data tells us about future prospects for volume recovery.
---
Notes:
[1] Our analysis included only short-term acute care and critical access hospitals, excluding long-term acute care facilities and inpatient rehabilitation facilities.
[2] We defined outpatient to include hospital outpatient department facility claims.
[3] Outpatient service line definitions are based on the Advisory Board's proprietary outpatient grouping algorithm which organizes patient visits based on the primary service received. These primary service groups can then be assigned to service line hierarchies that mimic the inpatient MS-DRG system.
[4] CMS uses Hierarchical Condition Category (HCC) coding to measure patient risk. A higher HCC score indicates higher risk for health care utilization and cost. Advisory Board has replicated CMS's HCC score methodology and applied it to our Medicare FFS claims to approximate patient risk. These HCC scores can account for factors not captured with a diagnosis or procedure including comorbidities, demographic factors, and disease interaction effects.