Clinicians can use motivational interviewing to better understand and tap into patients' motivation to change—and help them stick to their care plans.
The physician executive's guide to patient-centered communication
What is motivational interviewing?
Assumptions providers make about their patients' motivations, desires, knowledge, and needs can unknowingly drive the way that they communicate with them. Motivational interviewing is a technique that can help providers navigate underlying biases by centering conversations around patients and their lived experiences.
When it comes to motivational interviewing, the patient is the expert. Rather than instructing the patient on "to-dos," the technique focuses on building a mutual understanding between the patient and clinician by leading with non-judgmental questions. Through motivational interviewing, clinicians can develop a stronger rapport with patients, better understand their concerns and goals, and address barriers to their engagement. And the impact of the practice isn't just theoretical—motivational interviewing has measurable positive outcomes, particularly when it's used for weight loss, blood pressure, and substance abuse interventions.
How to engage patients through motivational interviewing
OARS is a frequently used framework for engaging patients through motivational interviewing. It's an acronym for four key interviewing skills: asking open questions, reinforcing responses with affirmations, practicing reflective listening, and summarizing patients' perspectives.
For example, instead of saying, "You really need to quit smoking," a clinician using the OARS framework might say, "It sounds like there are some barriers in your life that are preventing you from quitting." This shift in language creates space for the clinician and patient to talk through barriers to care and ensure the patient feels heard. By using OARS, clinicians can better empathize with the patients' perspectives and choices.
The OARS framework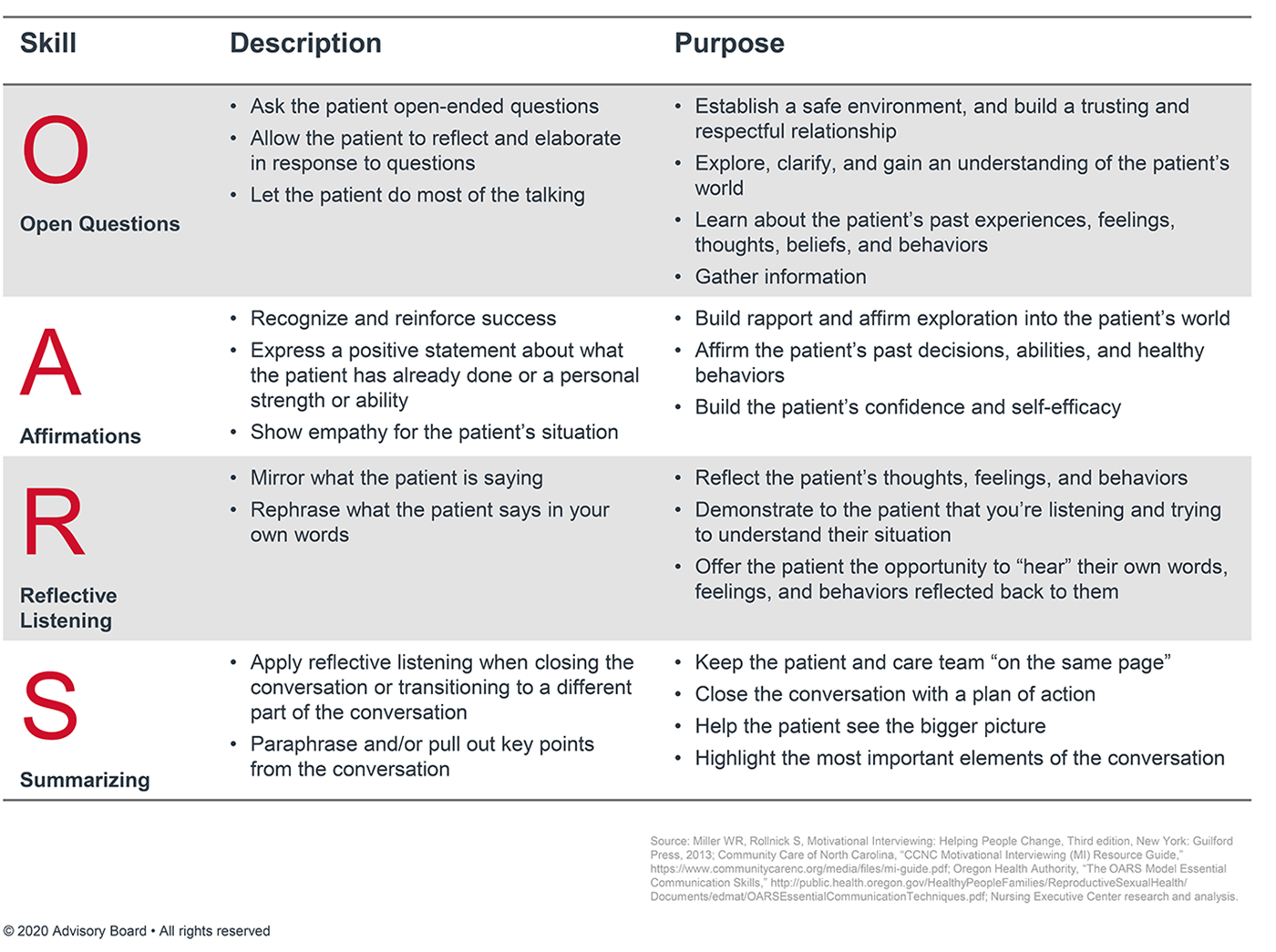 How to embed motivational interviewing at your organization
Motivational interviewing may be a new or different approach for some clinicians, so leaders play an important role in sharing information about the approach and creating opportunities for them to practice. Below are resources to make the OARS framework a part of frontline clinicians' daily practice.
1. Cheat sheet and sample scripting to introduce (or recap) motivational interviewing
The first step to embedding OARS is making sure everyone has a baseline understanding of the practice. To ensure everyone's up to date, consider holding a brief session or using part of an existing meeting to introduce (or—for those who are already familiar with the practice—recap) the concept and underscore its benefits for patients. You can circulate our cheat sheet with frontline clinicians to familiarize them with the approach and give tactical examples of what OARS looks like in practice with our sample scripting guide.
2. Role-playing workshop for OARS
To help clinicians get more comfortable with the OARS framework, it's important to create opportunities for skill-building. Use our workshop materials to create a space where clinicians can build confidence with an open and empathetic communication style. Each participant will role-play as a clinician, patient, and observer during the session. After two to three rounds of role-playing, reconvene the group to discuss how the activity went and any difficulties the participants faced.