Creating a career path for physician assistants
In response to physician assistants (PAs) taking on increasing responsibilities outside of their clinical work, Brigham and Women's Hospital created a robust PA career ladder. Currently, PAs can progress through seven distinct levels, as outlined in the graph below.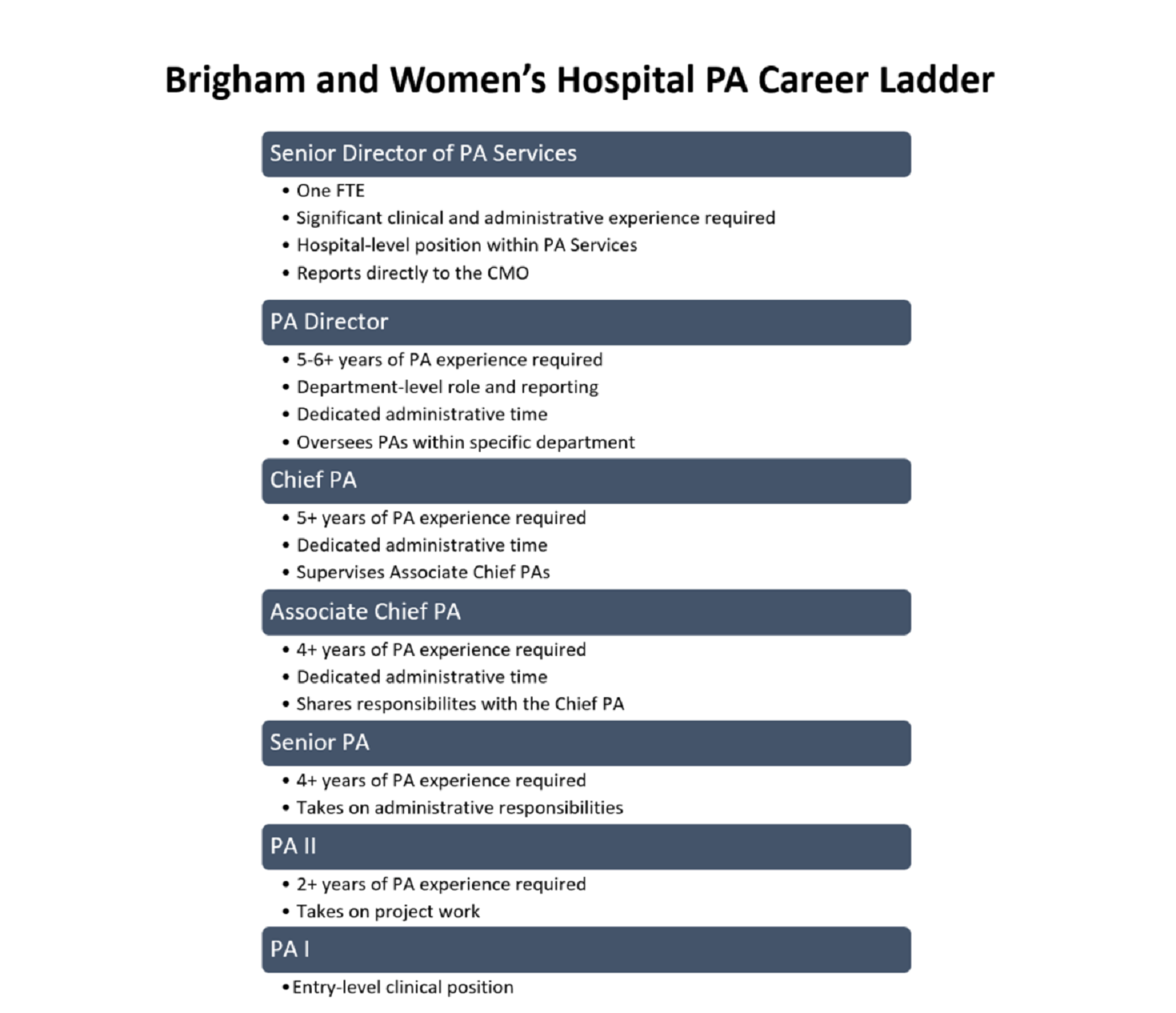 Recent graduates without prior work experience are hired as a PA I, or entry-level PA. PAs at this level focus exclusively on clinical practice.
After two years of PA experience—either internal or external—PAs can be promoted by their division/department to a PA II, as long as they are in good clinical standing. In this role, PAs take on department-level project work in addition to their clinical responsibilities. For example, PA IIs might create an EPIC template or develop a PA onboarding program for their department.
After four years of clinical experience, PAs are eligible to apply for a Senior PA role. Senior PAs take on some management and administrative responsibilities, although they do not yet have protected administrative time. These responsibilities include: running department-level PA onboarding, overseeing PA rotations, and representing their department at leadership meetings. Brigham and Women's intentionally does not call this a position "PA III" as it requires an application (in contrast to the in-line promotion from PA I to PAII).
Each department has a Chief PA, who oversees the PA Is, IIs, and Senior PAs in addition to their clinical responsibilities. The larger clinical departments may also have an Associate Chief PA, who shares responsibilities with and reports directly to their department's Chief PA. Chief PA responsibilities include: recruiting, hiring, and onboarding new hires; scheduling; conducting performance evaluations and delivering feedback; precepting PA students on rotation; and ensuring state and hospital compliance with laws governing PA scope of practice. This role has a minimum of four hours of administrative time built in, although the exact breakdown of clinical versus administrative time varies depending on the size of the department's PA group.
PA Directors oversee PAs across an entire department, serving as liaison between Chief PAs, department leadership, and the Senior Director of PA Services, who reports directly to the CMO.
How Brigham and Women's model helps retain PAs
Many of our members struggle to retain APPs in the inpatient space for a variety of reasons. First, there often aren't enough growth opportunities specifically designed for APPs. Second, the inpatient schedule can be demanding and less flexible than the ambulatory setting. Third, the culture at many hospitals has not yet fully embraced APPs to allow them to provide care at the top of their license. Brigham and Women's model counteracts these challenges by giving PAs legitimacy and providing a defined path for growth so they can envision themselves there for the long-term.
What's next?  
In the coming years, Brigham and Women's also plans to explore additional opportunities to grow their PAs outside of the PA-specific career path. For example, the organization hopes to see more PAs take on hospital leadership positions, such as Director of Operations and Medical Director.
Learn more: Get the full value from your APPs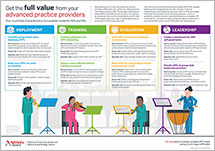 A scalable APP model has four components. Each component plays a critical role in ensuring the harmonious use of APPs within your medical group. Download our new infographic to learn the four must-have characteristics of a scalable model for NPs and PAs.