15 things CEOs need to know in 2019
In this year's survey, we asked respondents to rate 29 issues on a scale of "A" to "F," with "A" indicating the greatest interest in learning more from Advisory Board researchers about the topic. The top-ranked areas for the 90 hospital and health system C-suite executives who responded to our 2019 survey were:
Re-igniting the growth engine: 3-part report series
Improving ambulatory access (57.0% ranked "A");


Minimizing unwarranted clinical variation (53.2% ranked "A");


Strengthening primary care alignment (52.6% ranked "A");


Redesigning health system services for population health (51.9% ranked "A"); and


Innovative approaches to expense reduction (51.3% ranked "A").
After reviewing the detailed results from this year's survey, we observed four key takeaways driving hospitals' and health systems' C-suite agenda right now:
1. Margin pressures are not relenting, but executives' top priority has shifted from cost control to revenue growth.
For the past two years, C-suite executives have consistently rated margin management as their top strategic priority. This focus reflects the dire financial reality facing many hospitals and health systems today. In 2017, median operating margins among nonprofit hospitals hit an all-time low of 1.6%, after operating expense growth outpaced operating revenue growth for two consecutive years.
Moody's U.S. nonprofit hospital preliminary medians for fiscal year 2018 suggest that health systems are starting to show signs of financial stability, with operating margins holding steady as the growth of revenues and expenses converged last year. However, margins remain razor thin due to sustained downward pressure on revenue growth and declining patient volumes, especially as more patients receive care in the outpatient setting. While cost containment remains a major strategic priority, executives have shifted more of their focus to strategies designed to bolster revenue growth moving forward.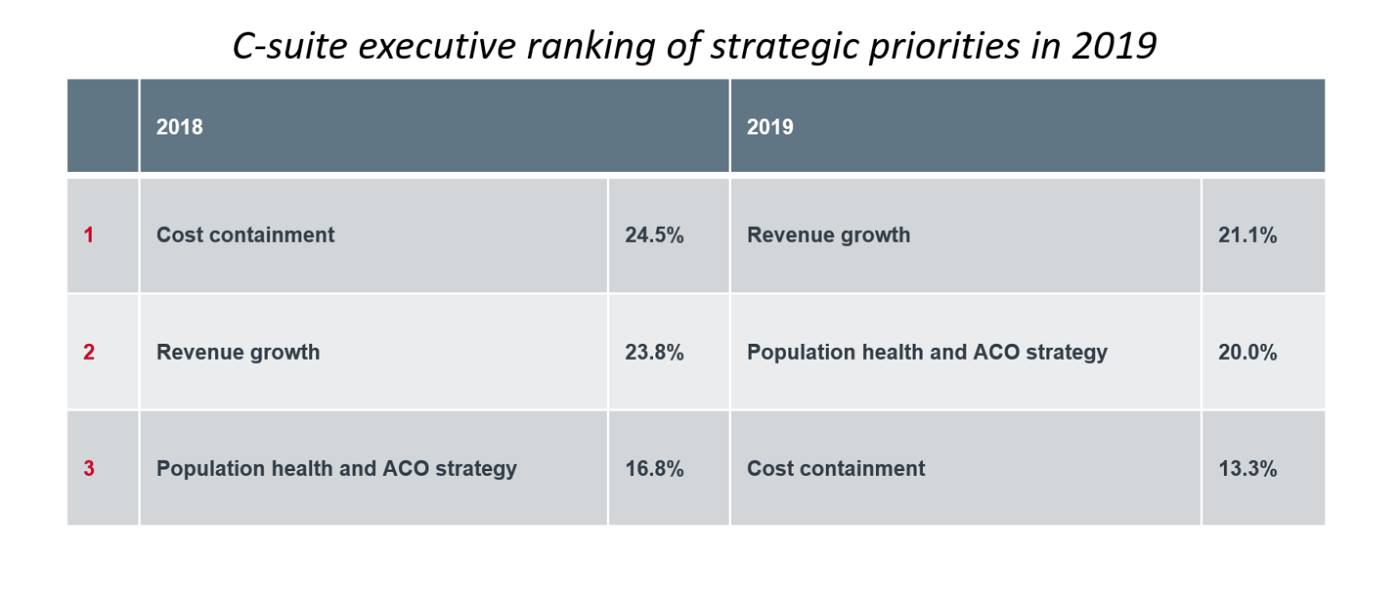 2. Executives are looking beyond the hospital to capture new revenue growth.
In contrast to previous periods of margin pressure, structural shifts within the industry—rather than temporary declines in the overall economy—are driving today's revenue challenges. As a result, hospitals and health systems are seeking new strategies for capturing revenue growth. "Increasing ambulatory access" and "strengthening primary care alignment" were among the highest-scoring topics on this year's survey; both topics also experienced a notable increase in interest relative to 2018. Interest in growing the outpatient procedural book of business remained steady. Overall, executives remain hyper-focused on ambulatory growth, with a particular interest in moving upstream and capturing revenue from access and primary-care focused strategies.

Different types of organizations are embracing different strategies for growing revenue. While all respondents expressed strong interest in improving ambulatory access, leaders from larger health system also indicate intentions to explore diversified revenue streams.

3. Physicians will be critical to margin management efforts across the board.
In 2018, when executives were laser-focused on cost control, executives' interest in physician-related topics dropped. This year, however, leaders are highlighting physicians' integral role in both revenue growth and cost control, and physician-related issues returned as a leading priority. Physician-related topics scored even higher among CEOs than other C-suite respondents, indicating a strong likelihood that hospitals and health systems will place more time and effort on physician partnership to advance margin goals. However, strengthening ties with physicians could be increasingly difficult for hospitals and health systems. Private equity firms, health plans, retailers, and technology companies are all vying with hospitals and health systems for physician talent and are fueling unprecedented competition in the market for physician partners.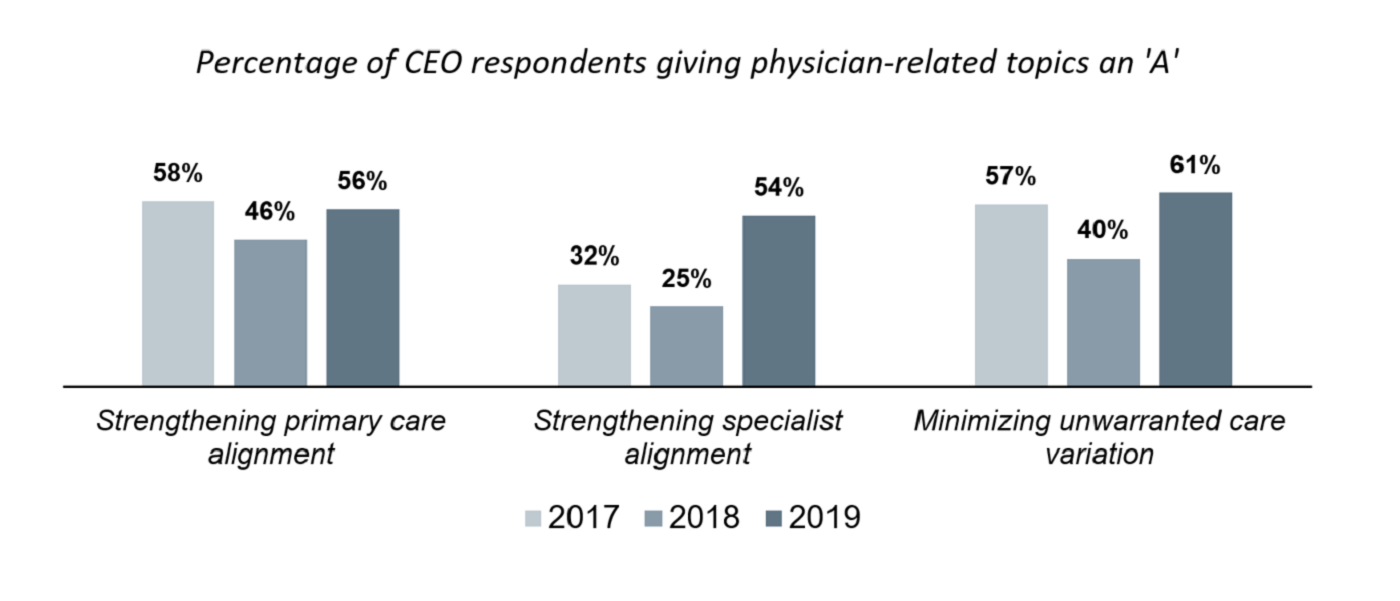 4. Innovation is becoming a key response to industry disruption.
In addition to the C-suite, our survey also polls broader hospital and health system administrators. This year, the highest-ranked topic across all respondent groups was "hardwiring innovation into planning, improvement, and staff culture," with 51% of the 330 respondents ranking it an "A." This same topic was ranked number eight on the list in 2018.
The rising interest in innovation demonstrates hospitals' and health systems' reaction to intensifying financial pressures and competition from new entrants to the health care market—especially Silicon Valley, big tech companies, and private equity firms—and the need to evolve quickly in an industry facing disruption.
Editor's note: For additional insights from our team, read Rob Lazerow's interview with Modern Healthcare.