In the dynamic value-based landscape, PAC performance increasingly impacts hospital financial success. That, coupled with the significant variability in post-acute quality and cost, has driven hospitals to form narrow networks with the highest-quality PAC providers. But we know maximizing them is easier said than done. We frequently get questions about the "how to's" of collaborating effectively with their PAC partners and influencing patient choice toward in-network PAC providers.
To understand how providers can overcome these challenges and better position their organization to succeed under risk, we sat down with Advisory Board's post-acute care expert Monica Westhead.
Question: What barriers often impede seamless collaboration between acute and PAC providers?
Monica Westhead: Progressive health systems' success under value-based care depends on how effectively post-acute providers are able to improve quality and reduce costs—even though most post-acute providers still operate under fee-for-service. To ensure both providers' needs are met, acute and post-acute providers must collaborate to ensure PACs have support for the operational changes that will help health systems meet their population health goals.
Q: How do providers currently address this misalignment?
Westhead: Hospitals form preferred networks of high-performing post-acute partners to improve PAC performance related to patient outcomes, costs, and experience. Some advanced organizations have considered further integration by sharing financial accountability for quality and cost outcomes through risk-based contracts.
However, PAC networks fall short when patients do not use their care—impacting acute and post-acute providers involved. Out-of-network utilization minimizes potential benefits for hospitals, such as elevating patient outcomes, improving episodic efficiency, and streamlining cross-setting communication. It also impacts PAC providers' financial sustainability under fee-for-service. Since PACs often make upfront investments to join these networks (e.g., care management, length of stay reduction), their bottom line is dependent on promised volume increases. Thus, network success hinges on the hospital's ability to encourage patients to choose in-network PAC providers.
Q: How can providers ensure stable volumes for their high-quality, in-network PAC partners?
Westhead: Three ways we've seen providers promote in-network utilization:
Educate physicians and discharge planners about preferred providers: Patients value these team member's referrals, oftentimes more than quality scores and online reviews. Increase provider comfort with making recommendations by holding educational seminars on patient choice laws, enhancing familiarity with partner PACs through facility tours, and clarifying the specific care team's role in advancing cross-continuum quality.
Make it easy for discharge planners to support patient decision making: Support time-pressed discharge planners with standardized resources to address pain points (e.g., identify in and out-of-network PACs, track PAC capabilities to filter out facilities unable to meet patient needs, and provide a phone number to reach PAC intake coordinators to inquire about bed availability).
Develop patient-facing resources that inform them about discharge options: It's critical to communicate the value of your PAC network in patient-friendly terms. Emphasize that in-network options meet certain standards of quality (e.g., offer threshold for inclusion) while ensuring reading level meets a range of health literacy needs.
Q: What is the biggest misconception providers have about inflecting patient choice?
Westhead: Patient choice laws are less restrictive than perceived. While providers may not explicitly recommend a facility or omit facilities from the list that fall within a patient's chosen geographic area, they can be transparent about high-quality options. For instance, it's permissible to include objective data on facility lists distributed at discharge, list providers with shared financial interests, and point out high-performers.
It's important to familiarize discharge planners about these laws given the prevailing culture of nervousness around them or all-too-often fear of violation. In particular, confirm that your organization's method to inform decisions about PAC providers does not violate patient choice laws.
What do consumers want from post-acute care?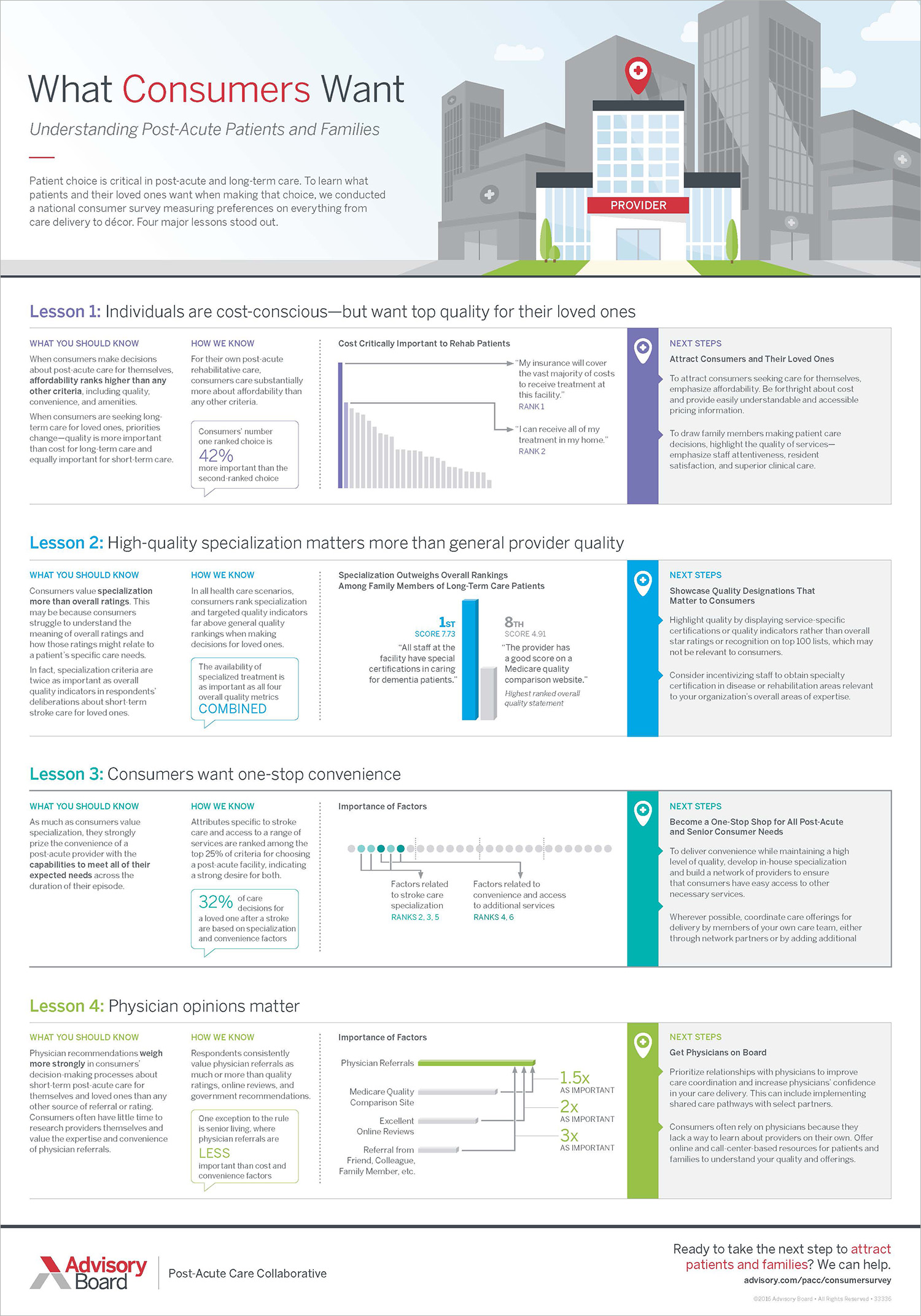 Patient choice is critical in post-acute and long-term care. To learn what patients and their families want when making that choice, we conducted a national consumer survey measuring preferences on everything from care delivery to decor. Four major lessons stood out.
Get our infographic to find out if high-quality specialization matters more to consumers than general provider quality, why patients want one-stop convenience, and more.