This year, we asked respondents to rate 33 issues on a scale of "A" to "F," with "A" indicating the greatest interest in learning more from Advisory Board researchers about the topic. The top five areas of concern for the 146 hospital and health system C-suite executives who responded to our 2018 survey were:
Preparing the enterprise for sustainable cost control (61.6% assigning an "A" grade);


Innovative approaches to expense reduction (56.3%);


Exploring diversified, innovative revenue streams (55.9%);


Boosting outpatient procedural market share (50.3%); and


Meeting rising consumer demands for service (50.0%).
Three key insights emerged from a more detailed review of the results—and how they compared with last year's survey:
Takeaway #1: It's all about the margins
Our survey is designed to evaluate interest in a wide range of issues, and this year's list included topics related to physician partnership, M&A strategy, clinical technology, and governance—just to name a few.
But this year's top five performers reveal an almost singular focus on issues related to margin management, whether through cost containment or revenue growth. That's not surprising to us, as many of the conversations we have with health care executives on a daily basis center on addressing their recent margin deterioration. And those conversations aren't limited to organizations of a certain size, type, or geography—we're seeing heightened margin pressure at organizations of all shapes and sizes.
Takeaway #2: Cost control has eclipsed revenue growth as executives' most urgent strategic priority
Last year, topics related to consumer-driven growth topped the leaderboard—executives identified improving ambulatory access as their most important priority for 2017. And while interest in top-line growth remains high, it has been clearly overtaken by a renewed focus on the bottom line. Notably, this year's top performer—"preparing the enterprise for sustainable cost control"—is the highest-scoring topic we've seen in years. This was particularly true among CEOs, nearly 70% of whom gave the topic an "A" rating; for reference, the survey's top performer in previous years has typically scored between 50% and 55%. These results underscore the ubiquity of the margin management challenge facing the hospital industry right now.
While interest in margin management was unusually consistent across respondents this year, the topic has outsize importance for specific segments of the provider community. For example, the elevated interest in margin management this year is especially apparent at community hospitals, which generally have lower margins and fewer opportunities to achieve economies of scale than larger health systems.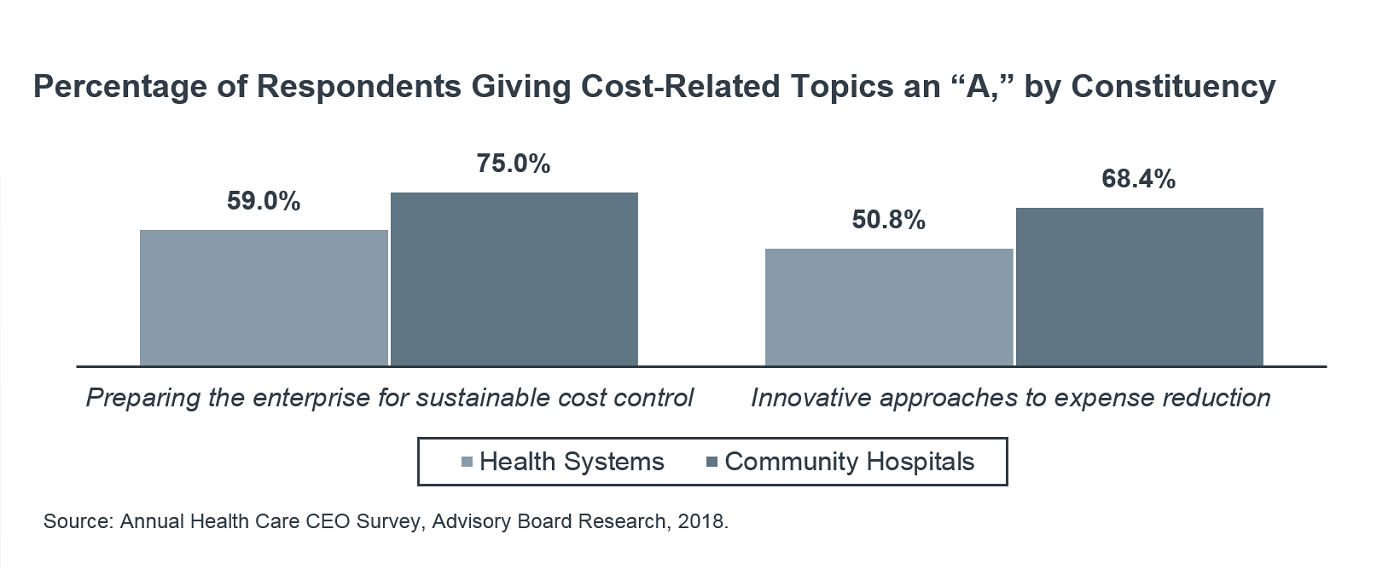 While we've seen surges of interest in cost control in the past, they've typically occurred in response to sudden—and usually cyclical—events in the broader economy. Today's focus strikes us as different-in-kind though; executives are responding to a series of long-term, structural threats to their organizations' margin performance. Perhaps the most telling signal in this year's top-ranked topic is the word "sustainable." The current focus on cost control does not feature temporary campaigns designed to weather an economic downturn or a sudden shift in reimbursement policy. Instead, executives are looking for long-term solutions to a structural margin challenge.
Takeaway #3: Executives believe that future revenue growth will come from nontraditional sources
Despite the pronounced focus on cost control, interest in revenue growth remains high again this year. However, C-suite executives at both health systems and community hospitals are shifting their focus to nontraditional sources of growth rather than relying solely on conventional determinants of market share.
While our surveys in recent years have revealed a clear shift in interest from inpatient to outpatient growth, this year's survey hints at the beginnings of a yet another potential evolution. Compared with 2017, interest in strategies designed to boost outpatient market share declined slightly this year, while interest in diversifying revenue streams increased—especially among leaders of community hospitals.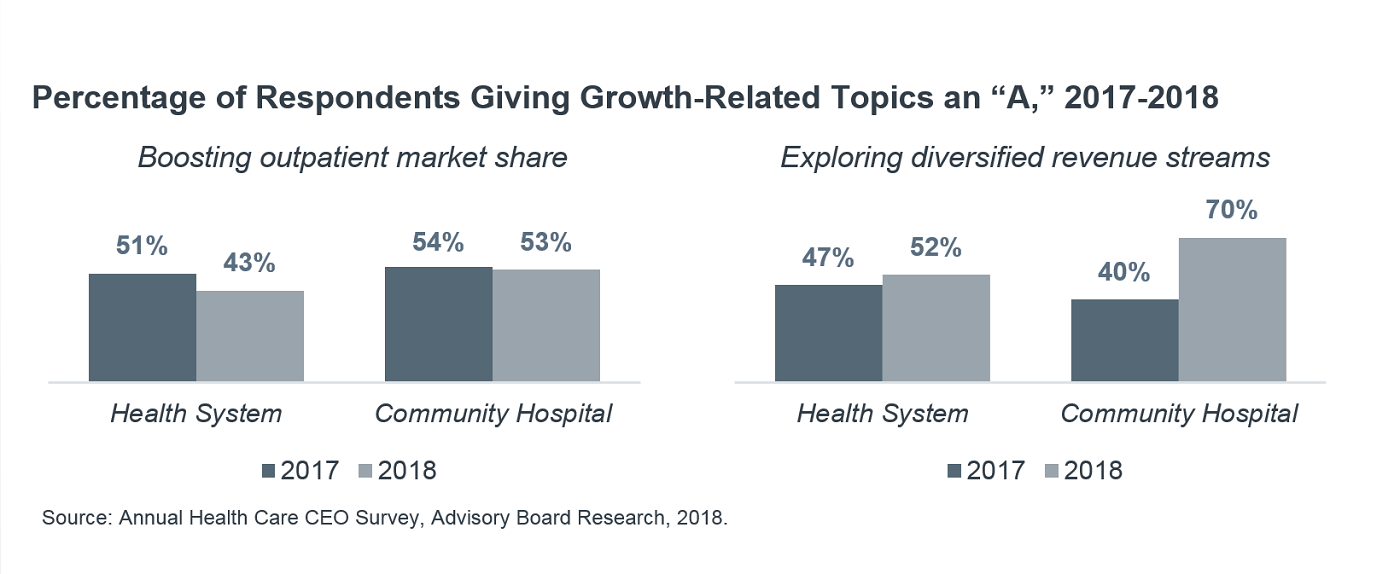 Learn how to confront these challenges
The Health Care Advisory Board conducted the Annual Health Care CEO Survey between December 2017 and March 2018
Editor's note: This article first appeared on Becker's Hospital Review.