---
Question: George, you served 26 decorated years in the military prior to your transition into civilian care in the Pacific Northwest, where you worked first as COO of MultiCare and now as CEO of Legacy. You're one of a small but growing cadre of physician CEOs, and even rarer, you're part of a small vanguard of military leaders heading civilian health systems. I'd love to start our conversation by inviting you to offer some reflections on your path to the C-Suite, especially some of the key translatable lessons from your time in the military.
George Brown: For a long time, I thought my calling was to be a mechanical engineer, because I was always making things and taking things apart as a kid. I grew up in Harlem, and I spent a lot of time at a junkyard and a run-down car repair shop in the neighborhood, learning about motors and transmissions. My interest in biology and medicine grew after being influenced by a couple sets of mentors, and I realized when I was at Hampton University that I wanted to be a physician.
My military career started when I completed two years of compulsory ROTC at Hampton and opted to continue with the program. After receiving my medical degree from Boston University, I went to Fitzsimons Army Medical Center for my residency, and I did my gastroenterology fellowship at Walter Reed.
At the time, I was determined to be a clinician rather than an administrator, but a number of mentors in my life had other ideas. One pushed me to run a department of medicine, and another encouraged me to go to Europe. I spent four years there, working with various allies, most notably the Germans and the Dutch, to establish two contingency hospitals. This was at the height of the Cold War. In fact, I was in Berlin, running the U.S. Army Hospital, when the Wall fell. We'd been told to stand by, in our quarters, but one of my British counterparts convinced me to come out. We went through a gate in the Wall that you weren't supposed to cross, but no one was manning it, and we ended up having beers with the East Germans. It was a big, festive mood.
Get the Clinical Leader's Resource Guide
Q: That's an incredible story—a true window-into-history moment. After your military service, you went to MultiCare in Washington State. What was the transition to civilian medicine like?
Brown: I encountered two main issues. The first was people's stereotypes of Army soldiers and generals, you know, running around giving orders and making people do pushups.
The second was that I had to learn about earning and making a budget. In the military health system, you're given your budget, and you have to provide health care for a cohort out of that budget. I'd never worked in a fee-for-service system. We were doing electronic health records, health risk appraisals, cohort health care management, and so on —years ahead of the private sector.
Oregon's unique environment
Q: As you just mentioned, you were essentially under full capitation in the military health system. On the civilian side, I think you and I would agree there's a mismatch between rhetoric and reality in terms of how many systems are actually operating under full delegated risk—especially on the commercial side. Everyone is talking about value-based care, but this rarely entails downside risk. You and your counterparts in Portland are not in that camp. What is it about this market that predisposes systems to go after risk?
Brown: I think you're right—there is something unique here. There's a much higher receptivity to risk than elsewhere. When I came to Legacy, I discovered that Oregon is very enlightened about actually having a state health care policy. Former Gov. John Kitzhaber, a physician, and his legislative colleagues developed the Oregon Health Plan (OHP), which called for expanding Medicaid, setting up coordinated care organizations (CCOs), and also participating fully in the Affordable Care Act. As part of that, we promised and delivered on two things: bending the cost curve of medical inflation from 5.4% to 3.4% and decreasing unnecessary ED utilization.
OHP considers each person as a whole being: physical health, mental health, and dental health. In the absence of any one of those, you're not a healthy individual. We also seriously consider the social determinants of health, such as housing, food insecurity, and transportation. I think this predisposes systems to have confidence to take on more risk.
Q: You raise a good point—addressing the social determinants of health seems to be one of Legacy's signature attributes. Along with four counterpart systems, Legacy has put up $21.5 million to subsidize 380 housing units to help reduce homelessness. Legacy also instituted a grocery program to encourage healthy eating and address food scarcity. Further, you're in a partnership to operate a psychiatric ED, one of the first such facilities in the U.S. What's behind all of this civic engagement?
Brown: This is deeply important to me. My formative experiences taught me about the importance of community. My family and I received health care through the New York City community health system, and I felt a strong sense of community in my childhood neighborhood, even though we lived in a public housing unit. If my parents were working, the neighbors would pull my parents aside later and tell them, "George was throwing water balloons out of the window again." The community looked out for each other.
And in the military, there was a sense of community, too. You lived on a base together, and you were expected to be a good citizen. If you weren't, you were held accountable. It didn't matter whether you were a private, a colonel, or a general.
Throughout my career, I've also observed how some communities try to isolate wealth behind gated communities. What that says to me is they're trying to keep problems out, rather than tear down the gates—just as Reagan told Gorbachev to take that wall down—and actually deal with the issues to create a better society. In our small way, we've tried to do that at Legacy.
Q: I'd like to focus a bit more on Legacy's work in emergency psychiatric care. Nationally, there's a scarcity, not to mention a severe maldistribution, of psychiatrists, and regionally, it is particularly acute; Oregon and Washington are in the bottom five states in the U.S. for availability of providers. How did the project to build a 102-bed psychiatric ED come about, and can you give us an update on where things stand?
Brown: I got the idea after standing outside of one of our older facilities, which most recently had been rented by the state and operated as a psychiatric facility. At the time, Oregon Health & Science University had a very small psychiatric facility, Providence had a couple units, and we were partnering with Adventist on a small three-unit project. We all had experience working together in the CCO, so the partnership seemed like a natural step. Kaiser Permanente later joined our group.
We decided that Legacy would own the facility, and the $50 million capital expense would be our responsibility. We came up with the idea to raise the money through philanthropic means, and we were successful in doing that. Along with our partners, we also had to work through who would employ the staff and doctors and how to share operational costs. We've been open since February and things are going well so far.
A unique provider-sponsored health plan
Q: A health system can take responsibility for 'whole person care' and social determinants without operating a provider-sponsored organization or taking an equity position in a payer. But you elected to do just that with PacificSource, the health plan you now have a 50% stake in. Legacy has made a $100 million initial investment and plans $147 million over five years. What prompted Legacy to take this step?
Brown: We wanted to take on risk, and we wanted to act on our belief in one standard of care, not two. We wanted to do some of the good things we were doing with the Medicaid population for all of our patients.
We had tried to make arrangements with payers to take on risk and assume part of the premium. But the conversation inevitably would devolve back to payment rates. And so my position was, "Look, I don't think we're going to be able to develop a meaningful partnership with a payer to take risk. Maybe we need to be a payer?" And so we looked at several payers. PacificSource stood out to us as a potential partner, in part because I had a good relationship with Ken Provencher. He and I were co-chairs of the organization Oregon Health Leadership Council. I approached him, and we started on this journey.
Q: Your relationship with PacificSource is pretty rare; there aren't too many analogs around the country of health systems taking equity positions in existing health plans. Obviously there is some risk here; PacificSource has experienced some volatility in its financial performance over the past few years. What strategic changes are you contemplating or already doing with the PacificSource relationship?
Brown: I think PacificSource has been a very conservative organization. For some, the results in the individual market have been devastating, but not so much for PacificSource.
Strategic growth is important, but growth for growth's sake is very, very dangerous. Philosophically, Legacy and PacificSource are well aligned, and we each have strengths that can offset each other's shortcomings.
PacificSource is committed to the notion that it needs to be a regional player. We, too, have transitioned from acting as a Portland-Vancouver-centric organization to really thinking about how we can play a more regional role.
Tackling rising prescription drug costs
Q: With the PacificSource relationship, you are of course now responsible for pharmaceutical costs of your members. We're still seeing the proliferation of these six-figure specialty drugs, and even in the current highly-scrutinized environment for pharma pricing, some of the big pharma firms just announced 10%-plus increase in prices this year. How are you thinking about this issue?
Brown: You could just pick one drug, say Sovaldi, and you could dispute its true value. As a gastroenterologist, I realize the power of it. Still, there are questions.
Which patients should receive it? Should patients who receive the drug be encouraged to change the behaviors that caused them to acquire the disease in the first place? How should finite health care resources be used? Do we have the political will to hold Big Pharma accountable for prices but also make sure that they're adequately compensated for their R&D investments?
Four questions to ask about your retail pharmacy strategy
Those are the ethical questions we have to grapple with. And I think we, as a country, are just in our infancy of dealing with these things. This is something we're looking very hard at within the health system and the health plan, and monitoring closely.
Q: There doesn't seem to be much political will to address this at the national level, yet the Oregon Legislature has proposed some interesting and controversial tactics around rebates and pricing transparency. I'm curious for your thoughts on that.
Brown: It's a great first step. More importantly, it should be a red flag to D.C. that there's a problem out here. If your concern is the deficit and the cost of health care, here is a huge opportunity, and you, Congress, have an opportunity to do something about it. You have the power to moderate this very negative effect on our health care cost.
From an employer perspective—for our 13,000 employees and their dependents covered through PacificSource—we try to develop policies that are congruent with evidence-based practice, good outcomes, and good stewardship for resources, and then communicate that to our employees. The other thing that we're doing is trying to get true costs in Epic, so when our practitioners are clicking on this drug or that drug, they have cost data.
Urgent care outside of the hospital
Q: Let's talk about another example of a non-traditional partnership Legacy is pursing—your affiliation with the urgent care provider GoHealth. I can't think of another market in the country that has such a concentration of urgent care centers—more than 75 in and around the Portland market alone. You're doing some unique things in urgent care, not least of which is in accepting Medicare and Medicaid reimbursement, through your GoHealth partnership.
Brown: Correct. The other distinguishing aspect of that partnership is our Epic electronic record is integrated, and the GoHealth medical staff are part of the medical staff at Legacy.
The leadership of GoHealth knows how to run urgent care. It's a great partnership, and we have actually performed better than our expectations.
Q: That's interesting because most systems that have pursued a retail strategy are not at breakeven on that business as a standalone entity. Without divulging anything proprietary, could you describe the economics of the sites themselves? Or does it only really make sense strategically when you're thinking about longitudinal care or care across the continuum?
Brown: It looks like it will make sense from a standalone perspective, particularly if you look at those mature centers. I think the added benefit is the longitudinal care. The Legacy GoHealth centers are just an entry point to the larger system. They're convenient. And if you need more, we've got a continuum.
We chose GoHealth for a reason. We had a number of start-stop conversations with Walgreens that led nowhere because of leadership changes, and we also talked to ZoomCare, but we took issue with some aspects of their model, particularly that they do not accept Medicare or Medicaid patients.
I don't think anybody knows everything about everything. In fact, I think there are a lot of people that know very little about everything. We just thought we would try with GoHealth. We've offered a couple of ideas for sites and they've said they'll look into it. And they come back and say, "We don't think these will work." I've been impressed by that. They've been a collaborative partner.
Closing thoughts
Q: Collaboration and community certainly seem to be recurring themes across your career. Now that you've announced your retirement, I have one last question. As you reflect back on this incredibly distinguished career, what are you most grateful for?
Brown: The people who were willing to help and teach me.  My parents were my first mentors and coaches. Their guidance was essential to my development as a person. I was and remain fortunate to have many mentors from whom I have learned many lessons. Input from others helps me remain grounded and curious. That's what I'm most grateful for.
---
Get more lessons from the C-suite
Check out our recent must-read interviews with other top hospital and health system leaders: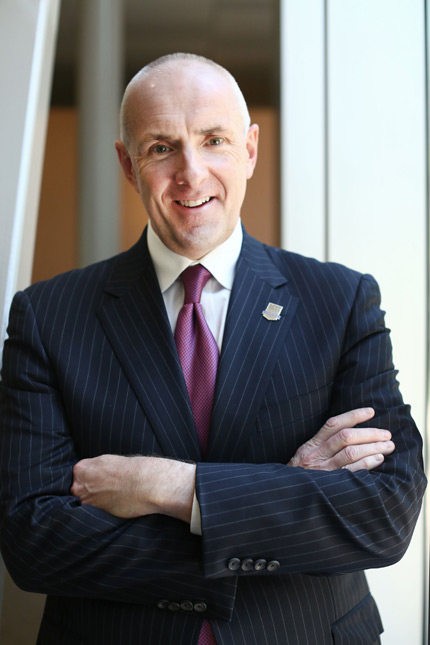 Warner Thomas built a $3B health system in the wake of Hurricane Katrina. Here's how.

Warner Thomas, president and CEO of Ochsner Health System, talks about rebuilding a stronger health system after Hurricane Katrina, managing "hypertrophic growth" by focusing on the patient, and the most rewarding part of being a leader. Read our interview with Warner.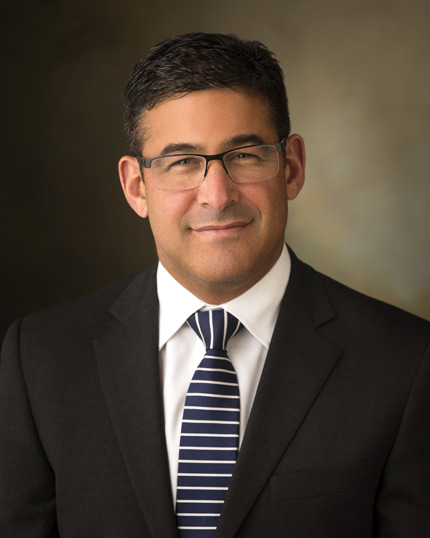 Building the 'Tesla' of health systems: Where Marc Harrison plans to take Intermountain next

Marc Harrison, president and CEO of Intermountain Healthcare, talks about crafting a cohesive team with employees from 71 countries, taking Intermountain from a "horseless carriage" to a Tesla, and leading as a physician—and as a patient. Read our interview with Marc.