Improved OR performance is an essential way for hospitals to achieve financial sustainability—while also ensuring patient safety, high-quality care, and positive outcomes. Senior leadership teams worldwide are investing more time, money, and attention to learn how their facilities manage their operating rooms.
Operating rooms drive revenue for private hospitals—but more than that, they're a place where patients' lives are saved, and transformed for the better.
The client: Américas Serviços Médicos
Américas Serviços Médicos
A quick look at the hospital division of United Health Group, spread across 6 Brazilian states:
21 hospital facilities
31 specialized medical clinics
18,500 staff
2,600 beds
122,000 surgical procedures a year
In 2018, the medical and operational leadership teams at Américas Serviços Médicos decided to focus on improving surgical efficiency. Their leaders recognized that this strategy would help their organization advance several priorities. They could:
Improve patient care and outcomes
Standardize process and operations
Achieve economic sustainability and reduce costs
Develop human resources
Continue to offer a unique patient experience
Consolidate its specialty position in their markets
The journey: six hospitals, best practice research, and expert-level project management
Américas Serviços Médicos was ready for its journey towards operating room efficiency. To support them, they reached out to the Strategic Account Management teams and Solutions teams at Johnson & Johnson Medical Devices Brazil and at Advisory Board.
Johnson & Johnson and Advisory Board agreed on the objective for this customized project. They decided to implement best practices at six hospitals within the United Health Group in Brazil:
Hospital Vitória São Paulo
Hospital Carlos Chagas
Hospital Metropolitano Lapa
Hospital Ipiranga Mogi
Hospital Alvorada
Hospital Américas Medical City
The hospitals would combine Advisory Board's best practice research and consulting capabilities with Johnson & Johnson's project management methodology. Together, the teams would support Américas in improving operating room performance around four indicators: surgical cancelation reduction, first case on-time starts, OR turnover, and occupation.
The kickoff: Américas' path to success
Américas kicked off the project in March 2018 with a videoconference. Leadership teams from the six hospitals met virtually with Daniel Dellaferrera, senior director for international research and insights at Advisory Board. Daniel consulted with the team and helped earn crucial corporate buy-in for the initiative.
Then, they scheduled two in-person workshops.
In the first workshop, project participants learned how to use Advisory Board's best practice research on operating rooms to build a customized action plan for each hospital. Every two months, Johnson & Johnson's team visited each of the hospitals to understand how they were performing and track the implementation of the action plans.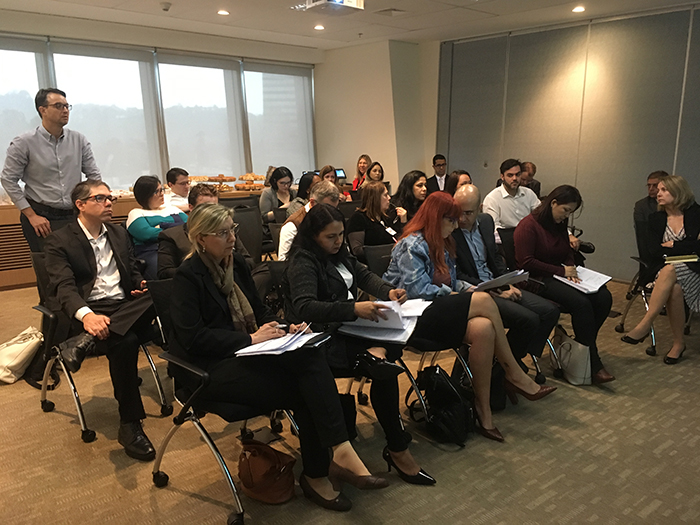 Clinical, operational, scheduling, and medical relations teams from each hospital gathered to share ideas at a second workshop in October 2018. By now the teams had ingrained the best practices at a local level. Local hospital teams set their implementation and saw their progress towards efficiency goals.
All along the way, Advisory Board and Johnson & Johnson led additional sessions that showed staff at Américas how to make their operating rooms the best they could possibly be. Health care practitioners at the six hospitals attended Advisory Board research presentations, where they learned more about patient flow, patient education, and how to improve discharge procedures.
The results: reduced costs, increased capacity, and more
The hospitals concluded the project in February 2019 with solid results and continuous improvement on the metrics they used to measure success. Américas's projections show that the project will increase their surgical capacity and reduce their costs. Some other efficiencies they found include:
Hospital Metropolitano improved its communication practices between the scheduling department, surgeons, and patients and reduced its surgical cancelation rate to 8%.
Hospital Ipiranga improved its first case on-time start rate to 66% by better engaging the surgical and anesthesiology teams.
Hospital Vitória reduced its OR turnover to 38 minutes through process optimization and improved integration between the teams involved in OR set-up and clean-up.
Hospital Américas Medical City increased its OR occupation to 76%, expanded patient access, and improved materials and cost management.
Américas's partnership with Advisory Board and Johnson & Johnson Medical Devices Brazil did more than just help their network of hospitals improve operating room performance. It changed how the executives at each hospital communicate with one another to create project buy-in. It engaged and empowered local teams to find and implement more best practices. And it continues to promote an OR staff culture change that's contributed to greater efficiency and long-term growth. As the leaders of these six hospitals can tell you, culture change and performance improvement is not only about having financial resources and tools, but also about having the right group of people engaged in and committed to that work.
Quotes from our stakeholders
"We can summarize the project in 3 blocks: efficiency, engagement, and OR team empowerment. This is a project with immense importance and visibility inside United Health Group in Brazil." —Dr. José Eduardo Nascimento Delamain, Medical Director for the project
"[There's] great potential in bringing these OR best practices to all 21 hospitals in the group. This is just the beginning! A more efficient OR helps to attract the best surgeons and therefore we are extremely pleased with Advisory Board and Johnson & Johnson for the project's results." —Rodrigo Macedo, Operations Director