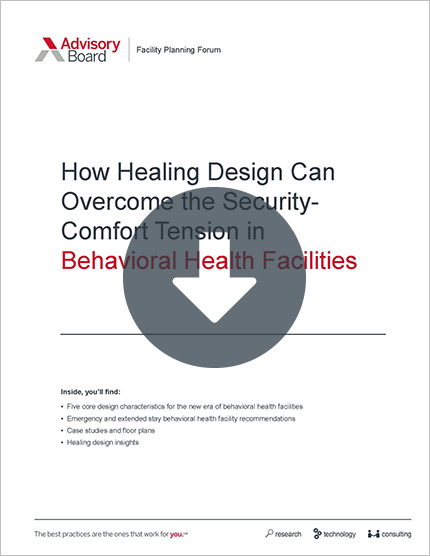 The new focus on population health, combined with the skyrocketing demand for behavioral health services, has led to a surge in new builds and renovations of behavioral health facilities. Architects and facility planners have the important role of creating comfortable facilities while also maintaining high security, which can be a challenge.
To tackle this challenge, we've identified five core design characteristics that are essential to new era behavioral health environments: space flexibility, access to nature, calming interior design, positive distractions, and clear lines of sight.
Read this briefing to learn how innovative facilities are using one or more of these design characteristics to best navigate this tension in emergency and extended stay behavioral health settings.
---
Behavioral health in the emergency department (ED)
Given that one out of every eight ED visits is due to a behavioral health issue, inappropriate utilization of the ED is a serious concern for many providers. Designers and facility planners have found innovative ways to balance the security/comfort tension, primarily through space flexibility, positive distractions, and calming interior design. Read more on p. 5.
Behavioral health in extended stay settings
Today's extended stay behavioral health facilities prioritize rehabilitation and are consequently becoming more aesthetically beautiful, mentally relaxing, and patient-friendly. Patients respond best to treatment when they feel at home, and facility planners and designers have the opportunity to create a homelike atmosphere. Read more on p. 9.