In May 2021, we launched the Health Care Leader Well-being Survey to better understand how leaders are faring as we enter a new and uncertain phase in the global pandemic. Since then, we have heard from over 300 health care leaders (Managers, Directors, AVPs/VPs, SVPs or C-Suite executives) from around the world. Here are three key takeaways from the survey.
1. Health care leaders are at their breaking point.
What the data says: In a typical month during the pandemic, 60% of health care leaders reported working past their designated work hours at least 15 days per month.
Leaders are working overtime on most days. For leaders, work-life balance has become an illusion, and physical exhaustion is a reality. Unsustainable demand causes disengagement and burnout which impacts the long-term resilience and adaptability of health care leaders. This prevents them from leading at their best in a moment when organizations need leaders to be at their best, creating an adverse trickle-down effect on the entire workforce.
What the data says: In the past year, 47% of health care leaders considered leaving the health care profession.
According to survey responses, leaders who choose to stay described the motivation behind their decision as a mix of emotional and practical considerations. The emotional considerations were primarily rooted in leaders' loyalty to their team, patients, and the healthcare industry. On the other hand, practical considerations included job security, benefits, health insurance, and other financial motivations. Many health care leaders – like much of the health care workforce at large – feel unappreciated and recognize that in this moment of the 'Great Resignation,' they do indeed have other career opportunities.
Your next steps:
Encourage leaders to put in requests for paid time off (PTO) as soon as they know they want to take it. Work with them to create action plans for completing work before PTO, identifying projects to be continued during their absence, and prioritizing workflows accordingly.
Incorporate opportunities for microbreaks and wellness breaks into leaders' daily routines to reinforce the importance of non-PTO recovery time.
Protect time outside of work by implementing an after-hours escalation plan.
Remind leaders that they are not alone in navigating these challenging times. Emphasize opportunities for peer connections and remind providers of their mission by reconnecting to purpose.
2. Leaders, especially frontline managers, do not feel adequately supported.
What the data says: Only 53% of health care leaders believed that their organization supported their personal well-being during the pandemic.
The current organizational approach to well-being is not enough. Leaders are expected to prioritize their team's wellbeing above their own and this burden has a significant impact on frontline managers. When segmenting the statistic above by leadership level, there is almost a 4-fold difference between managers who feel strongly supported by their organization when compared to C-Suite and SVP level management.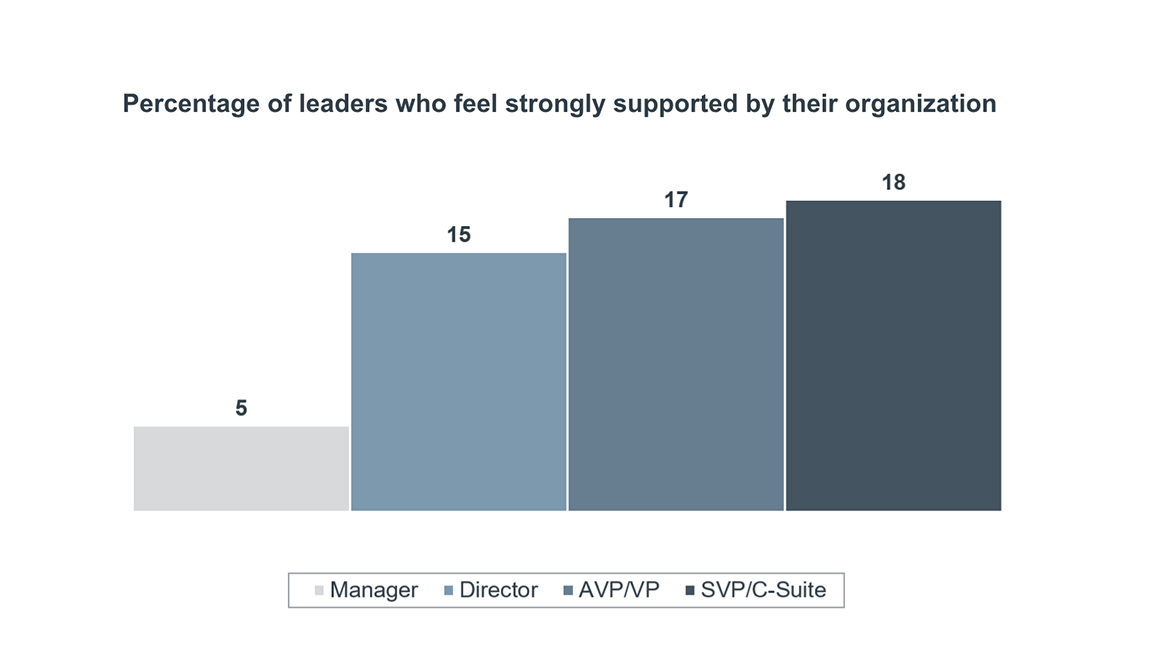 As a result, many executives may feel like the organization is doing an effective job supporting other leaders, when in fact, there is a disconnect in how supported junior and mid-level leaders actually feel.
Your next steps:
Address health care's 'I'm fine" culture by moving beyond a reactive, one-size-fits-all approach to find ways to provide targeted baseline emotional support to individual leaders.
Encourage executives to remedy the disconnect by role modeling vulnerability and self-awareness, helping to foster a more open, positive discourse about leader resilience.
3. Leaders do not feel prepared to navigate the future landscape of the health care sector.
What the data says: Only 13% of leaders felt that they had enough time to focus on strategic thinking or long-term planning during a typical work week.
If leaders are to successfully prepare for and navigate health care's volatile, uncertain, complex, and ambiguous (VUCA) future, then they need dedicated time for strategic thinking. It's non-negotiable. To set leaders up for success, organizations must find ways to protect time away from day-to-day operations and give leaders a chance to think strategically: in essence, give leaders a chance to lead.
What the data says: Only 52% of health care leaders felt equipped to navigate the uncertainty and rapid change associated with the future of health care.
When considering that few leaders have time for strategic long-term planning, it isn't surprising that many feel ill-equipped to face future uncertainty in the health care landscape. But it's more than just finding time to think strategically. Leaders must embrace a growth-mindset and accept that future success in health care will require continuous, lifelong learning – and that much of how they define successful leadership will require reinvention along the way.
What the data says: There is a large discrepancy between managers who feel equipped to lead through uncertainty (35%) compared to SVP or C-Suite level executives (80%).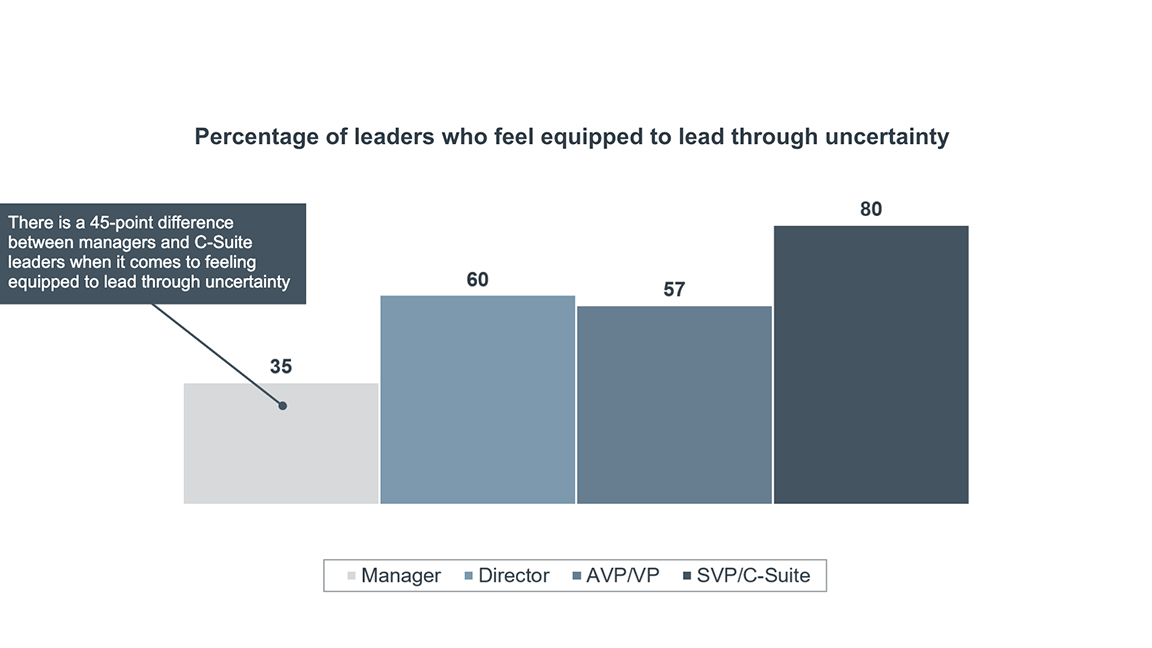 Given the large gap in preparedness for future uncertainty between C-Suite leaders and frontline management, organizations must reevaluate how to prepare leaders to lead through uncertainty. A particularly powerful set of solutions is to create dedicated delegation plans and increase opportunities for senior leader role shadowing: this way you are not only upskilling staff, but you're also helping improve leader capacity across the board.
Your next steps:
Incorporate delegation strategies and dedicated reflection blocks to protect time away from day-to-day operations.
Make it safe for leaders to lead through uncertainty by normalizing failure and creating a psychologically safe work environment.
Prepare leaders to successfully navigate the volatile health care landscape through evolution of leadership skills and capabilities.