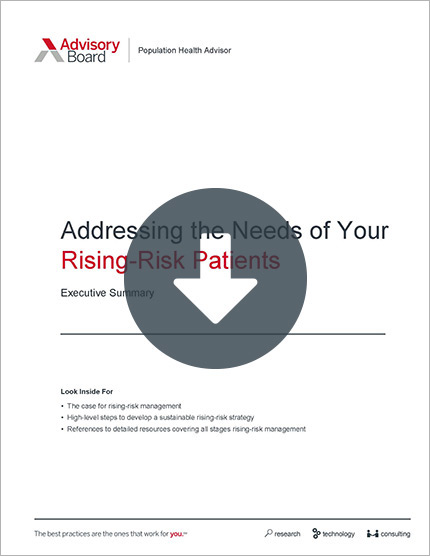 Every provider engaged in risk-based contracts agrees that effective care management for high-risk patients is a universal starting point. However, for progressive organizations surfacing the needs of rising-risk patients for targeted improvement is the logical next step—but that's easier said than done.
Each year, about 18% of rising-risk patients escalate into the high-risk category when not managed. By investing in rising-risk patient management, organizations can significantly slow the churn of rising-risk patients into the high-risk patient cohort and avoid associated future costs.
This research briefing covers the case for rising-risk management and includes four high-level steps to develop a sustainable strategy.
---
Developing a sustainable rising-risk strategy
Leading organizations ensure that strategic resources are largely allocated at the intersection of primary care and chronic disease management to curb cost and demand. To do so, they target rising-risk management efforts based on key patient risk factors across four high-level steps.
1. Refresh your strategy to identify at-risk patients every one to two years
2. Use the medical home as the epicenter of patient management
3. Engage community organizations to fill care gaps surfaced in the community health needs assessment