Similar caps on the vials for updated Covid-19 boosters and the original vaccines may lead to mix-ups during administration, according to some health experts. To prevent these mistakes, CDC released several best practices and recommendations to ensure vaccines are safely prepared and administered.
Potential for confusion between updated boosters and original Covid vaccines
Earlier this month, federal health officials authorized updated Covid-19 boosters from Pfizer-BioNTech and Moderna for a fall booster campaign in the United States. Pfizer-BioNTech's booster is authorized for individuals 12 and older, while Moderna's booster is authorized for all adults 18 and older. The boosters are bivalent vaccines, which target both the original coronavirus variant and omicron subvariants BA.4 and BA.5.
Recently, advisors to CDC and other health groups raised concerns about the potential for health care providers to mix up the updated boosters and the original vaccines when administering booster shots to patients. According to the Los Angeles Times, the color of the vial caps for some of the new boosters are identical to that of the older vaccines.
Specifically, Pfizer-BioNTech's updated booster is packaged in vials with a gray cap and gray labeling, which are the same colors as its original vaccine, and Moderna's updated booster and its vaccine for children ages 6 to 11 both have a dark blue cap.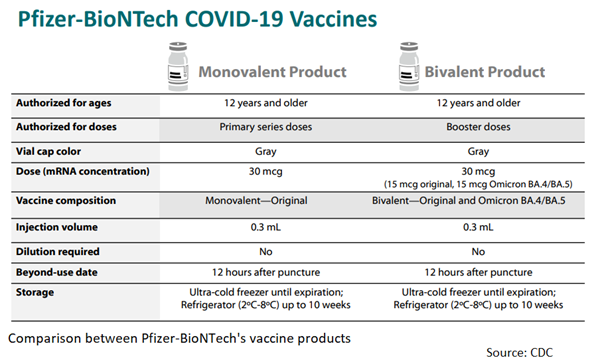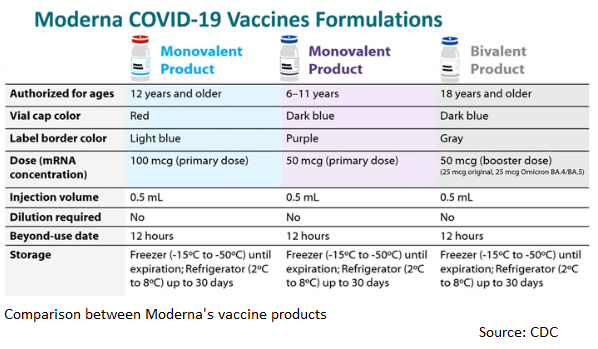 However, the updated boosters are specifically labeled with the phrases "Bivalent" and "Original and Omicron BA.4/BA.5." To ensure that they are administering the correct vaccines, health care providers will need to read the labels carefully to avoid any confusion.
Already, there have been some reports of people receiving one of the original Covid-19 vaccines instead of the updated shot when getting a booster. For example, Lindsay Schneider, a woman from North Carolina, said she believed she had received the bivalent booster at a local Walgreens, only to be informed by the pharmacist the next day that they had mistakenly given her the original monovalent vaccine instead.
"The sigh of relief turned to sheer fear and outrage," Schneider said. "I was just shocked." According to Schneider, she does not want to discourage people from getting vaccinated, but said that they should double check which vaccine they are receiving before it is administered.
In a statement, Walgreens official said that "events like these are rare and we take this matter very seriously." To prevent future errors, the company has reviewed its multi-step vaccination procedure and its various safety checks with its pharmacy staff.
How to avoid a booster mix-up
To reduce the risk of vaccine administration errors with the updated boosters, CDC staff last week shared bests practices for giving the correct vaccine, with the correct dose, to the correct individuals at the Clinician Outreach and Communication Activity webinar.
In addition to carefully reading the labels and titles on all vaccines, CDC shared several tips to help health care providers avoid mixing up the updated boosters and original vaccines, including:
Separating vaccines into different bins based on their formulas
Using color-coded labels on vaccine storage containers for any look-alike vaccine products
Keeping look-alike vaccine areas in different areas when they're being stored
Circling any important information on the vaccine packaging that highlight differences
Using look-alike stickers on packaging and in the places where the vaccines are stored
CDC also recommended several actions that can help providers safely prepare and administer the vaccines, including:
Implementing a "Do Not Disturb" period when vaccines are being prepared or administered
Preparing vaccines for one patient at a time
Labeling the syringe with vaccine name
Only administering vaccines that you've prepared yourself
Always triple-checking your work and asking another staff member to check for you when possible
If a vaccine administration error does happen, what providers should do next depends on the type of error that occurred.
For example, if a bivalent booster is given in place of a monovalent vaccine as part of an individual's primary series, CDC recommends providers count the dose as part of the series instead of repeating the dose.
However, if a bivalent Moderna vaccine is given instead of monovalent Moderna vaccine, Elisha Hall, a health education specialist and the clinical guidelines lead at CDC, recommends a monovalent vaccine be administered immediately afterwards "because administration of the booster dose results in a lower than authorized dose for the primary series."
If a monovalent vaccine is given as a booster in place of a bivalent vaccine, CDC recommends not repeating a dose, but said that providers can decide to give a repeat dose at least two months later "based on clinical judgement and patient preference."
According to Hall, if vaccine administration errors occur, providers should inform the affected patient, consult with their state vaccination program, and report the mistake to the Vaccine Adverse Events Reporting System. She also emphasized errors need to be investigated to ensure that they will not happen again.
So far, CDC has not seen an increase in adverse events related to vaccination administration errors. However, Hall noted that the "data are too sparse" and it is still "too early" to tell whether vaccine errors have spiked since the updated boosters were authorized.
"We have not seen any evidence of wide-scale mistakes or people getting the wrong vaccine. I am confident that the system is continuing to work effectively, but I know the FDA continues to monitor this very closely," said White House Covid-19 response coordinator Ashish Jha. (Lin/Money, Los Angeles Times, 9/7; Leshner, WCNC, 9/16; Firth, MedPage Today, 9/16)