Last week, MVP Health Care (MVP) based in Schenectady, New York, launched a free virtual emergency triage service to reduce COVID-19 spread. The myERnowSM service, operated by United Concierge Medicine (UCM), gives members direction on where to get care, if they need it at all. Advisory Board's Natalie Trebes and Tabiya Ahmed recently spoke with Kimberly Kilby, senior leader of MVPs regional medical directors, to learn more about the service so far, along with other actions MVP is taking to address COVID-19.
3 imperatives to leverage telehealth against COVID-19
Q: Kimberly, thank you for taking the time to speak with us during this busy time. One of the big things that struck us after learning about myERnow was your partnership with Capital District Physicians' Health Plan (CDPHP), to ensure that your entire membership, covering nearly 1 million members across New York and Vermont, had immediate access to virtual ED services. How did MVP get myERnow up and running so quickly, especially given the coordination across UCM, CDPHP, and local delivery systems?
Kimberly Kilby: We were already in talks for the last few months to build something like this with UCM, though we didn't know how urgent this would be at the time. They're a local company, so we already had started building a trusting relationship with them. But this service wasn't live as of last week, so it took our teams working long and hard days to figure out all of the technical, operational, legal, and clinical pieces.
But the partnership with CDPHP is truly a credit to both plans' leaders. Our President and CEO Christopher Del Vecchio and CDPHP President and CEO John Bennett, are both deeply committed to being true partners in members' health care journey in our local market, and wanted to make sure that we can get patients the care they need while working to protect the delivery system from fracturing.
To be successful, we need to have one unified, simple message to members. We also need to give payer-agnostic direction to the delivery system, so that they're not having to follow different directions from different health plans—the way we normally would. It is unusual to collaborate with a company that traditionally is a competitor, but they're also a mission-driven, local plan and both of our organizations have relationships and investments in the community. It's personal to all of us—that's part of the reason we were driven to be creative.
Q: As health plans across the nation ramp up their telehealth offerings, one of the biggest challenges is encouraging members to use these services. Could you share more about how MVP is making the messaging simple?
Kilby: All of this has to be as simple and streamlined as possible! For now, we have a dedicated, easy-to-remember phone number: 1-833-myERnow. Our mobile app, myERnow, is also available for download on Apple or Android devices.
We tell everyone—members, employers, brokers, providers—the same concise message: If you think you might have the new coronavirus, if you think you were exposed to it, or if you have another emergency, use myERnow. If you need to see a doctor for something else but are worried about exposure, you can use myVisitNow (our virtual visits offering through AmWell). We're really trying to keep it as straightforward as possible. CDPHP is offering the exact same service on their side, so we're avoiding confusing patients across the markets. As a result, we're so far seeing great utilization patterns across the two telehealth services.
Example of MVP's consumer language for virtual emergency triage service: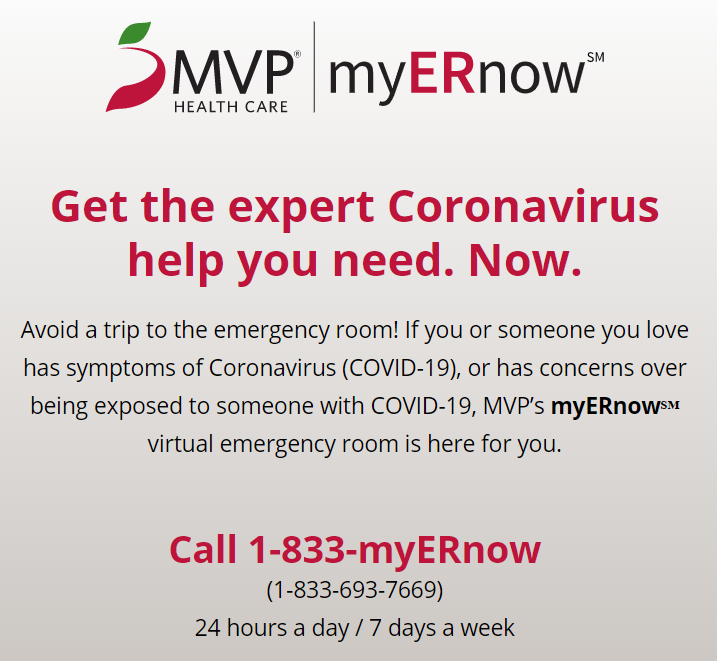 Q: There's always concerns about redundant or fractured care with any telehealth visit, and now we know there are difficulties in getting COVID-19 testing. What happens when a member uses the service and needs follow-up?
Kilby: That's one of the main reasons we're partnering with UCM, and not only relying on our existing telehealth offering. UCM's emergency medicine clinicians can do triage, assessment, and give follow-up treatment orders—including COVID-19 testing when indicated by current CDC guidelines. They can send orders ahead to a testing collection site, whether it's a drive-thru or at the hospital, and give instructions to both the patient and the receiving clinicians. UCM is well known and integrated within our local EMS system, so they're able to manage all of that follow-up care as a payer-agnostic delivery partner. And, most importantly, they can tell members with mild conditions to stay home, and offer a virtual checkup later.
Q: MVP, like many health plans, is grappling with shifting staff to remote work and adapting product designs for this epidemic. What's your next focus area?
Kilby: We're also doing a lot to try to support providers in rapidly standing up their own telehealth options for their patients. State and federal rules are rapidly changing through emergency regulations and policy guidance, so we're helping our providers keep up to date with how reimbursement and protocols are shifting.
We're also making our own reimbursement policy changes to mirror those from the government and keeping everything as simple as we can for providers. Some of that includes loosening up our telehealth coding and billing guidance, especially to allow the use of non-traditional consumer platforms.   
To learn more about MVP's COVID-19 response and myERnow, visit www.mvphealthcare.com/myernow.