The House Appropriations Committee by voice vote last week adopted an amendment to prohibit FDA from allowing scientists to conduct research involving gene-edited embryos and so-called three-parent in vitro fertilization (IVF).
Gene-editing treatments—and 7 other technologies that could transform health care
Congress has attached the amendment to spending packages since December 2015 as part of a larger effort to prevent experiments involving gene-edited embryos in which genetic changes would be heritable.
What are gene-edited embryos and 'three-parent IVF'?
The amendment bars FDA from considering clinical trial applications "in which a human embryo is intentionally created or modified to include a heritable genetic modification."
According to STAT News, that definition includes experiments in which researchers directly edit the embryonic DNA—a practice that is largely condemned in the scientific community. The debate over gene-edited embryos reignited last year, when Chinese researcher He Jiankui claimed he used the gene-editing technology CRISPR to create the world's first genetically modified human babies. He said in the experiment he edited the genes of 16 embryos to disable a gene called CCR5 that allows the HIV virus to enter human cells. He then implanted 11 embryos into women's uteruses, and in one case a woman conceived and gave birth to twins.
After He unveiled his research, 18 scientists from seven countries, including the United States, called for a temporary moratorium on gene-editing experiments on germline cells to allow time for the development of an international framework to guide such experiments.
Three-parent IVF, which also is called mitochondrial replacement therapy (MRT), is a slightly different procedure that aims to prevent embryos from developing severe diseases tied to abnormal mitochondria, which are energy-producing cell structures, according to STAT News.
The gene-editing MRT procedure involves transferring the nucleus of an unfertilized egg from a defective mitochondria to a healthy mitochondria and fertilizing the egg using IVF. However, because mitochondria contains a bit of genetic information the fertilized egg would have the DNA of three people, according to STAT News. As such, the procedure is prohibited under Congress' current ban. 
The United Kingdom in 2015 became the first country to approve MRT for use on a case-by-case basis to prevent children from developing mitochondrial disease. In April, a Greek woman became the first woman to give birth to a healthy baby through MRT in a clinical trial, though the long-term effects of MRT on children, including the potential for children to develop mitochondrial disease, remain unclear.
Experts urge US to drop ban on MRT
But a growing number of bioethicists, patient advocates, and scientists have called on federal lawmakers to eliminate the ban on MRT, arguing that MRT potentially could help women who carry genetic diseases give birth to healthy children who are genetically related to them.
The National Academies of Science, Engineering and Medicine in a report released in February 2016 stated it would be ethical for women with a high risk of transmitting severe mitochondrial genetic disease to undergo MRT to prevent their children from experiencing an early death or having substantial impairments.
Philip Yeske, the science and alliance officer for the United Mitochondrial Disease Foundation, said, "In our mind, this is an extension of [IVF]. That, too, had its challenges with being accepted from a societal point of view. At the end of the day, this is really about providing a reproductive option to a relatively small group of women that carry this pathogenic variant."
Shoukhrat Mitalipov, director of the Center for Embryonic Cell and Gene Therapy at Oregon Health and Science University, said some scientists "don't think [MRT] is [gene] modification. It's not something that's synthetic. It's just taking a donor genome from somebody and replacing it with one that already exists. It's natural."
Where the debate stands in Congress
For now, Congress appears to be  on track to renew the ban, though some Democratic lawmakers have said they believe it is time for Congress to debate the ethical and scientific issues related to gene-edited babies and three-parent IVF, STAT News reports.
Rep. Robert Aderholt (R-Ala.) at a hearing on Tuesday said, "The ethics hadn't caught up with the science, and … the science has not caught up with the science." He said the United States should continue the ban because there are "too many unknowns, too many unintended consequences" surrounding gene-edited embryos.
House Appropriations Committee Chair Nita Lowey (D-N.Y.) said she "reluctantly supported" the ban because she believes editing embryos potentially could cure and prevent genetic diseases, though the practice would carry risks. Lowey said the amendment approved by the committee "amounted to a blanket denial for … FDA to review applications related to the modifications of an embryo without the merit of the individual case." She said, "We have a moral obligation to allow advances in science so that fewer parents have to watch a child die."
Rep. Debbie Wasserman Schultz (D-Fla.), who voted against the amendment, said the issue is personal to her because she carries a variant of the BRCA2 gene, which increases her risk of certain cancers. "If we ever have an opportunity when they have children or when they decide to have a family, to have research advanced to a point where you could have their genetic material, when combined with their partner, altered so that that mutation could be cut off in our family tree and that risk of death and massive health care implications could be eliminated, that's incredibly important," she said.
Wasserman Schultz added, "This is not '2001: A Space Odyssey' or '1984' or a mad scientist playing games with genetic material. There are real opportunities … to try to cut off the passing on of genetic mutations that can have dramatic life-altering implications."
Rep. Sanford Bishop (D-Ga.) said he would like Congress to debate whether to allow MRT, but "today is not that time, and this appropriations committee markup is not that place" (Owens, "Vitals," Axios, 6/5; Joseph, STAT News, 6/4; Ferguson, Roll Call, 6/5; Roza, Inside Health Policy, 6/4 [subscription required]; Owens, "Vitals," Axios, 4/17; Mullins, STAT News, 4/16).
Gene-editing treatments—and 7 other technologies that could transform health care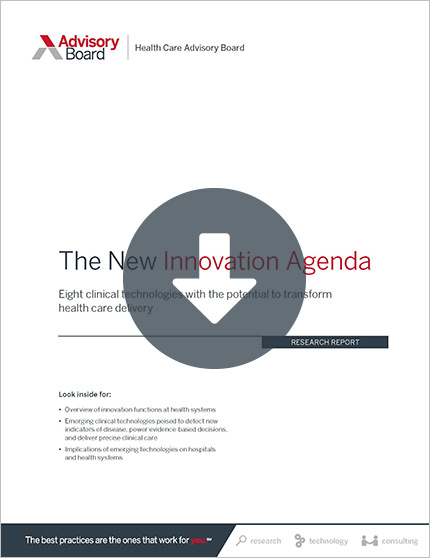 Our new report explores the clinical technology pipeline to help health care leaders become more conversant in the major vectors of innovation, leading applications of new technologies, and the business implications for established providers. Read on to unpack the new innovation agenda.