Editor's note: This popular story from the Daily Briefing's archives was republished on August 31, 2021.
When someone lacks self-confidence, "it's painfully obvious," Eric Ravenscraft writes for the New York Times. But fortunately, research and experts have come up with proven ways to build self-confidence, Ravenscraft writes.  
Download the customizable staff recognition card—and improve your team's self-confidence
What is self-confidence, anyway?
According to Ravenscraft, people often confuse "self-confidence" with "self-esteem."
Self-esteem refers to "your overall worth," Ravenscraft explains, whereas self-confidence refers to "your belief in how good you are at something."
Even though self-confidence doesn't measure actual skill, it's still important to success, Ravenscraft writes. Charlie Houpert, the author of "Charisma on Command" and the founder of a 2.7-million-subscriber YouTube channel, notes, "Internally, true self-confidence will lead to more positivity, happiness and resilience. ... Externally, high self-confidence will lead to taking more risks, which directly correlates with reaping more rewards."
In short, Ravenscraft writes, "Self-confidence doesn't magically make you better at what you do, but it does prime you to take the risks necessary to achieve your goals."
5 tips for better self-confidence
So, to help you get more comfortable taking those risks to achieve your goals, Ravenscraft spoke with experts and sifted through the research to come up with five tips to help build self-confidence.
"Be 'hyper honest' with yourself": According to Houpert, if you feel yourself not wanting to disclose details when a person inquires about your work or your hobbies, check in with yourself about that, as it's "an indication to either stop doing that thing or, more likely, accept that part of yourself and own it," Houpert says. He adds, "When you stop hiding parts of yourself from other people, you'll find you feel more confident in who you are."


Exercise regularly: The American Psychological Association has endorsed exercise can work as an effective way to not only improve your confidence, but "improve your mood and—along with regular treatment and therapy—help combat depression and anxiety." Ravenscraft explains that making the commitment to exercise "is an accomplishment" that can make you feel better about yourself and that after a while, you may be encouraged by "physical improvements to your body and health over the long term."


Take steps outside of your comfort zone: According to Houpert, "If you stretch your comfort zone every day, very quickly you'll have a large comfort zone and be able to feel more comfortable even when outside of it." Ravenscraft explains that steps outside of your comfort zone can "involve more daunting changes, like taking a new job," but they can also "take smaller forms, like … trying a new food."


Update your style: "How you dress can affect how other people perceive you, but it can also affect how you perceive yourself," Ravenscraft notes. In fact, a study by Adam Galinsky, a professor at the Kellogg School of Management at Northwestern University, "found that participants … who wore a white lab coat exhibited more focused attention," Ravenscraft writes.


Stand up straight: "While it might feel a little silly at first … , trying out powerful stances can help adjust your frame of mind," Ravenscraft writes, citing research that "suggests that something as simple sitting up straight can make you feel more confident in what you're doing" (Ravenscraft, New York Times, 6/3).
Your customizable staff recognition card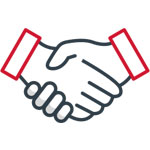 Staff want to feel appreciated for their daily contributions and valued as both professionals and as people. Use this customizable card to easily build appreciation into your employees' daily work.