Editor's note: This story has been updated.
Providers at two local hospitals rushed to treat victims of a mass shooting after a former public works employee allegedly opened fire Friday evening at a municipal building in Virginia Beach, Virginia, killing 12 and injuring four.
From shootings to hurricanes: How can your hospital prepare for disasters?
Details on the shooting
Friday morning, DeWayne Craddock, a former Virginia Beach public works employee, reportedly sent an email to his superiors informing them of his resignation. Then, around 4 p.m. ET, Craddock entered the building armed with a .45-caliber handgun with a silencer and large amounts of ammunition and began firing.
After police arrived on the scene, Craddock was discovered on the second floor of the building, where a gun battle between authorities and Craddock ensued. An officer was injured in the gun battle. After police breached the door, Craddock was found alive but wounded. He died en route to the hospital.
Eleven of the 12 people killed were former coworkers of Craddock's. The 12th victim was a contractor who had been at the building to see about a permit.
Police are still looking for a motive.
Wounded sent to Sentara hospitals
Two area hospitals received patients who were injured in the shooting. One patient was sent to Sentara Norfolk General Hospital, which treats high-level trauma cases. As of Sunday, that patient was listed as being in critical but stable condition, according to USA Today.
Five patients were taken to Sentara Virginia Beach General Hospital, according to Marin O'Grady, chief of trauma. One was declared dead on arrival, and a second died shortly after arriving, O'Grady said.
On Sunday, the hospital said two patients  remained in critical condition, while a third patient was downgraded from fair to critical condition following a surgery, according to USA Today.
At a press conference Saturday, Janelle Thomas, an emergency physician at Sentara Virginia Beach, characterized the situation as "controlled chaos," adding that there were "a number of folks in different roles attending to their roles" as well as others "directing traffic."  
Thomas said, "This is what we train for; this is why we chose to go into these professions. But when it's actually happening in the scale that it's happening, it becomes surreal, and you have to just focus, compartmentalize, attend to what's going on at that moment."
Comments
President Trump in a tweet said he had called Gov. Ralph Northam (D) as well as the mayor and vice mayor of Virginia Beach to offer his condolences. "The Federal Government is there, and will be, for whatever they may need," Trump said.
Virginia Beach Mayor Bobby Dyer shortly after the shooting, said, "This is the most devastating day in the history of Virginia Beach" (Alltucker et. al., USA Today, 6/2; Burke, NBC News, 6/1; Carissimo/Siese, CBS News, 6/1; Thrush/Blinder, New York Times, 6/2; Washington Post, 6/1).
From shootings to hurricanes: How can your hospital prepare for disasters?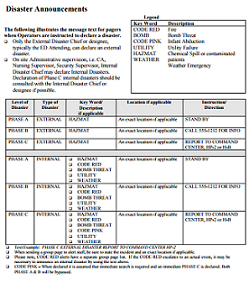 Hospitals must be prepared for myriad disasters that can stress health care systems to the breaking point and disrupt delivery of vital health care services.
Advisory Board has compiled step-by-step procedures for various threats your facility may encounter—though we hope you'll never need to use them.