Facing pressure from pharmaceutical companies, FDA is considering regulating fecal transplants as a drug—but doctors are worried the move could compromise patient access to the life-changing treatment, Andrew Jacobs reports for the New York Times.
Here are 8 clinical technologies that could transform health care delivery
The rise of fecal transplants
To perform fecal microbiota transplants (FMT), doctors transfer fecal matter from healthy donors into the bowels of patients, either through capsules or a colonoscopy. The goal is to restore gut microbes that may have been wiped out by antibiotics.
Research shows that the treatment has an 80% success rate in treating Clostridium difficile (C. diff)—a stubborn bacterial infection that affects the digestive system.
Now scientists are looking into the possibility of employing FMT to treat other conditions, such as cancer and diabetes.
As the treatment has increased in popularity, FDA in 2013 announced a draft decision to regulate FMT as a drug, but announced that it would need to conduct more research before deciding how to regulate the therapy.
The so-called 'poop wars'
Fast forward to 2019, researchers, pharmacists, and doctors are expecting FDA to make a decision on FMT regulation "soon," Jacobs reports. The impending decision has reignited controversy between doctors, who are skeptical of the new regulation, and pharmaceutical companies, which support classifying the treatment as a drug, Jacobs writes. 
The controversy, which one doctor calls the "poop wars," centers on how FMT is classified. Specifically, it's up for debate whether fecal microbiota that cure C. diff. should be considered a drug or more like organs, tissues, and blood products that are transferred from a healthy patient as treatment for another, Jacobs reports.
Doctors who are wary of regulating the therapy fear that drugmakers will pressure FDA to regulate the treatment as a drug and in turn render it unaffordable. One particular concern is that if FDA regulates fecal transplants as a drug, the drug approval process could grant one drugmaker the right to sell the therapy exclusively for up to 12 years, which would halt innovation and lead to higher costs for the treatments.
According to Jacobs, "Human feces, it turns out, are a potential gold mine, for both medical researchers and drugmakers." In fact, GlobalData revealed that the market for C. diff treatments might reach $1.7 billion by 2026, compared to $630 million in 2016. In fact, some pharmaceutical companies have already raised millions of dollars from investors who are looking to tap into the growing, drug-based C. diff treatment market.
Alexander Khoruts, a gastroenterologists from the University of Minnesota, calls those companies the "poop drug cartel," and he and other doctors are concerned drugmakers will use the money to pressure FDA to regulate.
 "I don't think there are clear villains here," Khoruts said, "but I worry that the regulators are not caught up on the latest science and that the interests of investors may be exceeding those of patients."
The patient side of the poop wars
When it comes to patient safety, experts have made arguments for and against regulation on both sides.
On the one hand, executives in the pharmaceutical industry argue that, while regulation might increase prices, it will also ensure that fecal samples are tested and proven safe, Jacobs reports.
However, many doctors and patients worry that those same efforts to make FMT safer, will make the treatment unaffordable for patients who need it and in turn push some to try unsafe DIY measures (Jacobs, New York Times, 3/3).
Here are 8 clinical technologies that could transform health care delivery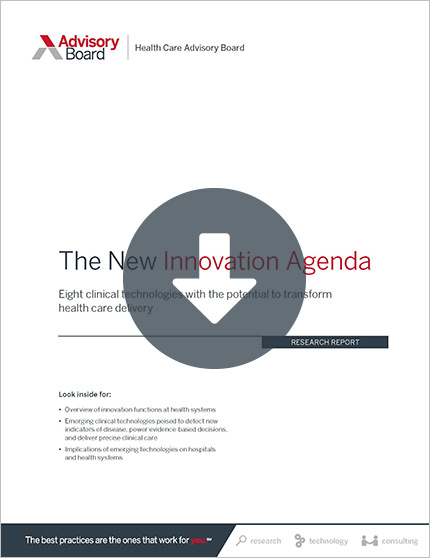 Our new report explores the clinical technology pipeline to help health care leaders become more conversant in the major vectors of innovation, leading applications of new technologies, and the business implications for established providers. Read on to unpack the new innovation agenda.