When wildlife biologist Jeannette Parker received an emergency rabies vaccine at a local hospital following an animal bite last September, she left the hospital "happy as a clam," relieved that she had staved off a potential infection, Kaiser Health News reports. Then the bill came.
'Surprise' medical bills, explained in 5 charts
What happened
Last September, Parker was driving along a rural road near Florida Everglade's National Park when she saw a stray cat. Parker got out of her car to feed the cat some tuna—and the cat bit her, breaking her skin.
Immediately after the incident, Parker cleaned her wound and did some research into possible complications. She learned that Miami-Dade County, where she had encountered the cat, had a rabies warning about in effect. So she set out in search of a rabies vaccine.
First, Parker called her local health department to see if she could get a shot there, but the health department was closed.
Next, Parker decided to go to Baptist Health South Florida's Mariners Hospital's ED, which was in her insurer's network. Parker spent about two hours in the ED. There, she received an antibiotic and two types of injections, including 12 milliliters of rabies immune globulin, which helps jumpstart an individual's immune system before a vaccination. Parker never spoke with a doctor.
Recalling the experience, Parker said, "I went home happy as a clam."
What the bill said 
Then Parker, who is insured under her husband's plan through the American Postal Workers Union (APWU), received her bill, which totaled $48,512.
While her insurer covered the bulk of it, she still owed $4,191.10 out of pocket for the final $344 of her deductible for the year in addition to a 10% share of the charges her insurer accepted, according to KHN.
What accounted for the nearly $50,000 worth of charges? The ED charged $46,422 for her rabies immune globulin injection. According to KHN, that appears to be much higher than usual charges: CDC estimates post-exposure preventive treatment for rabies, which includes the four doses of a vaccine administered over two weeks and the rabies immune globulin, typically costs around $3,000.
Richard Evans, a drug industry analyst at SSR Health, said the average rabies immune globulin wholesale acquisition price, which is the amount wholesalers pay before marking up prices when they sell drugs to distributors and hospitals, is $361.26 per milliliter. The hospital would not confirm its billing rate, but KHN looked at the bill and determined the hospital charged $7,737 per 2-milliliter dose.
Two billing experts at America's Health Insurance Plans noted insurers and hospitals have not negotiated discounts for all services—and high-cost services will result in high charges regardless of the discounts.
Parker said she contacted her insurer and found out her treatment for the cat bite should have been considered an accidental injury and eligible for 100% coverage under her health plan—minus Parker's remaining deductible, according to KHN. She is requesting the hospital resubmit her bill to her insurer to see if her health plan will cover her 10% share of the charges.
The hospital's response
Dori Robau Alvarez, a spokesperson for Baptist Health, said, "We work with our patients on a case-by-case basis to resolve any concerns, and are doing so in this case."
Alvarez noted the hospital revised its chargemaster—including its price for rabies immune globin—about a month after Parker received treatment. Now, the hospital charges $1,650 per 2 milliliters of rabies immune globulin, which according to KHN would have left Parker's charges at about $9,900.
However, the hospital has not offered to lower the price of Parker's bill to reflect the new pricing. Alvarez said that "[s]tatements for patients who received treatment prior to the change would reflect the previous charge."
According to KHN, Alvarez did not comment on the hospital's pricing in the past or its decision to lower it for future patients (Appleby, Kaiser Health News, 2/27; Gooch, Becker's Hospital CFO Report, 2/26).
What patients want along their financial journey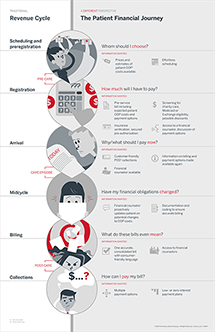 Follow the patient financial journey, from pre-care through billing and collections. Learn a patient's questions and fears that arise at each step, and what tools and support your revenue cycle program must proactively provide.