Roche Holding on Monday purchased Children's Hospital of Philadelphia's (CHOP) drug spinoff Spark Therapeutics for $4.8 billion, bringing CHOP an estimated 20-fold return on its investment, Bloomberg reports.
New report series: 10 strategies to re-ignite the revenue growth engine
A big 'payday' for CHOP
CHOP founded the drug venture Spark in 2013 to "create a new stream of funding for future scientific discovery," according to CHOP CEO Madeline Bell. The drugmaker went public in 2015 with Luxturna, a gene therapy treatment for blindness that is expected to make $76 million in sales this year.
The hospital was Spark's biggest shareholder with a 10.6% stake in the company.
On Monday, Roche Holding AG bought Spark for $4.8 billion, which would result in a $456 million payout for CHOP—in addition to the $285 million the hospital's foundation made from earlier share sales.  According to Spark, CHOP had invested $33 million into the venture, meaning that it realized a more than 20-fold return in under six years, according to Bloomberg.
CHOP declined to comment on Bloomberg's calculation of the investment return, Bloomberg reports.
A unique deal
Henry Bienen, president emeritus of Northwestern University who helped the school license rights to the drug that became Pfizer's Lyrica, said a return on investment of this size is rare, adding that "you can count on one hand deals where a hospital or university made 400 or 500 million bucks."
While a few other academic medical centers and universities made millions through drugs they helped develop, they usually made the money through royalty streams, according to Bloomberg. For instance, UCLA in 2016 made $520 million after selling the royalty rights for its prostate cancer drug Xtandi to Royalty Pharma. Similarly, Northwestern in 2016 made $1.4 billion in royalties from Lyrica. For comparison, UCLA's drug Xtandi had over $1 billion in sales at the time of the deal, but Spark only had $64.7 million in sales in 2018. 
The 'value in the deal' for Roche
While Monday marked a big payday for CHOP, Bloomberg estimates that Spark's Luxturna—which costs $425,000 per eye— will make $76 million in sales this year and that Spark's new gene-therapy treatment for hemophilia—which has yet to hit the market—might be the bulk of the "value in the deal" for Roche (Langreth, Bloomberg, 2/25; Bannow, Modern Healthcare, 2/25).
New report series: 10 strategies to re-ignite the revenue growth engine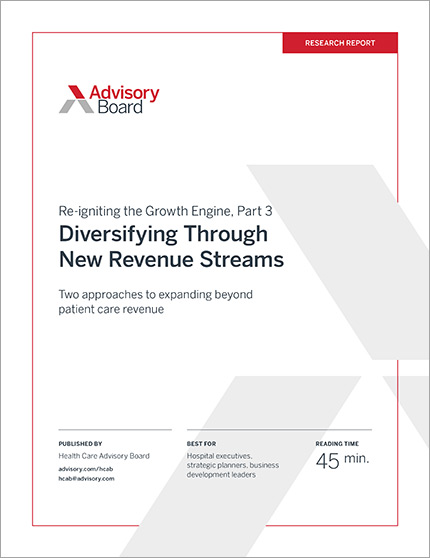 Our three-part Reigniting the Growth Engine series walks through ten strategies to guide hospital and health system leaders on the road to effective long-term revenue growth.
The research explains the forces behind today's margin challenge, provides a framework for comprehensive and efficient revenue growth, and features case studies of best-in-class organizations.
Part 1 | Reduce avoidable revenue erosion
Part 2 | Win increased share of lucrative patient volumes
Part 3 | Diversify through new revenue streams