Editor's note: This popular story from the Daily Briefing's archives was republished on March 13, 2020.
When Jon Mehlman's wife Marla was given a "breast cancer death sentence," the couple made an "unusual, but loving" decision not to tell their three daughters about her diagnosis. Writing for The Atlantic, Mehlman describes how his wife's "sacrifice" gave his daughters stability and allowed them to "discover their own strengths."
Download URMC's end-of-life conversation prompts
The 'breast cancer death sentence'
Mehlman writes that, if someone on his wedding day had asked him to imagine his future with Marla, "I would not have said we'd be a couple who fought a fatal illness together. Nor that [the] private act would be the thing that united us the most," he writes.
In 2009, Marla's radiologist diagnosed her with early-stage breast cancer. "She was also BRCA-positive, meaning that she carried the inherited gene for the disease," Mehlman writes.
Marla underwent ovary removal, a double mastectomy, and eight rounds of chemotherapy to fight the disease. At the time, doctors deemed the treatment a success. But only a couple of years later, she received bad news from the head of breast oncology services at Memorial Sloan Kettering: "Marla had a triple-negative cancer cell, the fiercest of them all," Mehlman writes. "When linked with the BRCA mutation, it is commonly referred to as 'the breast-cancer death sentence.'"
The oncologist advised Marla to "live [her] next 1,000 days in the best way [she knew] how"—because that was likely all the time she had left.
An 'unusual, but loving' decision
"When Marla beat back the first assault in 2009," the entire family, including Mehlman and Marla's three daughters "all celebrated," Mehlman writes. But after Marla's later diagnosis, the couple made an "unusual, but loving" decision not to tell their children, friends, or certain relatives about Marla's cancer, he recalls.
"Marla knew that once our three daughters understood that their mother had been given 1,000 days to live, they'd start counting," Mehlman writes. He and Marla feared that the news would prevent their daughters from enjoying "school, friends, their teams, or birthday parties. They'd be watching too closely—how she looked, moved, acted, ate, or didn't," he writes. "Marla wanted her daughters to stay children: unburdened, confident that tomorrow would look like yesterday."
Instead the couple "told only our parents and siblings," Mehlman writes.
At times, the couple went to great lengths to hide Marla's fight with cancer from their daughters and friends. "When Marla needed Neulasta shots for her bone strength, she slipped the doctor into our house quietly in the evenings, while the kids were upstairs doing their homework," Mehlman writes.
Through nausea and fatigue, Marla "disguised" her illness to "giv[e] our daughters their youth, convinced that normalcy would allow them to discover their own strengths," Mehlman writes.
3,500 days
Together, Mehlman and Marla established a "stealth treatment strategy," through which "[e]verything would be tried; little would be shared." Between research, lectures, and treatments, Marla "didn't just buy time; she cheated it, " Mehlman writes. In the end, Marla survived for more than 3,500 days.  
While Marla's battle remained a secret for most of those days, "this past fall, we had to confront that we were running out of options," Mehlman writes.
Mehlman and Marla told their daughters the truth about Marla's second diagnosis at Thanksgiving. "She had effectively been undergoing chemo for seven straight years," Mehlman told them. "She had chosen to give our family a routine without a morbid spotlight."
Just a few weeks after they told their daughters the truth, "an unanticipated complication" led to Marla's death on Dec. 19, 2018.
Should others follow Marla's example?
Mehlman knows that "some might not have made the same decision," adding that telling the girls the truth would have allowed them to "savor diminishing moments. But Marla "didn't want her girls to savor; she wanted them to sail, and that meant less information," Mehlman argues.
Following Marla's death, their daughters, who are now almost 18, 19, and 21, "talked often about their mother's sacrifice," Mehlman writes. "[They] said to me without prompting, 'I am so glad I didn't know what Mommy was going through. I would have worried every single day.' In these past two months, they have reassured me again and again that not telling them was the loving choice" (Mehlman, The Atlantic, 2/14).
Learn more: How to improve end-of-life care for cancer patients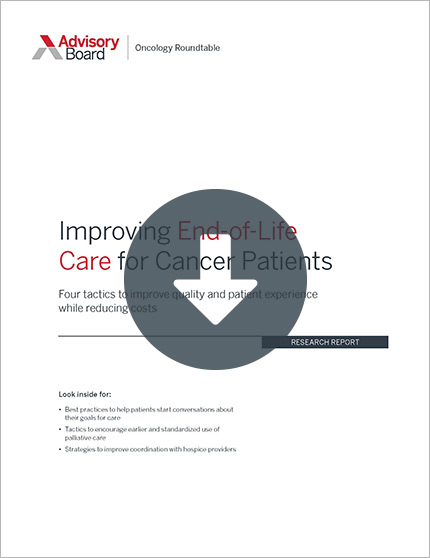 To help cancer program leaders overcome challenges to improving end-of-life care, this report outlines how to empower patients to start the conversation, give the care team the right tools, integrate palliative care early, and build better hospice relationships.