Robert Montgomery, the director of NYU Langone's Transplant Institute, for years has been advising transplant patients to opt for hepatitis C-infected organs, and now he's a living example of how successful procedures with such organs can be, Sumathi Reddy reports for the Wall Street Journal.
Here are 5 key tactics to attract and retain transplant patients
Montgomery's heart condition
Montgomery suffers from familial cardiomyopathy, a genetic disease that affects the heart's electrical pathways, Reddy writes. The disease can cause cardiac arrhythmias that result in heart attacks.
Montgomery had a defibrillator implanted in his heart at age 29. The device has saved his life multiple times, including once in August 2018, while he was attending a medical meeting in Italy. Montgomery was in his hotel room with his wife when he fell face down on the floor and had four cardiac arrests within three hours, Reddy writes. Montgomery flew back to New York the following day. "At that point my heart function was probably at about 20%," he said.
The combination of his life-threatening arrhythmias and his decreased heart function made Montgomery an urgent transplant candidate, Reddy writes. He was admitted to the hospital under an alias so as not to receive special treatment or priority for a transplant.
Taking his own advice on hepatitis C organs
Five days after he was admitted, a heart became available for Montgomery. The organ was from a heroin user who had died of an overdose—but the donor, and therefore the organ, was infected with hepatitis C. Montgomery, who for years had advised his transplant patients to accept hepatitis C-infected organs, said he'd accept the heart.
"This was an opportunity to both use an organ that we probably wouldn't have used and to kind of morally align myself with what I believed and had been telling people," Montgomery said. He explained, "I could have stayed in the hospital for months or even a year. You have to find a similarly sized person and the same blood group and there's just not that many hearts available … so I could have waited a long time and may have died."
Montgomery underwent the transplant and, five days later, he tested positive for hepatitis C, Reddy writes. He took oral medication every day for eight weeks until his infection cleared, and he returned to work part-time two weeks after his surgery. Montgomery was back to working full-time two months later.
The potential of hepatitis C-infected organ transplants
While transplanting a hepatitis C-positive organ was once a controversial topic, advances in medicine have lowered the risks and a surge of drug-related overdose deaths has led to a significant increase in organ transplants, Reddy reports.
According to the United Network for Organ Sharing (UNOS), there were 1,631 hepatitis C-positive organ transplants performed during the first 10 months of 2018, up from 1,423 in 2017 and 600 in 2014. David Klassen, UNOS' CMO, said hepatitis C-positive transplants are most common in kidney and liver patients, but heart and lung transplants with hepatitis C-infected organs are becoming more common.
According to Kelly Schlendorf, an assistant professor of medicine and medical director of the Adult Heart Transplant Program at Vanderbilt University, the median wait time for a transplant of a hepatitis C-positive organ is 11 days. "Some patients who had been waiting for over a year on our list were transplanted relatively quickly," she said.
Patients who receive hepatitis C-positive organs typically contract it, but modern medicines are over 95% effective at curing hepatitis C and often are covered by insurance.
While the long-term outcomes of using hepatitis C-positive organs isn't necessarily known, it's often better than the alternative, Kelly Schlendorf, an assistant professor of medicine and medical director of the Adult Heart Transplant Program at Vanderbilt University, said. "For some patients, [that alternative] may be mechanical support, for other patients, it may be death," she said.
Montgomery said some of his patients don't like the idea of receiving a hepatitis C-positive organ, and at least "for [his] kidney patients, [he doesn't] try to convince them," he said. "I just give them the facts and just tell them the risk of the treatment not working is much lower than the risk of dying on dialysis" (Reddy, Wall Street Journal, 1/28).
Here are 5 key tactics to attract and retain transplant patients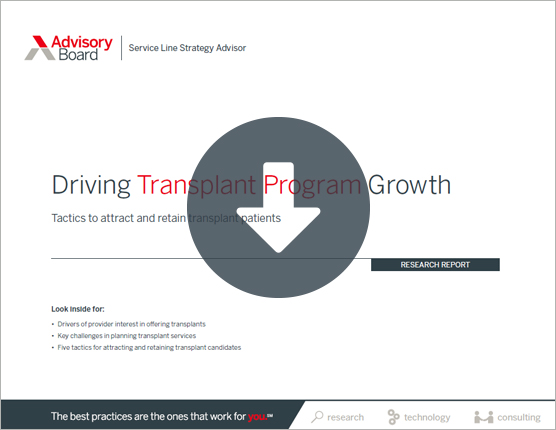 Download this briefing to learn how to expand the pipeline of potential transplant patients and engage them across the care pathway.