At least 12 patients at NIH's hospital fell ill and three died after becoming infected with antibiotic-resistant Sphingomonas koreensis (S. koreensis) bacteria that lived in the hospital's water pipes, according to a study published last week in the New England Journal of Medicine.
When a disaster occurs, the whole hospital is our patient
A group of NIH researchers investigated the bacterial contamination following an influx of infections at the NIH Clinical Center in Bethesda, Maryland, in 2016. The researchers examined the hospital's water pipes and found S. koreensis bacteria in the faucets and sink water in patients' rooms. To identify the location of the bacteria in the water pipes, the researchers cultured S. koreensis from the sinks and performed whole-genome DNA sequencing to compare the isolates from the medical center with S. koreensis isolates from other institutions.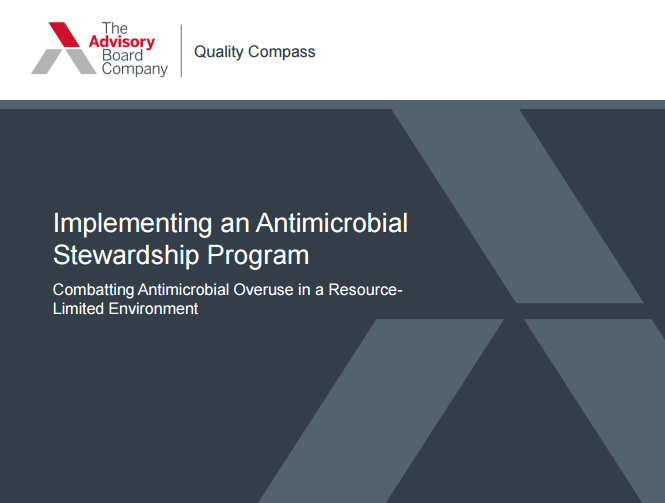 Your guide to implementing an antimicrobial stewardship program
According to researchers, the bacteria may have been in the medical center's water pipes since 2004. They said the bacteria may have been left over from construction.
The S. koreensis contamination is the latest known instance of contamination at NIH's Clinical Center, but it was not the only instance. In 2011, a superbug outbreak infected patients at the Clinical Center, and in 2015, fungi were detected in the clinic's drug vials, STAT News reports. NIH Director Francis Collins overhauled of the Clinical Center's leadership after a 2016 internal report revealed that NIH researchers did not prioritize patient safety.
What happened?
The new report revealed that at least 12 patients at NIH's Clinical Center became infected with S. koreensis bacteria between 2006 and 2016, and three patients died in 2016.
However, the researchers did not conclude that S. koreensis was the cause of death for the three patients. The patients who died "had multiple other life-threatening conditions, which were complications of their underlying disease" and had received  stem cell transplants, which could have made them more prone to infection, according to Tara Palmore, hospital epidemiologist at the Clinical Center and author of the study.
Still, the researchers did not rule out the uncommon bacteria as the cause of death for the patients. Palmore said that even though S. koreensis "are fairly weak bacteria, … in a patient who is highly immunosuppressed, it doesn't take a highly virulent bacteria to cause additional illness."
Palmore also noted that hospital-acquired infections aren't unique to NIH. Hospital-acquired infections "occur in every hospital," Palmore said. According to CDC, an estimated 4% of patients acquire disease from the hospital environment.
Addressing the problem
Following the discovery of the contaminated pipes, the Clinical Center made changes to its water system to prevent or reduce future contaminations, according to STAT News. According to Palmore, the medical center added more chlorine and increased the water temperature after learning that the water had low chlorine levels. The staff are also "taking out plumbing and putting it in a different shape," to organize the pipes into a configuration that will minimize bacteria growth, Palmore said.
"It's a long-term project in our hospital that proceeds at a slow pace because we can't turn the entire hospital into our laboratory," Palmore said (Swetlitz, STAT News, 12/26/18; Cook, Becker's Hospital Review, 12/27/18; Johnson et al., New England Journal of Medicine, 12/27/18).
When a crisis threatens, here's how to protect your critical data—and your patients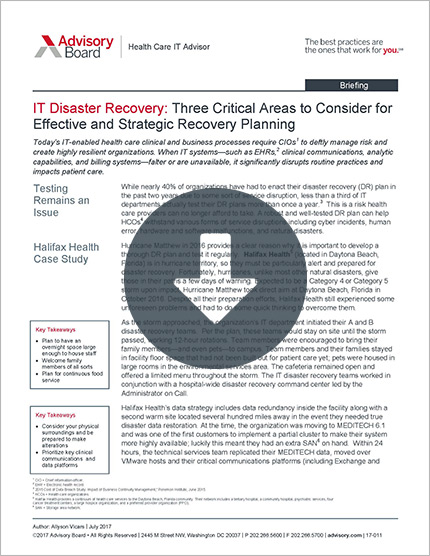 A robust and well-tested IT disaster recovery plan can help your organization withstand service disruptions including cyber incidents, human error, hardware and software malfunctions, and natural disasters.
Download our research briefing to discover the three critical areas to consider when creating your recovery plan—and to learn how Halifax Health protected its data, its staff, and its patients when Hurricane Matthew struck Daytona Beach last year.