Isela, a nurse at Boston Medical Center's addiction treatment program, was denied life insurance after the insurer learned she has a prescription for naloxone—which the nurse carries not for herself, but as part of a public health effort to help save people from drug overdoses, Martha Bebinger reports for NPR's "Shots."
Reporters agreed to use only Isela's first name out of her concern that the story could compromise her ability to secure life insurance in the future. 
Isela's story
Isela's first sign something might stop her from getting life insurance was at a blood work appointment, which was supposed to be the final step in the application process. When Isela got to the lab, she learned the appointment was cancelled.
Isela then called her insurance agent at Primerica and discovered that her application had been denied because something on her medication list indicated that Isela used drugs—specifically, her prescription for naloxone, Bebinger reports. Isela told her agent, "But I'm a nurse, I use it to help people. If there is an overdose, I could save their life."
This has been the same message many federal officials, including Surgeon General Jerome Adams, have sent to the general public. In April, the surgeon general issued a summary advisory that said "BE PREPARED. GET NALOXONE. SAVE A LIFE."
Primerica told NPR it couldn't discuss ongoing cases, but Keith Hancock, VP for corporate communications for the company, said, that if an applicant "has a prescription for naloxone, we request more information about its intended use as part of our underwriting process." He added that Primerica "is supportive of efforts to help turn the tide on the national opioid epidemic."
Isela sought out a second life insurer after Primerica denied her application, but she was denied coverage again, though the second company said it would reconsider if she sent them a letter from a doctor explaining why she needs naloxone, Bebinger reports.
But there was a problem with that: Isela acquired naloxone using a "standing order," meaning a prescription that anyone can fill.
Massachusetts is one of several states that have a standing order for naloxone, meaning that one prescription works for everyone. As a result, Isela had to get a letter from the doctor who signed the statewide prescription: Alex Walley, an associate professor of medicine at Boston University and a physician at Boston Medical.
According to Isela, the second company allowed her to reapply after obtaining Walley's letter stating that she carries naloxone so she can reverse an overdose.
A 'frustrating' ordeal
Walley said he worries that hassles like the one Isela went through will discourage people from carrying naloxone. "We want naloxone to be available to a wide group of people—people who have an opioid use disorder themselves, but also [those in] their social networks and other people in a position to rescue them," he said.
Walley said he's written about a half dozen letters for other Boston Medical employees who were denied life insurance because of their naloxone prescription. "My biggest concern is that people will be discouraged by this from going to get a naloxone rescue kit at the pharmacy. So this has been frustrating."
Michael Botticelli, who runs the Grayken Center for Addiction Medicine at Boston Medical and led the White House Office of National Drug Control Policy during former President Barack Obama's administration, said friends and family of patients need to feel that they can carry naloxone without the fear that it will cost them their insurance. "It's incumbent on all of us to make sure that we try to kind of nip this in the bud before it is any more widescale," he said. Botticelli added that increased access to naloxone is why Massachusetts has seen 20 fewer overdose deaths this year compared to last so far.
Botticelli sent a letter to Adams about his concerns, and Adams said he has contacted the National Association of Insurance Commissioners (NAIC) about the issue. The NAIC said they have not heard of any cases in which someone has been denied life insurance because they purchased naloxone.
"Naloxone saves lives, and it is important that all Americans know about the vital role bystanders can play in preventing opioid overdose deaths when equipped with this life-saving drug," Adams said (Bebinger, "Shots"  NPR/WBUR, 12/13).
Five ways to control the flow of drug expenditures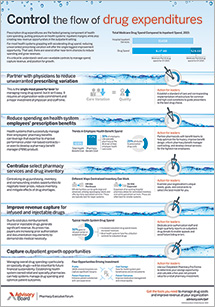 Prescription drug expenditures are the fastest growing component of health care spending. And while reducing unwarranted prescribing variation is the single biggest improvement opportunity, there are several other near-term chances to reduce spending and grow revenues.