Hospital costs may be lower for children who have their wishes granted by the Make-a-Wish Foundation than for those who don't, according to recent study in the journal Pediatric Research.
Your cheat sheet on pediatric telehealth
Can a wish lower hospital costs?
The researchers compared ED visits and unplanned hospital admissions for two groups of 496 patients at Nationwide Children's Hospital in Ohio. One group of kids received a wish from the Make-a-Wish Foundation. The other group did not receive a wish from the foundation.
The Make-a-Wish Foundation grants 15,400 wishes each year for children with life-threatening or limiting illnesses, according to NPR's "All Things Considered." On average, a wish costs $10,130, which includes all expenses related to the gift or experience.
Among the children who received a wish, 45% had cancer, 16.5% had blood/kidney conditions, 14.5% had neurological conditions, and 14% had genetic conditions. The Make-a-Wish Foundation said the sample was representative of children who receives wishes nationwide.
Kids who received wishes had lower hospital costs
The researchers found that children who received wishes were more likely than children who didn't to have lower treatment costs in the second year of treatment. Of the kids who had their wishes "granted," 62% had lower hospital charges the second year of treatment than they did in the first. In comparison, 42% of kids who did not receive wishes had lower charges in their second year.
Wish recipients were also 1.9 times more likely to have fewer ED visits and 2.5 times more likely to have fewer unplanned hospitalizations two years after they received their wish, compared with children who were not selected for the program, the researchers found.
Based on their findings, the researchers wrote, "Participation in the Make-A-Wish program may provide children quality of life relief while reducing hospital visits and health care expenditures."
Researchers aren't sure how, but they have some ideas
Patel said they are "not quite sure why we saw these results." And, since the study is observational, the researchers cannot prove that a wish has a direct correlation with better health outcomes.
However, Patel speculated that the wish might allow the "patient to be more connected with their family and medical team to where they are engaged more in their care and possibly more adherent to treatments."
The researchers also suggested that the positive experience could help patients feel better, faster. "I believe there is a benefit to health for when people experience good things such as a wish that makes them happier," Patel said.
For instance, Tiffany Rowe, a 46 year-old life coach from San Francisco who had idiopathic aplastic anemia, had her wish granted to dance with Michael Jackson during a concert tour when she was 15.
Rowe said the gift gave her "a sense that I was fighting for something, not just against something, and that was incredibly motivating."
Ashley Andrews, a social worker at Children's Mercy Hospital, said that "positivity can sometimes be correlated with treatment adherence." She added, "If their adherence has improved, obviously that would decrease the ED visits and hospitalizations."
As for the children who didn't have their wishes granted, there are other factors that could have contributed to their higher health costs, according to "All Things Considered" reports. It's possible that those children were too sick to travel or turned down the gift, according to "All Things Considered" (Rapaport, Reuters, 11/16; Haelle, NPR, "All Things Considered," 11/20; Patel et al., Pediatric Research, 10/18).
Your cheat sheet on pediatric telehealth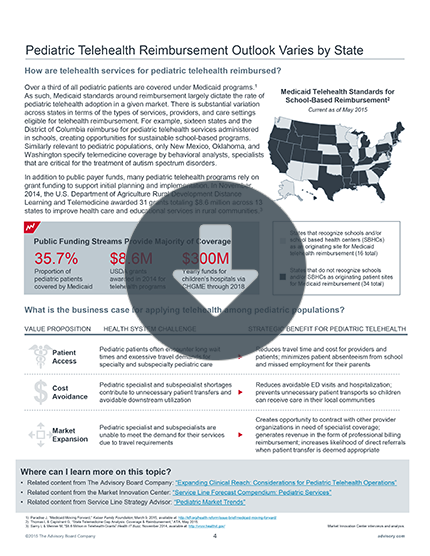 This primer describes trends in the application of telehealth technologies to provide care for pediatric patient populations
Download it now to get definitions of key terms, discussion of investment considerations, and a sample case study from a leading health care organization with an established pediatric telemedicine program.