Chickenpox parties for unvaccinated children are making a comeback, leading providers to reiterate the risks of exposing children to the full-strength chickenpox virus, Meghan Holohan reports for Today.
Q&A: Learn how one organization achieved 98% employee flu vaccination levels
Chickenpox parties make a comeback
According to Holohan, so-called chickenpox parties were popular in the early 1990s, before a vaccine for the virus was available. Parents would intentionally expose their unvaccinated children to chickenpox by having them interact with infected children.
Although the chickenpox vaccine, called Varicella, is now widely available, posts in a Colorado-based Facebook parenting group indicate a possible resurgence of the "risky" parties, Holohan reports.
According to Holohan, one woman posted in the group that her entire family has "a pretty contagious wild virus ... that started when [her] husband came down with the shingles." The woman wrote that she was "swamped with requests" from other parents "to have [her] daughter 'share chickenpox'" with their unvaccinated children. She wrote that she would "accommodate as many requests as possible."
A different post in the Facebook group directed parents to have their unvaccinated children share snack bowls with infected children to ensure that their kids catch chickenpox, Holohan reports.
Providers: Chickenpox parties are not worth the risk
While some parents think contracting the chickenpox virus is nothing more than an "annoyance," providers say children face a "far greater risk of more serious side effects" when exposed to the full virus without being vaccinated, Holohan writes.
The chickenpox virus, which can be airborne or transmitted by coming into contact with skin blisters, can cause "anything from a severe skin rash to meningitis to brain inflammation," according to Neel Shah, an infectious disease doctor at University of Pittsburgh Medical Center.
In contrast, the Varicella vaccine—which CDC estimates prevents more than 3.5 million chickenpox cases, 9,000 hospitalizations, and 100 deaths—typically has mild side effects such as aching at the injection site or a very mild case of chickenpox. The vaccine also can prevent shingles, which is a painful disease that can increase the risk of heart attack and stroke, Holohan reports.
"There is no doubt in my mind that the vaccine is better than getting the actual infection," said Tanaya Bhowmick, an assistant professor of medicine at Robert Wood Johnson Medical School. "People used to die of chickenpox. It is not completely benign."
According to CDC, the resurgence of chicken pox parties is occurring at a time when the number of unvaccinated children is increasing in the United States. So far, the number of chickenpox cases in the United States has not increased, but the vaccine is critical in preventing transmission of the virus, Holohan reports.
"If you get the vaccine you are not passing it on to anyone else," Bhowmick said. "There is no reason to get [children] sick" (Holohan, Today, 10/23).
Next: The germ hot spots on a plane—and how to avoid them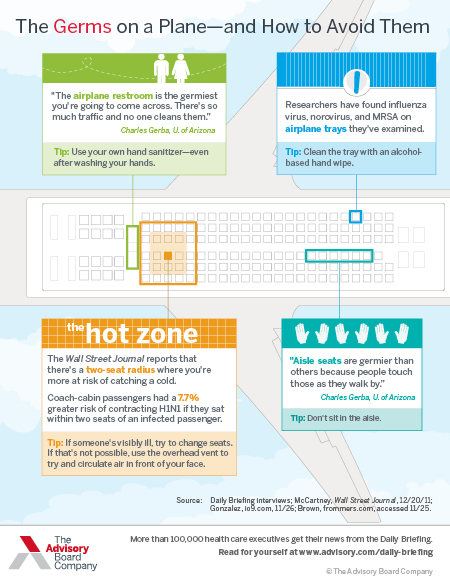 Download this infographic to learn about both the obvious and less obvious locations where germs on planes are rampant.