FDA on Wednesday approved the first direct-to-consumer genetic test—23andMe's Personal Genome Service Pharmacogenetic Reports—to help patients determine how well they will respond to certain medical treatments, but the approval came with a few caveats.
What providers should know about genetic testing and other new clinical innovations
23andMe previously marketed a mail-order DNA test kit for consumers, but FDA ordered the company to stop selling and marketing the test kit because it had not been proven effective and could mislead consumers about their health.
Genetic test will let consumers determine their responses to 50+ common Rx drugs, OTC drugs
The new genetic test functions in much the same way as other genetic tests, allowing consumers to submit a sample of their saliva to gain insight into their genetics. But unlike other direct-to-consumer genetic tests, 23andMe's will provide information on how a patient's genetic variants will affect their response to particular drug classes, Time reports.
The test is specifically designed to test 33 genetic variants associated with a patient's response to more than 50 commonly prescribed prescription and over-the-counter drugs, such as the blood thinner clopidogrel, which prevents heart attacks and strokes, according to STAT News. Several of the genetic variants the test will assess are associated with responses to mental health treatments, STAT News reports.
FDA clears genetic test with caveats
FDA in a release said the agency cleared the genetic test for consumers to gain information about genetic variants that might be associated with their ability to metabolize certain treatments and to inform their conversations with health care providers.
FDA said the test is not cleared, however, to:
Assess whether a treatment is appropriate;
Determine how a patient will respond to a specific treatment; or
Provide medical advice.
23andMe said FDA cleared the genetic test after the company showed "97% of users understood that they should not use the report to make any changes to treatment without consulting their doctor."
According to a release, the company has not yet set a date for when the genetic test will be available in the U.S. market. According to Time, a company spokesperson said a 23andMe will offer the test as part of 23andMe's existing $199 Health and Ancestry service.
Comments
Tim Stenzel, director of the Office of In Vitro Diagnostics and Radiological Health in the FDA's Center for Devices and Radiological Health, said, "This test is a step forward in making information about genetic variants available directly to consumers and better inform their discussions with their health care providers. We know that consumers are increasingly interested in genetic information to help make decisions about their health care."
Kathy Hibbs, chief legal and regulatory officer at 23andMe, said, "We want to make this proactively available to individuals so it will ultimately become convenient when, and if, they ever do need any of these medications."  Hibbs said the company expects physicians will likely play a role in determining if and how a patient uses this genetic test because the variants it tests for largely inform how patients respond to prescription medication.
Hibbs said, "Without that conversation with physicians, because we're primarily talking about prescription medications, it's a little difficult to imagine how the consumer would use the information on their own."
However, Rebecca Sutphen, co-founder and chief medical officer of InformedDNA, which focuses on the appropriate use of genetic tests, said pharmacogenetic tests might not be ready for widespread use. While there is evidence showing a link between genetic variants and how patients metabolize certain drugs, Sutphen said it remains unclear how the association should be interpreted and affect prescriptions.   
According to Sutphen, "At this moment in time, there's not an indication for most people to get genetic testing other than curiosity. Where there are indications for people to get genetic testing, there are clear guidelines and targeted tests and genetic counseling to help interpret that information in the context of your personal needs and family history" (Robbins, STAT News, 10/31; Ducharme, Time, 11/1; Gever, MedPage Today, 11/1; Kim Cohen, Becker's Hospital Review, 11/1).
What providers should know about genetic testing and other new clinical innovations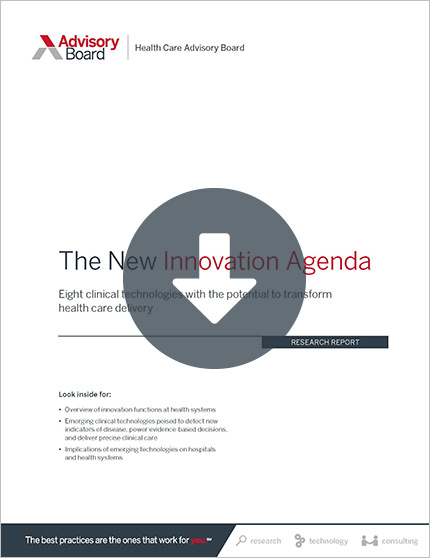 Hospitals and health systems need to prepare for a new wave of clinical innovation, especially as leaders read about the promise of patient-generated data, artificial intelligence, and precision medicine. But which emerging innovations have the potential to truly transform health care delivery?
This research report explores the clinical technology pipeline to help health care leaders become more conversant in the major vectors of innovation, leading applications of new technologies, and the business implications for established providers.