PCSK9 inhibitors are a new class of potentially life-saving drugs that help reduce cholesterol levels, but a "battle" between insurers and drug companies over the list price has kept many patients—including some at the drug's manufacturer—from accessing them, Gina Kolata writes for the New York Times.
Our take: Rx drug ads may soon have to disclose their prices. Will that actually lower prices?
Why patients have difficulty accessing PCSK9 drugs
There are currently two PCSK9 inhibitors on the market, Regeneron's Praluent and Amgen's Repatha. The drugs are intended to help patients lower cholesterol levels, reducing the risk of heart attack and stroke. The drugs are expected to be particularly helpful for those with heterozygous familial hypercholesterolemia, a genetic condition that results in high cholesterol levels and increases the risk of heart attack at a young age.
But the drugs are costly:  Drug companies sell the medications for as much as $14,600 a year. And unlike costly medications for rare diseases or particular types of cancer, PCSK9 inhibitors are intended for a large population of patients—as many as 10 million Americans are expected to be candidates for the drugs, Kolata reports. Moreover, unlike new hepatitis C medications, which cost at least $84,000 for a course of treatment, PCSK9 inhibitors are not a temporary solution. In fact, Kolata reports, most patients would need to be on the drugs for their entire lives.
According to Kolata, spokespeople for Regeneron and Amgen both explained that the drugs' list price is always higher than the amount insurers negotiate. A spokesperson for Regeneron added that the company set its list price to allow for substantial discounts once Amgen's drug was approved. Tony Hooper, Amgen's EVP, said the drug's list price "was set to be competitive within a complex health care system."
How payers limited access
However, the price tag—combined with the large, long-term potential patient population—caused insurers and others to restrict access to the drugs, Kolata writes.
For example, insurers required providers complete pre-authorization forms that Kolata writes were "inordinately long and complicated." While it's common for insurers to require such forms for costly treatments, the PCS9K inhibitor forms often requested proof of a patient's medical history, as opposed to just a doctor's verification of that history.
Leslie Cho, a cardiologist at the Cleveland Clinic, "They might want to know every statin you ever tried, or force you to try statins that make no sense, like trying simvastatin when you have already tried three other statins." Cho said the documentation was so extensive that Cleveland Clinic "had to hire a couple of people to navigate all the paperwork."
But proper documentation did not guarantee approval, and it could be weeks before an insurer issued an approval or denial, which would trigger another round of forms to appeal the decision.
In one study, 80% of patients who attempted to get a PCSK9 drug were denied, and just 50% were eventually approved after appealing. In fact, Regeneron's own insurer denied its PCSK9 inhibitor, Praluent, to many of its own employees.
Insurers defended these practices, saying the prices of the drug were unreasonable and research at the time didn't show the drug did anything other than lower cholesterol levels.
Steven Miller, CMO at Express Scripts, said, "The science behind these drugs is astonishing, but the price is also astonishing," adding that, given the price, doctors needed to see that the drugs were better than less costly alternatives. "Statins cost around $250 a year," he said.
Michael Sherman, CMO at Harvard Pilgrim, which offers health plans, said, "People get very angry when their deductibles go up, or when their premium or cost share goes up." But he added, the price of these costly drugs "is coming out of somewhere."
How access is expanding
While access still remains a big issue, there are signs that the tides may be changing, Kolata writes.
Express Scripts recently entered a deal with Regeneron to offer Praluent to its members, citing research showing the drug saves lives. Express Scripts also said it would simplify its pre-authorization forms.
Similarly, Amgen has entered a deal with Harvard Pilgrim to reduce the price of its PCSK9 drug, Repatha, and the manufacturer said it will refund the price of the drug to any patient who has a heart attack or stroke while on the drug. Amgen also said it would simplify its pre-authorization forms.
According to Kolata, Amgen has 20 other deals in the works, and officials say, as a result, access to the drug for patients with commercial insurance has increased by 33%.
At Regeneron, George Yancopoulos, co-founder and president of the company, said Regeneron created a new policy to improve access for its employees. Under the policy, the company pays for any Regeneron drug, including Praluent, for any employee who has a prescription but was denied by the company's insurer (Kolata, New York Times, 10/2; Kolata, New York Times, 10/9).
Five ways to control the flow of drug expenditures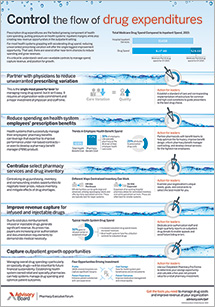 Prescription drug expenditures are the fastest growing component of health care spending. And while reducing unwarranted prescribing variation is the single biggest improvement opportunity, there are several other near-term chances to reduce spending and grow revenues.