Severely obese patients are increasingly seeking out bariatric surgery in Mexico—where the procedure is far cheaper but can come with serious, and even fatal, health risks, Nadra Nittle reports for Vox.
Survey results: What do consumers want from surgical care?
Why more Americans are traveling abroad for medical care
Medical tourism as a whole is growing in popularity, Nittle reports. A study published in the American Journal of Medicine in July estimated that 1.4 million Americans sought health care in other countries in 2017, a number that is predicted to rise by 25% this year.
Bariatric surgery—a term that encompasses several procedures in which a patient's stomach is reduced in size to reduce the volume of food the patient can eat—is among the most common reasons why Americans seek medical care abroad. The procedures can cost more than $20,000 in the United States, Nittle writes, and seeking that same care abroad can reduce patients' medical bills by 40 to 80%.
Josef Woodman, CEO of Patients Beyond Borders, which provides information to medical tourists, said many Americans travel abroad for medical care that their insurer won't cover. For instance, some insurers will cover bariatric surgery only for patients whose BMI is above a certain threshold—which is generally much higher than the threshold for obesity.
The rise in medical tourism has prompted the Joint Commission International (JCI) to establish guidelines for foreign providers, with over 250 facilities in 36 countries now having JCI accreditation. Other organizations, such as the International Society for Quality in Health Care and the International Organization for Standardization, also have ramped up their efforts to create international guidelines.
For some patients, medical tourism produces good results
Some patients report being completely satisfied with their bariatric surgeries abroad.
Tatum Hosea, 28, traveled to Mexico for a sleeve gastrectomy in August 2017. An American doctor had quoted her $14,000 for the surgery, which in Mexico would cost just $5,000.
The surgery was successful. Hosea has lost 90 pounds and had no complications. 
Hosea's father, Jason Porter, who accompanied her to Mexico for the procedure, had bariatric surgery in Mexico as well. Before the surgery, Porter, who is 6'2", weighed close to 300 pounds, making him more than 100 pounds overweight. He's now down to 220 pounds. He's still overweight, but he is no longer obese and is able to exercise—which was next to impossible before the surgery.
Although Porter had some concerns about seeking the surgery in Mexico, he felt comfortable overall, as he speaks Spanish and lived in Latin America as a child. That said, Porter still had his guard up. "I was prepared to leave if anything wasn't good," he said. "I was prepared to just take off."
Why medical tourism can be dangerous
But not everyone's experience goes as smoothly and Hosea's and Porter's. Many medical professionals have expressed concerns about medical tourism, as hospitals outside the United States may have lower standards of care, Nittle writes.
"Many people shop around for bariatric surgery," Woodman said. "They're always looking for the lowest price, but you get what you pay for. That's why you end up with botched surgeries, going to places with no license, having surgeries conducted in hotel rooms, in … clinics that are not as well-accredited and a little shady."
According to Hamilton Le, the medical director of Integris Weight Loss Center, medical tourism facilitators can also lure patients across the border with promises of a surgical vacation. "They arrange for these people to go have surgery in sunny, beautiful Mexico," he said. "They show them these beautiful luxury accommodations, and it's $4,000 for the entire trip—transportation, airport, hotel, surgery. It's this awesome vacation marketed in small towns."
But after the surgery, these facilitators are often not interested in the health of their patients, Nittle reports. And patients who seek bariatric care abroad typically don't receive the range of pre-surgical counseling that U.S. patients receive.
Further, Le said, if a patient suffers complications after surgery, many doctors in the United States won't see them out of concern they could be held liable for a medical issue caused somewhere else. Similarly, insurance companies may not cover these corrective procedures since they didn't approve the initial surgery.
Justin Blackburn had lap band surgery in Mexico 11 years ago and suffered complications. Blackburn couldn't return to the doctor who provided his initial procedure for follow-up care, so he went to an Arizona nurse trained by the doctor in Mexico who'd done his procedure.
However, Blackburn alleged that the nurse overtightened his lap band, and as a result, Blackburn developed acid reflux and esophagitis. "I was constantly throwing up," Blackburn said.
And Blackburn's stepmother, who saw the same nurse for follow-up care after a bariatric procedure in Mexico, ultimately died of sepsis after complications that allegedly resulted from an overtightened lap band.
Now, Blackburn is part of a class-action lawsuit alleging that the nurse and other medical professionals mischaracterized the "nature, quality, and safety of bariatric procedures" (Nittle, "The Goods," Vox, 10/8).
What do consumers want from surgical care?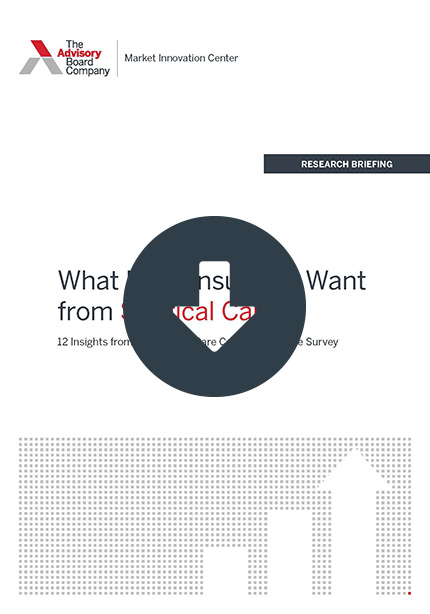 Get our early analysis of over 2,400 responses from consumers on how they prioritize provider attributes like cost, travel time, and hospital affiliation when they need surgical care for representative surgeries of varying acuity—a colonoscopy, knee replacement, coronary bypass, or cancerous tumor removal.