By Eric Fontana, Managing Director and Kenna Hawes, Senior Data Analyst
2,599 hospitals (82% of participants) will receive reduced reimbursement under the Hospital Readmissions Reduction Program (HRRP) in FY 2019, according to data just released by CMS.
The penalties, which will apply to each affected hospital's Medicare payments between Oct. 1, 2018 and Sept. 30, 2019, are based upon readmissions between July 2014 and June 2017.

3,173 hospitals were assessed in the HRRP for FY 2019. Most short-term acute care hospitals are included in the mandatory program, although some types of hospitals (Maryland hospitals, critical access hospitals, children's hospitals, veterans' hospitals, psychiatric hospitals, etc.) are exempt.
New FY 2019 methodology accounts for hospitals' population of low-income patients 
FY 2019 is the first year of a new penalty determination methodology which is intended to soften penalties for hospitals that serve large populations of low-income patients.
Under the HRRP, CMS withholds up to 3 percent of regular reimbursements for hospitals if they have a higher-than-expected number of 30-day readmissions for any of six conditions:
Chronic lung disease;
Coronary artery bypass graft surgery;
Heart attacks;
Heart failure;
Hip and knee replacements;
Pneumonia.
Historically, hospitals received a penalty if their observed readmissions for any one of these conditions exceeded a national standard. Critics of the program argued that because patients with comorbidities or complicating lifestyle factors are more likely to be readmitted, this national standard resulted in disproportionate penalizing of 'safety-net' hospitals which care for the highest proportion of low-income patients.
The HRRP's new methodology scraps the comparison to a national standard, and instead compares hospitals' performance to that of other hospitals serving a similar population of low-income patients. CMS has categorized all participating hospitals into quintiles according to the proportion of dual eligible patients (patients eligible for Medicare and Medicaid) each hospital serves. Effective FY 2019, each hospital is compared to the median readmissions performance of its cohort and hospitals with higher-than-cohort-median performance are penalized.

The FY 2019 results reveal that the fifth peer group (those hospitals with the highest proportion of dual-eligible inpatient stays) had the widest range of dual-eligible hospital responsibility, while hospitals within other peer groups had more similar patient populations.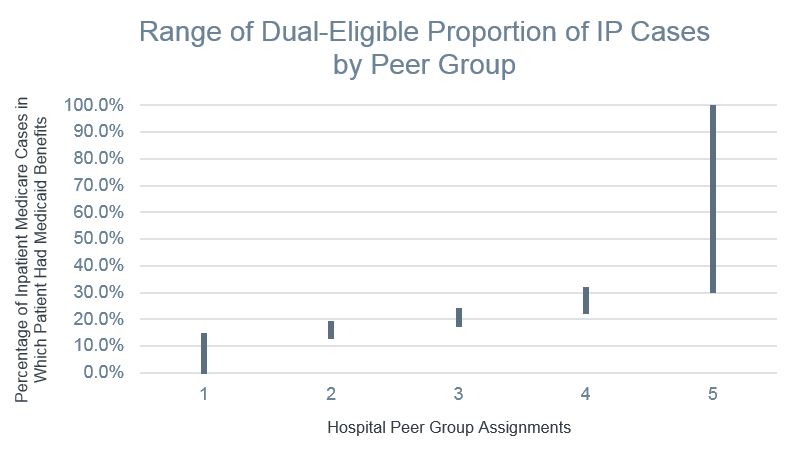 Focusing on the number of excess readmissions at each hospital (measured by the median excess readmission ratio, or ERR), we can see that performance standards do differ between peer groups. For each of the six conditions assessed in the HRRP, the ERR is generally highest in the higher-dual-eligible hospital peer groups (peer groups 4 and 5).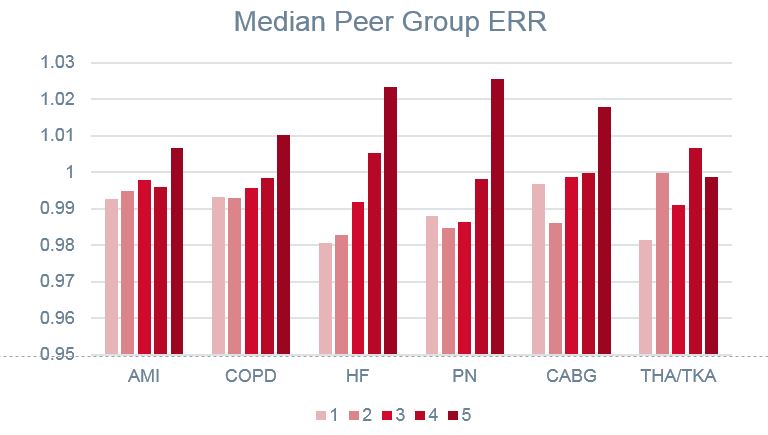 Penalty burden moves away from safety-net hospitals in 2019
The new readmissions methodology did not significantly change the overall penalties earned by the group of participating hospitals. Roughly 82% of hospitals incurred an FY 2019 penalty, a minor increase from FY 2018. The average penalty moved from 0.56% in FY 2018 to 0.57% in FY 2019.  Medicare expects that overall payments to hospitals will decrease by $566M in FY 2019 due to HRRP penalties, comparable to the $564 estimate for FY 2018.
However, we have seen a shift in which hospitals are penalized most heavily. CMS's new methodology has succeeded in distributing the burden of HRRP penalties across the entire cohort of participants.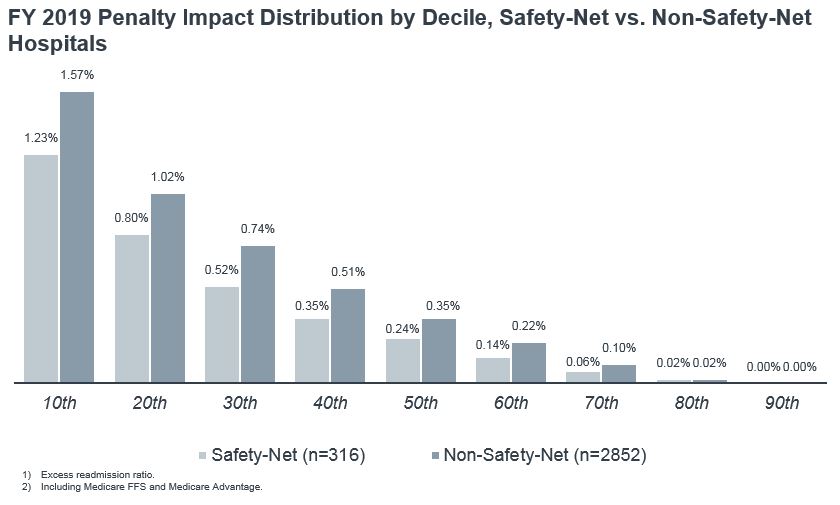 The roughly equivalent penalization of top-decile safety-net hospitals vs. other hospitals is evidence of this.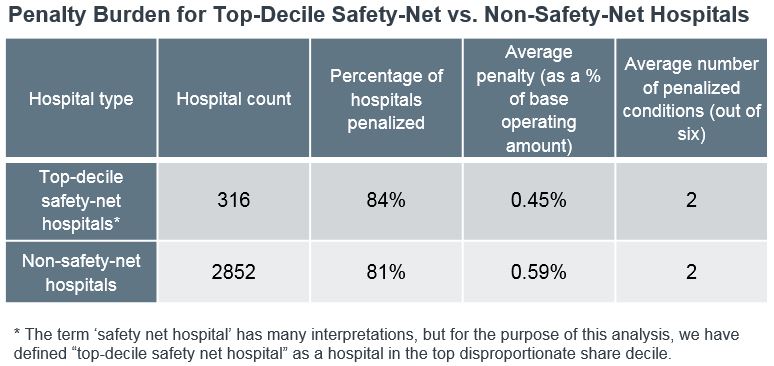 Further FY 2019 Pay-for-Performance final results will be released across fall 2018
Hospitals participating in the mandatory inpatient Pay-for-Performance programs can expect to see final FY 2019 Value-Based Purchasing and Hospital-Acquired Conditions results released in the next few months. When those final results are released, they will be incorporated into our multi-year Pay-for-Performance Map.