About one in four diabetics has resorted to rationing their insulin doses to combat rising prices—but the practice can have lethal consequences, as shown by the tragic case of 26-year-old Alec Raeshawn Smith, Bram Sable-Smith reports for Side Effects Public Media and NPR.
How six hospitals launched diabetes management programs
Why insulin is so expensive, decades after its discovery
Although the patent on insulin expired about 75 years ago, its price has more than doubled since 2012, Sable-Smith reports. A single vial of insulin now has a list price of more than $250—and most patients require two to four vials monthly.
The high prices are due in part to recent improvements that drugmakers have made to the drug, which have yielded new products with new patents. Some of the innovations were substantial: For instance, Eli Lilly's product Humulin was the first bioengineered version of the drug sold in the United States.
But experts say other tweaks to insulin have allowed drugmakers to sell the products at higher patients without resulting in any significant clinical benefits.
Alec's story
As a young adult, Alec received health insurance under his mother's insurance plan. But as his 26th birthday approached, he knew he would age out of eligibility for his mother's insurance, so he reviewed his options for funding his diabetes care.
Alec's annual salary of $35,000 as a restaurant manager was too high to qualify for Medicaid or subsidies in Minnesota's health insurance marketplace, according to his mother, Nicole Smith-Holt. And a pharmacist told Alec that without insurance, his diabetes care supplies would cost about $1,300 a month—with most of that cost going toward insulin.
After some searching, Alec thought he'd found a suitable insurance plan. It had a $450 monthly premium. But when he learned he'd have to meet a $7,600 annual deductible before coverage kicked in, he decided to remain uninsured.
Less than a month later, Alec was dead. The cause of death, according to his death certificate, was diabetic ketoacidosis.
When Alec died, his insulin pen was empty. His family believes that, faced with the overwhelming cost of insulin, Alec chose to ration the drug. He was only three days away from payday.
Sable-Smith reports that patients who cannot afford insulin can sometimes work out less expensive approaches, and at least one pharmaceutical company offers a help line to direct patients to insulin at a reduced cost. But Alec didn't live long enough to discover those options.
"It's just not even enough time to really test whether [going without insurance] was working or not," Smith-Holt said.
A journalist reflects on the parallels between Alec's story—and his own
Alec is far from alone in resorting to what Sable-Smith calls the "dangerous solution" of rationing insulin to save money. About 25% of diabetic patients in America have rationed insulin, according to a recent survey by the advocacy group T1International, which is campaigning for broader access to the drug.
In fact, Sable-Smith—who also has Type 1 diabetes—discloses that he, too, has rationed insulin.
Other parts of Alec's story also felt "familiar" to Sable-Smith: "I even used to use the same sort of insulin pens that Alec was using when he died. They're more expensive, but they make management a lot easier," Sable-Smith writes.
Smith-Holt noted that many other young diabetics are drastic measures to gain insurance coverage and to avoid running out of supplies. "Young adults are dropping out of college," Smith-Holt said. Others are "getting married just to have insurance, or not getting married to the love of their lives because they'll lose their state-funded insurance," she said.
And that, too, resonates with Sable-Smith: He and his fiancée are "getting [legally] married — one year before [their] actual wedding—so [he] can get insured" through her health benefits, he writes (Sable-Smith, "Shots," NPR/"The Workaround," Side Effects Public Media, 9/1; T1International website, accessed 9/14).
How six hospitals launched diabetes management programs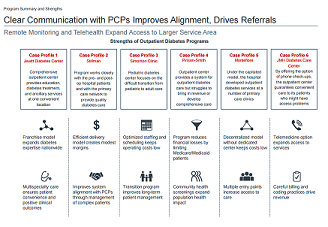 As obesity and diabetes rates rise across the country, many hospitals have developed outpatient diabetes centers. The most progressive hospitals have combined diabetes treatment, education, wound care, ophthalmology, and other services into comprehensive programs.
In this briefing, we profiled six leading institutions have successfully integrated outpatient diabetes services into their primary care networks. Read it now to learn how an effectively implemented program can benefit PCPs who may otherwise be unable to provide quality diabetes care to their patients and help your organization set itself apart from the competition.