Editor's note: This popular story from the Daily Briefing's archives was republished on Apr. 27, 2021.
Some people may imagine that doctors, "with their gigantic salaries, are immune to student debt worries," but doctors increasingly struggle to pay back their "mortgage-size debt"—and that has far-reaching consequences for the health care system, Farzon Nahvi, an ED physician in New York City, writes in a New York Times opinion piece.
Still struggling with student debt—five years later
To highlight "the magnitude" of the student debt problem, Nahvi shares his own story. He graduated medical school in 2013 with about $180,000 in student debt—a figure that Nahvi writes is roughly $10,000 less than the average medical school graduate's debt load.
To afford his monthly $700 loan payments, Nahvi writes, "I scrounged and saved during residency." But even so, by the time he completed residency, "the amount I owed had, to my disbelief, increased to $188,000" because his payments did not cover the accumulating interest. 
Five years later, Nahvi writes, "I cannot afford to buy a house, still ride my bicycle to work, and continue to skimp on meals in order to cover more than $3,000 in monthly loan payments."
And he's not alone: "A mentor in residency, several years my senior and making over $200,000 per year, once revealed that she had moved back in with her mother just to get a handle on her student loans," Nahvi writes. "Another colleague had a marriage proposal rejected because of his mortgage-size debt."
The impact of med school debt on the health care industry
The fact that the student debt crisis "has finally caught up with the 1%" is cause for alarm, Nahvi writes, noting that "[t]he burden that is [now] bowing medical students has truly been crushing lower- and middle-income graduates"
The crisis also highlights "a bigger issue ... for society," Nahvi writes. "Young physicians are avoiding careers in lower-paying specialties"—where there is a significant need for more doctors—and flocking toward higher-paying fields like cardiology that already have a surplus of doctors, Nahvi writes.
Free tuition medical school
Nahvi writes that the student debt crisis has jolted "some into action." More congressional candidates are running—and some are winning—on platforms of providing free higher education. And so far, two medical schools—New York University School of Medicine and the Cleveland Clinic Lerner College of Medicine of Case Western Reserve University—offer free tuition programs. Many other schools have begun offering free tuition to students who qualify for financial aid or a similarly sizeable percentage of students.
But more needs to be done, Nahvi writes. "The mere fact that student debt is causing the highest earners to struggle should awaken us to the severity of the situation," he writes. The United States needs to recognize "the damage wrought by crushing student debt," Nahvi concludes. "Making higher education free for all should not just be a pipe dream" (Nahvi, New York Times, 8/20).
Win the war for physician talent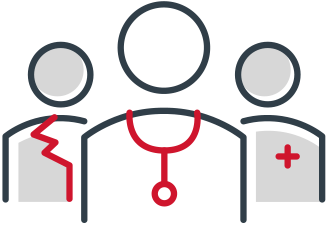 Physician recruitment is not a new problem. But generational changes and rising expectations for physician performance make competition for physician talent feel increasingly intense today.
Though recruitment challenges are deep-rooted, organizations can take steps to ensure their physician recruiting process is as effective as possible. Read the report to learn the four requirements for successful recruitment in today's competitive market.