President Trump on Tuesday signed into law a bill (HR 2345) that aims to overhaul the United States' suicide prevention hotline.
The House in July voted 379-1 to pass the bill, and the Senate—which previously had voted to approve a companion measure to the bill—earlier this month voted unanimously to approve HR 2345.
Law details
The law directs the Federal Communications Commission to work with HHS and Veterans Affairs to evaluate and report on the feasibility of establishing a three-digit dialing code that people could use to be connected with a mental health crisis and suicide prevention hotline, similar to how U.S. residents can dial 9-1-1 to be connected with emergency services. Currently, individuals must dial 1-800-273-8255 to be connected with the National Suicide Prevention Lifeline.
Supporters have said the law could help more people connect to the national suicide prevention hotline because a three-digit dialing code would be easier to remember than a long phone number.
Sen. Orrin Hatch (R-Utah), how had sponsored HR 2345's companion measure in the Senate, said, "With this bill, we can prevent countless tragedies and help thousands of men and women get the help they so desperately need. I'm grateful this lifesaving proposal has been signed into law."
Stewart said, "We now have the opportunity to make the National Suicide Prevention Hotline more accessible and easier to remember. By creating a hotline dialing code that is short and easy to remember, we are taking an important step towards potentially averting tragedy. This new law truly has the ability to save lives."
The Congressional Budget Office has projected that implementing the new law will cost less than $500,000 over five years (Kessler, St. George News, 8/14; Romboy, KSL, 8/14; Leonard, Washington Examiner, 8/14; Demko, "Pulse," Politico, 8/15).
Primer: Here are 9 innovative behavioral health care delivery models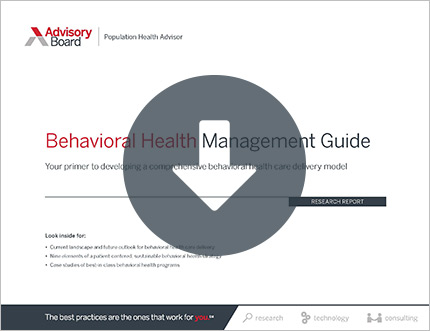 Behavioral health conditions are prevalent, often undiagnosed or untreated, and deeply entangled with chronic disease management, which makes them one of the most costly conditions today.
This report outlines nine targeted behavioral health program models designed to more effectively address the needs of patients with behavioral health conditions.