Patients increasingly are turning to ambulatory surgery centers for outpatient procedures, but a USA Today and Kaiser Health News (KHN) investigation suggests that significant gaps in state oversight and federal data may make it hard for patients to identify safe, high-performing facilities.
Download ready-to-use slides on the latest surgery market trends for 2018
Investigation details
For the investigation, USA Today and KHN examined state and federal oversight of U.S. surgery centers, which now outnumber hospitals and are increasingly conducting complex surgical procedures.
USA Today and KHN conducted interviews with hospital administration experts, Medicare officials, state health care officials, and others. The news organizations also reviewed court filings, government records obtained under open records laws, and state and federal regulations.
Findings
USA Today and KHN found that surgery centers are subject to widely varying safety and transparency rules in different parts of the United States.
According to the investigation, some states impose relatively stringent reporting requirements. Colorado, for instance, requires surgery centers to report patient deaths and certain serious injuries to the state health department, which publishes summaries of the incidents online for the public. Surgery centers in a number of other states—such as Florida, New Jersey, and Pennsylvania—are required to file incident reports, but those reports are not mandatorily shared with the public.
But at least 17 states—including Arkansas—do not require surgery centers to report when a patient suffers serious injuries or dies, USA Today and KHN report. For example, in Arkansas and Oklahoma, surgery centers are not mandated to notify health officials or patients about cases in which patients die or experience serious injuries, even if those incidents become the subject of lawsuits.
In addition, the investigation found that while the Joint Commission, the leading accreditation body for U.S. hospitals, recommends that its members report unexpected deaths to learn from such incidents, the Ambulatory Surgery Center Association (ASCA), the top accreditation body for U.S. surgical centers, has not issued similar recommendations.
Data collection is also lax at the federal level, according to USA Today and KHN. Medicare's Hospital Compare website features a wide range of data on hospitals' performance, but the federal government does not publish comparable data for surgical centers.
And experts say that even some available data—such as those related to complications that resulted in a hospital transfer—is of limited value due to a Medicare rule that allows surgical centers to report data for as few as half of the centers' Medicare patients. What that means, USA Today and KHN report, is that unless more than half of a surgical center's Medicare patients leave via ambulance, the centers essentially can "report as many hospital transfers as they choose."
Cheryl Damberg, a RAND Corp. researcher familiar with hospital quality-reporting tools for the federal government, said this particular Medicare rule leaves the public without access to certain useful information, according to USA Today and KHN. Damberg said, "It seems like this can totally be gamed. From a consumer standing, the data (for surgery centers) doesn't have a lot of utility at this point."
The result, according to USA Today and KHN, is that patients have no way of gauging the safety of a facility, even as they are increasingly being asked to play a role in their own care.
Further, gaps in oversight allow providers who have been expelled from a hospital for misconduct in some states to open their own surgery centers, USA Today and KHN report.
Experts call for better data collection
Bill Prentice, executive director of ASCA, said U.S. surgical centers safely perform a broad range of procedures, including knee replacements and tonsillectomies, each year. Prentice said he supports allowing patients to access data that would allow them to compare surgery centers with hospital outpatient departments. But he argued that such reporting requirements should be consistent across the country. "We shouldn't have a patchwork system where one state asks for one thing and others ask for others," he said.
Medicare spokesperson Tony Salters acknowledged that without a consumer complaint, state and federal officials are not aware of deaths or serious incident after a surgery at a surgical center and that no special review occurs.
Medicare officials told USA Today and KHN that the agency allows surgery centers to report a limited amount of information to ensure that such facilities are not overburdened.
However, ASC Quality Collaboration, a group of surgery centers, in letters written during 2016 and 2017 rule-making periods called on Medicare to collect additional reports on every patient transferred to a hospital to improve transparency and accountability. Instead, according to USA Today and KHN, Medicare proposed no longer collecting surgery-to-hospital transfer data and data on seven other quality measures, saying that different surgery centers reported only small differences in their transfer rates.
However, Ashish Jha, a senior associate dean at Harvard's School of Public Health, expressed confusion over Medicare's decision. Jha said he did not understand how Medicare could confidently assert that there is only a small difference in the transfer rates, because Medicare only requires centers to report on 50% of their Medicare patients and therefore is not receiving data on a complete sample of patients (Jewett/Alesia, Kaiser Health News/USA Today, 8/9).
Next, get our general surgery market updates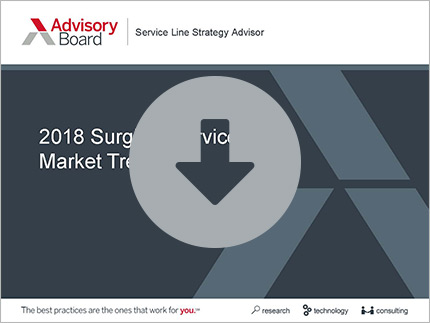 Want the latest information for your next surgical services meeting? We updated our most popular slides on general surgery with the latest market trends.
Download our ready-to-present slides to learn everything you'll need to know about planning your surgical service line.