In the six months after Hurricane Maria stuck Puerto Rico, deaths from bacterial disease in the commonwealth increased to levels that should have prompted officials to declare an "epidemic," according to an analysis of previously unreleased mortality data.
From outbreaks to hurricanes: How can hospitals prepare for disasters?
The analysis was conducted by five epidemiologists and two medical doctors. They reviewed mortality data CNN and the Centro de Periodismo Investigativo (CPI) obtained after filing a lawsuit for access to Puerto Rico's death records.
Data show increase in deaths caused by leptospirosis
The mortality database showed that, in the six months after Hurricane Maria made landfall in Puerto Rico, clinicians listed leptospirosis—a bacterial disease that spreads through soil and water, particularly after storms—as the cause of death on 26 death certificates. Leptospirosis is rarely fatal and can be treated with antibiotics, CNN reports.
The database showed the 26 deaths occurred between Sept. 24, 2017, and March 6, 2018, with 21 occurring before Dec. 31, 2017. According to CNN, the database does not indicate whether laboratory tests confirmed that leptospirosis played a role in the deaths.
A CNN and CPI analysis of CDC mortality data found that the number of deaths clinicians reported as caused by leptospirosis in Puerto Rico more than doubled when compared with the previous year, when clinicians reported 11 suspected leptospirosis deaths.
Puerto Rico officials have said they are counting CDC-confirmed leptospirosis deaths that occurred between Sept. 20, 2017, and Oct. 20, 2017 as hurricane related. CDC last week said there were 17 laboratory "confirmed and probable" leptospirosis deaths that occurred after the hurricane, as well as 25 additional "suspected" leptospirosis deaths that the agency needs further laboratory tests.
Experts say Puerto Rico should have declared a leptospirosis 'epidemic' after hurricane
The medical experts who reviewed the database said the data suggest Puerto Rico faced a leptospirosis "epidemic" or "outbreak" in 2017.
According CDC, an epidemic is defined as "an increase, often sudden, in the number of cases of a disease above what is normally expected in that population in that area." Puerto Rican officials have said the number of leptospirosis cases would have to increase "twofold" to declare it an epidemic. However, three of the medical experts who reviewed the data on leptospirosis said the records show the "twofold" threshold for declaring an epidemic had been met, and likely exceeded, because lab-confirmed cases of leptospirosis more than doubled after the hurricane. For example, according CNN, the data showed the number of confirmed cases of leptospirosis in October increased from four in 2016 to 31 in 2017, while the number of laboratory-confirmed cases of leptospirosis in November increased from one in 2016 to 16 in 2017.
Joseph Vinetz, an expert on leptospirosis and a professor of medicine at the University of California-San Diego who reviewed the data, said, "26 deaths attributed to leptospirosis—that's extraordinary. There's no other way of putting it. ... The numbers are huge." Vinetz added that the one-month timeframe Puerto Rico officials are using to determine whether leptospirosis deaths were related to Hurricane Maria is "probably too restrictive" and results in "underestimates," because leptospirosis symptoms can take three weeks to appear, and the potential for exposure to leptospirosis continued in Puerto Rico for weeks after the hurricane made landfall.
Albert Icksang Ko, a professor and chair of the Department of Epidemiology of Microbial Diseases at the Yale School of Public Health, also said the data show an "unrecognized epidemic." He said, "The outbreak of leptospirosis that occurred after Hurricane Maria and associated deaths were predictable," because "[d]isasters … are triggers or drivers of leptospirosis." Icksang Ko added that this issue "really emphasizes the challenges we have in addressing leptospirosis public health issues in Puerto Rico," saying, "This information should have been public."
Others highlight challenges with declaring a leptospirosis 'epidemic'
Carmen Deseda, Puerto Rico's state epidemiologist, said officials are investigating the 26 leptospirosis deaths reported in the database. When asked why the database showed more leptospirosis-related deaths than officials have publicly linked to the hurricane, Deseda said, "[A] lot of times the physicians don't have access to the full records, and the laboratories may still be pending." Deseda added that Puerto Rico did not declare a leptospirosis outbreak because it is "not appropriate" to compare the number of leptospirosis cases after the hurricane to the number of cases before the hurricane, since officials after the hurricane actively looked for leptospirosis cases using different diagnostic tests.
In addition, Deseda said there were delays in testing. "It took about three or four weeks to send samples [to CDC] because of the heavy impact of the hurricane—and the devastating impact on our communications and power supply," she said, adding, "There was no way our laboratory was ready to put samples together. How could we declare an epidemic if we didn't have that number [of confirmed cases] at that time?"
Further, many experts noted that physicians often misdiagnose cases of leptospirosis, which has symptoms similar to influenza or dengue , CNN reports.
Claudia Muñoz-Zanzi, an epidemiologist at the University of Minnesota School of Public Health, said, "We need to increase awareness about leptospirosis and about these outbreaks—and [about] the need to do more research in order to detect these outbreaks as early as possible. Without [public officials] declaring outbreaks, we cannot do that because we don't have the data we need to establish those recommendations" (Sutter/Sosa Pascual, CNN, 7/3; Birnbaum, The Hill, 7/3; Cook, Becker's Clinical Leadership & Infection Control, 7/5).
From outbreaks to hurricanes: How can hospitals prepare for disasters?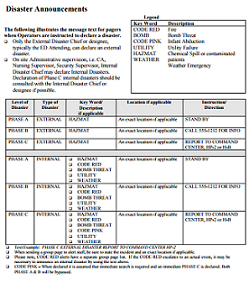 Hospitals must be prepared for myriad disasters that can stress health care systems to the breaking point and disrupt delivery of vital health care services.
Advisory Board has compiled step-by-step procedures for various threats your facility may encounter—though we hope you'll never need to use them.