Few U.S. adults ages 35 and older receive all of the preventive care recommended for them, according to recent study published in HealthAffairs.
For the study, researchers examined 2,186 responses to the federal Preventive Services Self-Administered Questionnaire submitted by adults 35 years and older from January 2015 to May 2015.
How to get the word out about cancer screenings
The researchers sought to determine whether survey respondents received 15 high-priority preventive services, which were identified by an expert National Steering Committee as being both evidence-based (for example, having an A, B, or D recommendation from the U.S. Preventive Services Task Force) and clinically important:
Aspirin use;
Alcohol use screening and counseling;
Blood pressure screenings;
Breast cancer screenings;
Cervical cancer screenings;
Cholesterol screenings;
Colon cancer screenings;
Depression screening and counseling;
Flu vaccinations;
Obesity screening and counseling;
Osteoporosis screenings;
Pneumococcal vaccinations;
Prostate-specific antigen tests;
Tobacco use screening and counseling; and
Zoster vaccinations for shingles.
Findings
The researchers found that only 8% of respondents received all recommended care. The researchers noted, however, that "more than 20%" of respondents received at least 75% of high-priority preventive care.
Meanwhile, the researchers found 5% of respondents did not receive any of the high-priority preventive care their providers recommended for them. According to the study, men were three times more likely than women to have not received any of the recommended preventive care. Men (21.9%) were also more likely than women (11.3%) to receive 25% or fewer of their recommended services.
Among all respondents, the researchers found blood pressure screening was the most commonly received preventive service, at 87.3%, while zoster vaccination was the least commonly received preventive service, at 37.9%. 
The researchers found commonly cited reasons for not receiving preventive care included:
A lack of insurance;
A lack of a usual health care source; and
Gaps in provider capacity, including wait times.
Comments
Amanda Borsky of the Agency for Healthcare Research and Quality in Rockville, Maryland, who led the study, said that significant improvements "will require system-level quality improvement efforts." Borsky added, "For the most people to benefit from preventive care, the health care system needs to work together to encourage innovation on how care is delivered, how we can use new technology, and how we can tailor improvements to meet the needs of local communities." Borsky said she believe health care systems and practices should measure rates of preventive services and design solutions to target their own needs.
Michael Munger, president of the American Academy of Family Physicians, said family physicians should ensure their patients are receiving the preventive health services recommended for them. "We recognize that it can be a challenge, but certainly it's something that we as a discipline are really trying to focus efforts on, make sure that patients are getting all of their clinically appropriate preventive services," Munger said, adding, "It really is crucial that … patients take an active role in their overall health because the more that they do, the healthier they'll be and they'll have a much more rewarding life" (Knowles, Becker's Hospital Review, 6/11; Lehman, Reuters, 6/11; Frellick, Medscape, 6/8; Borsky et al., HealthAffairs, June 2018).
How to get the word out about cancer screenings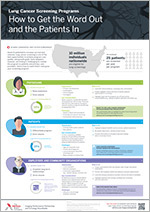 Given its potential to increase survival and volumes, lung cancer screening is one of the best opportunities to achieve program cost, quality, and growth goals.
Early adopters, however, are finding it challenging to market the program to patients and primary care providers. Download this infographic to learn how to reach them—and grow your screening program.