Credit: Loyola Medicine
FDA has approved the technology for use in clinical trials, and two hospitals—Loyola and the University of Chicago Medical Center—have separately tested a total of five lungs and transplanted three.
Costly technology
Tae Song, surgical director of the University of Chicago's lung transplant program, said that this technology will expand "our donor pool to lungs that are almost perfect but not quite, to lungs we would have turned down before, and that translates to shorter wait time[s] for patients."
However, some hospitals are hesitant to invest in the technology, which Schencker writes can be very expensive, requires specially trained staff, and is used fairly infrequently.
Ankit Bharat, the lung transplant director at Northwestern Memorial Hospital, said Northwestern has relatively short wait times for transplants and has never had a patients die waiting for a lung transplant. "For us, it didn't make sense to take a marginal lung we would not normally use," Bharat said. He added that the technology is "a significant advancement," but said that "just because it's there doesn't mean that every patient needs it."
Similarly, Christopher Wigfield, surgical director for lung transplantation at Advocate Christ Medical Center in Illinois, said that he considers the technology to be important, but that it could also create a major cost, as not all lungs connected to the technology will ultimately prove usable.
But Dilling said he is hopeful that the clinical trial will prove to be financially beneficial and that more hospitals will be able to use the technology (Schencker, Chicago Tribune, 5/18).
Here are 5 key tactics to attract and retain transplant patients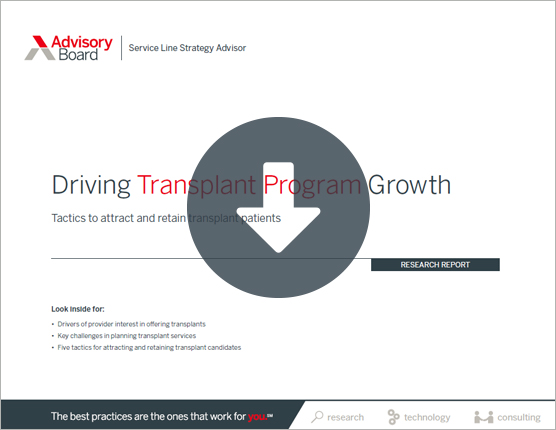 Download this briefing to learn how to expand the pipeline of potential transplant patients and engage them across the care pathway.