Midland Memorial Hospital's perioperative unit struggled with conveying accurate and complete information during patient handoffs, even after implementing a series of evidence-based strategies intended to improve communication. Here's how officials implemented a six-step program that finally worked.
Get the best practices for providing the known standard of care—every time
In a Harvard Business Review article, Margaret Luciano, assistant professor in the WP Carey School of Business at Tempe-based Arizona State University, and Bob Dent, senior VP, COO, and CNO at Midland Memorial Hospital, argue that "patient handoffs [are] the most frequent and riskiest procedure in the hospital." They cite a Joint Commission finding that about 80% of serious medical errors are due to poor communication during patient handoffs.
Beginning in 2012, Midland Memorial's perioperative unit sought to improve its patient handoffs in a fairly conventional way: by adopting "TeamSTEPPS, a commonly used set of evidence-based strategies and tools (e.g., paper checklists, mnemonic devices) for improving teamwork and communication among providers," Luciano and Dent write.
The effort helped—for a while. But the initial improvements soon fell away, they write, and "[b]y the end of 2013, nurses reported over 20% of patient handoffs still had missing information."
Midland Memorial's 6-step system
So in 2014, Midland Memorial decided to change tactics and began to "develop a more systematic, long-term approach for improving patient handoffs from the operating room (OR) to the post-anesthesia care unit (PACU)." The outcome was a six-stage process that has led to enduring improvements.
Stage 1: Preparing
As the program launched, Luciano spent a month meeting with management and staff to assess the quality of the perioperative unit's handoffs and to set appropriate goals. At the time, about 21% of handoffs had missing or inaccurate information—so they set a new goal of 10% of less.
Luciano also worked with staff to create a quality improvement plan, as well as a new checklist and instructions for a revised handoff protocol. The new checklist was printed on badge cards and bay posters to make it easily accessible.
Stage 2: Launching
Over the course of two weeks, care providers were trained on the new checklist and handoff protocol through a number of one-hour training sessions during weekly in-service meetings, as well as through individualized coaching.
After the two-week training period, only 4% of about 250 handoffs still had missing or inaccurate information.
Stage 3: Adjusting
After evaluating the initial progress of the revised protocol, Luciano and Dent followed up with providers. They found that, while providers agreed that the new protocol represented an improvement, adjustments needed to be made. For example, Luciano and Dent write, "anesthesia providers recommended removing details like patient age and weight from the checklist, arguing they were not needed at this stage."
After confirming the changes with unit managers, the protocol and checklists were updated, and a new information packet was sent to staff detailing both the changes and the reasons for the changes. The goal was to increase consensus regarding the program while also providing a sense of ownership of the protocol among providers, Luciano and Dent write.
Stage 4: Boosting
This stage focused on helping providers maintain the effectiveness of the program, Luciano and Dent write. It included two weeks of additional coaching, as providers said they found it relatively easy to memorize and present patient information but had a harder time maintaining the new protocol's behavioral changes.
During this stage, average handoff duration went from 4-5 minutes to 2-3 minutes, Luciano and Dent write. About 6% of the roughly 250 handoffs that occurred over two weeks had missing or inaccurate information. Many providers also said that they felt the new protocols were much easier than the earlier iteration.
Stage 5: Formalizing
This stage, which occurred over the course of a month, involved formally implementing the new protocols into hospital policy, making them required rather than recommended, Luciano and Dent write. Luciano created training materials and a protocol for managers to help them monitor handoff quality among their staff.
The broader implementation of the initiative produced results: Luciano and Dent found the average length of stay for patients following surgery decreased about 2%, which they noted could save the hospital about $1 million each year.
Stage 6: Refreshing
The final stage is ongoing, Luciano and Dent write, and involves promoting compliance with the new protocol by providing training to new staff members, as well as yearly refresher training for current staff.
Luciano and Dent note that the perioperative unit has maintained its success with the new protocol: managers have reported that fewer than 10% of handoffs contain missing or inaccurate information, which means that each nurse in the perioperative unit receives an average of only one deficient handoff each week, the write (Luciano/Dent, Harvard Business Review, 4/30; Knowles, Becker's Clinical Leadership & Infection Control, 4/30).
Get the best practices for providing the known standard of care—every time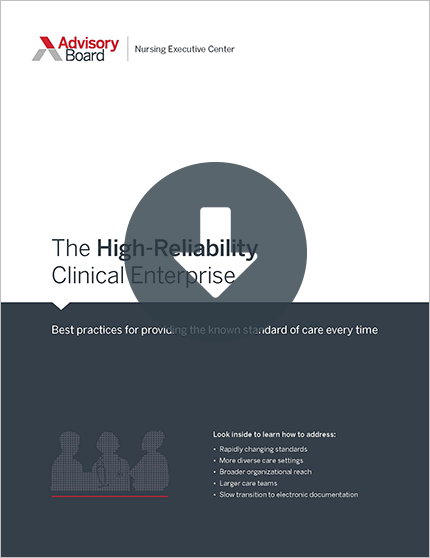 Find out how clinical leaders can address 5 complicating factors in today's health care environment to ensure that every caregiver delivers the known standard of care, every time, in every setting.