By Lindsay Conway, Managing Director
A few months ago, I wrote about my about my colleague's frustrating cancer care experience, and it's clear that her story struck a chord. It not hard to see why: Cancer care is already a stressful experience, and that stress is often compounded by provider communication that is unresponsive, unclear, or both. 
Many organizations have made patient navigation a priority—so why are so many navigator programs missing the mark, and how can they do better? Every organization has unique navigation needs, but to help you get started, we've identified six guiding questions that program leaders need to ask, along with strategies to respond to each one.
Question 1: Do you have clearly defined goals for your navigation program? 
The best navigation programs understand where patient confusion comes from and provide clear, actionable steps from the very beginning of the process. This requires opening a dialogue, soliciting feedback from patients and physicians to understand which services they value most, and uncovering the biggest opportunities to improve care.
Question 2: Are your navigators' responsibilities aligned with your program's goals?
Successful navigation requires well-trained navigators with clearly defined roles and responsibilities. Specify two to three goals for the navigation program at your organization and redefine the navigator role so it directly supports those objectives.
Question 3: Does everyone in your organization understand your program's benefits?
From executives to frontline staff, complete organizational buy-in is essential to the success of any patient navigation program. To make the business case, perform a simple calculation to determine how much time and money a navigator saves nurses and physicians by taking over non-treatment-related tasks.
Question 4: Are navigators' responsibilities clearly delineated and communicated to other members of the care team?
While navigators don't provide clinical care, they must be well-integrated into the broader care team to be effective. That means you'll need to identify how responsibilities are allocated across the team and make changes to eliminate unnecessary duplication, clarify responsibility, and improve top-of-license practice.
Question 5: Do you track the impact of navigation on your organization's revenues, costs, and quality of care?
Aside from the obvious benefits to patients, navigation can also benefit your bottom line. Highlight the value of your program by tracking revenues from patients attracted to and retained by the cancer service line due to navigation.
Question 6: Do you regularly evaluate the navigator role to ensure top-of-license practice?
A good navigation program is always a work-in-progress. Once you've identified goals, delineated responsibilities, and integrated navigators into the care team, perform a time study to assess how navigators spend their time and use those results to re-scope the role.
Do you know if you're making the most of patient navigation?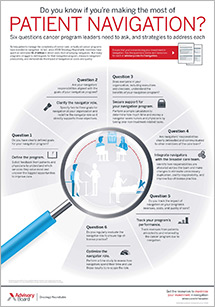 Nearly all cancer programs have invested in patient navigation—but many struggle to maximize program impact. Download our infographic to learn six questions that you need to ask about your navigation program, along with strategies to address each.
Download the Infographic