Academic medical centers (AMCs) may face an uncertain future amid the health care industry's changes, but Banner Health's recent overhaul into a consumer-focused system sheds light on how AMCs can rise to the challenge, Philip Betbeze reports for HealthLeaders Media.
Get our cheat sheet for hospital partnership and affiliation models
The challenge for AMCs
Despite their profitable past, AMCs have faced financial struggles in recent years, Betbeze reports. According Steve Narang, CEO of Banner University Medical Center Phoenix, the issues stem from the fact that the conventional AMC model is complex, hard to change, monolithic, and costly.
One underlying issue is that the traditional AMC is built on a department model that isn't necessarily an effective means for connecting patients with the individualized services they need, Narang said. According to Narang, the department model is traditionally based on four pillars—surgery, medicine, education, and research—but "research and education tend to dominate."

Narang pointed out that when patients look for care, they often don't know what type of care they need. Rather, they are frequently referred to an AMC because they have a particular health condition that the AMC's highly specialized provider team is equipped to treat. Therefore, Betbeze writes, the primary challenge is making AMCs appeal to patients regardless of acuity level.
Spotlight on Banner
To meet changing demands, Narang said Banner Health redesigned and restructured its AMC business model. "Banner Good Samaritan was always a teaching hospital," Narang said, "but it was rebirthed as Banner University Medical Center so we could start from the beginning and engage physicians in helping in its redesign."
The key to the overhaul was to replace the traditional department model with an "Institute Model" that's comprised of "centers" established around specific conditions, Betbeze reports. As Narang put it, "If the customer has a condition, let's develop a center for it."
Banner more than a year ago began assembling a team of physician leaders, engineers, and data analysts to develop 13 specialized care institutes, focused on specific conditions, such as heart health, lung health, and women's health care. Each institute includes several sub-specialty centers.
According to Narang, the institutes are staffed by experts who deliver coordinated care focused on individual needs. The aim is to enable a patient and his or her family to obtain all the care they require in one location. To that end, each patient is paired with a single point of a contact, a nurse navigator, who helps establish the patient's care journey.
The physician leader's role
Narang stressed the importance of physician engagement in the overhaul. "The most important principle we've used is that it's redesign around the customer, but has to be physician-led," he said.
For instance, at the Banner—University Medicine Neuroscience Institute, physicians were highly involved in developing business strategy, Narang said. Physicians were tasked with coming up with "the top products" they could offer at a lower cost and better than their competitors. The physicians thought of epilepsy, stroke, sleep medicine, and headache.
According to Narang, the other institutes are also responsible for coming up with five specialty areas to focus on for the next two years. Their decision is informed by data from Banner's insurance network.
But the challenge of adapting to patient needs isn't limited to AMCs, Narang said. "We have to make health care more affordable," he explained, adding, "The institute model is just one substructure that takes the physicians under one roof and collapses the artificial, expensive silos" (Betbeze, HealthLeaders Media, 8/10)
How AMCs should secure market share as academic health systems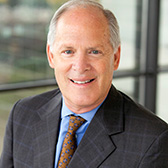 Dick Wright, Senior Advisor, Advisory Board Consulting
As competitors join forces, they form large networks that make it difficult for the traditional AMC to protect its market share and patient population.
To avoid the fate of this cautionary tale, AMCs must seek out a new growth strategy, pursuing different relationships and expanded services to compete for payer and consumer attention in today's environment. They'll need to transform into a new form of AMC: the academic health system. Read my blog post to learn more.