CVS Health on Tuesday announced that it is expanding a program to help consumers manage chronic diseases, such as asthma, hypertension, and high blood pressure, Sharon Terlep writes for the Wall Street Journal.
Get our top 10 insights to develop your retail clinic strategy
Program details
According to Terlep, the pilot program, launched earlier this year, helps patients manage diabetes by monitoring their glucose levels, medication adherence, and lifestyle habits. Participants receive individual support and coaching over the phone and in-person at CVS pharmacies and MinuteClinics—generally staffed by PAs and NPs—at no out-of-pocket cost. Participants are also provided a glucometer that monitors their glucose levels and electronically transmits the data back to CVS, where staff can spot potential complications and intervene if necessary.
In Tuesday's announcement, CVS said it would roll out similar initiatives aimed at helping consumers manage other chronic diseases, including asthma, hypertension, high cholesterol, and depression. To participant, consumers must be covered by a health insurer that has contracted with CVS' pharmacy-benefit business.

CVS said the expanded program aims to curb costs for patients and insurers. "We tell our (insurance) clients that these members have to be in one of our channels to get the value of these programs," Jonathan Roberts, CVS' COO, said. "There will be a share shift that comes as clients adopt these programs, and we demonstrate our ability to lower overall health-care cost."
CVS aims to win pharmacy-benefits business
While drugstore chains have long sought to help consumers manage chronic illness, CVS' latest initiative is distinct in its breadth—and in its focus on attracting insurers back to the company's pharmacy-benefit management (PBM) services, Terlep reports.
Terlep explains that as CVS and other drugstore chains, such as Walgreens, have faced declines in retail sales, the organizations have focused on bolstering their respective prescription-drug businesses. According to Terlep, CVS' increased focus on pharmacy services led to overall increases in profit and revenue: The company said of its $45.7 billion in second quarter revenue this year, $32.3 billion stemmed from pharmacy services, including PBM services for insurers.

Reaction
Mark Fendrick, a physician and professor at the University of Michigan, praised CVS' expanded program, saying that any effort to combat chronic disease is welcome given that treatment of such illnesses comprises about 70 percent of total spending on health care each year in the United States.
And CVS' program makes sense, Fendrick said, given that medication adherence is a key difficultly in managing chronic disease. "There is a lot upside given the low adherence, so it comes as no surprise to see any large pharmacy to get more actively involved in providing care," he said.
But some health care providers expressed concern about the program, Terlep reports. According to Terlep, some health care providers said they worried that providing medical care outside of an individual's physician team could create gaps in patients' records. However, CVS said it shares patient data with a patients' providers who use the same medical records network, provided the patient has given consent (Terlep, Wall Street Journal, 8/8).
Get our top 10 insights to develop your retail clinic strategy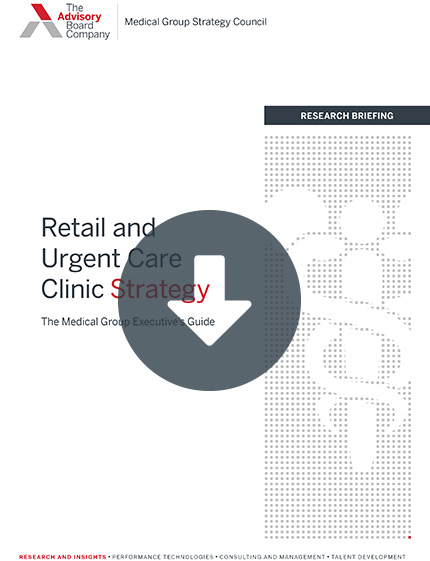 Convenient care is becoming an increasingly important part of the medical group's facility footprint and playing a greater role in its strategy to expand access.
Read 10 insights for medical group executives considering building convenient care facilities.