A new study suggests that diabetes-related mortality—currently listed as the seventh-leading cause of death by CDC—is far underreported and may actually be the third-leading cause of death in the United States.
Diabetes in the US
According to CDC, the number of people with diabetes has more than tripled in the last couple of decades, reaching 30 million today.
Researchers have long agreed that diabetes is an underreported cause of death. According to Vox's Julia Belluz, that's because people with diabetes often have other health conditions, or "comorbidities"—conditions like heart disease, high blood pressure, obesity, and cancer.
Andrew Stokes—assistant professor of global health at Boston University's School of Public Health and co-author of the study—said when diabetes and heart disease are both listed on a death certificate, the decision to select diabetes as the leading cause is "highly variable," and "often times" the primary cause is attributed to heart disease instead. "So to some extent, deaths that should be attributed to diabetes go to other causes," he said.
Study estimates how often diabetes is overlooked
For the study, Stokes and co-author Samuel Preston of the University of Pennsylvania used 1997-2009 data from the National Health Interview Study and 1999-2010 data from the National Health and Nutrition Examination Survey to estimate how frequently diabetes was the primary but overlooked cause of death. To determine the estimate, Stokes and Preston calculated the overall prevalence of diabetes and the increased risk of death of those with diabetes during five years of follow-up.
According to the researchers, individuals who had diabetes had about 90 percent higher death rates than those who did not.
Overall, Stokes and Preston estimated that about 12 percent of U.S. deaths are actually caused by diabetes—roughly three times more than the 3.5 percent death certificates currently suggest. And the diabetes death rate was even higher among obese individuals, at 19 percent, according to the study.
The estimates would put diabetes behind heart disease and cancer—which account for about 23 percent and 22 percent of U.S. deaths, respectively—as the third-leading cause of death. Currently, CDC data show chronic lower respiratory disease is the third-leading cause, accounting for about 5 percent of deaths.
"Diabetes may represent a more prominent factor in American mortality than is commonly appreciated, reinforcing the need for robust population-level interventions aimed at diabetes prevention and care," the researchers said (Punke, Becker's Infection Control & Clinical Quality, 1/26; Belluz, Vox, 1/25; Stokes/Preston, PLOS One, 1/25).
How six hospitals launched diabetes management programs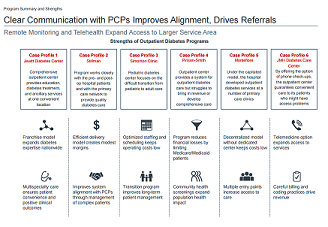 As obesity and diabetes rates rise across the country, many hospitals have developed outpatient diabetes centers. The most progressive hospitals have combined diabetes treatment, education, wound care, ophthalmology, and other services into comprehensive programs.
In this briefing, we profiled six leading institutions have successfully integrated outpatient diabetes services into their primary care networks. Read it now to learn how an effectively implemented program can benefit PCPs who may otherwise be unable to provide quality diabetes care to their patients and help your organization set itself apart from the competition.