Editor's note: This popular story from the Daily Briefing's archives was republished on August 7, 2019.
Many clinicians have made errors that harm patients and leave lastingscars that affect their personal and professional lives—but few feel theyreceive ample support from their organizations, Sarah Kliff reports for Vox.
Medical errors and beyond: Help your clinicians consistently follow care standards
Medical errors lead to more deaths every year than drug overdoses,terrorist attacks, and plane crashes combined, Kliff writes. One study published in JAMA Surgery found that about 50 percentof clinicians are involved in a "serious adverse event" each year.
"Every practicing physician has either made an error thatharmed a patient or [has] certainly been involved in the care of a patient whohas been harmed," says Albert Wu, director of the Center for HealthServices and Outcome Research at JohnsHopkins.
Emotionaltoll
Although much attention is paid to the damage done to patients,what's far less discussed is the emotional toll that the errors can take onclinicians—the "second victims" of medical mistakes, as Wu callsthem.
A 2009 study found that about 66 percent ofclinicians said they experienced "difficulty concentrating" and"extreme sadness" after harming a patient, more than 50 percentexperienced depression, and about 33 percent avoided caring for similarpatients. Some clinicians also have considered or committed suicide, Kliffreports.
Many clinicians who make errors then must continue seeingpatients, Kliff says. "If they don't regain confidence in their skills, other patientscould suffer," she writes.
Yet most of the time, clinicians don't talk about mistakes withtheir coworkers, and they feel isolated after an error.
"I remember there were people who just wouldn't engage. Theywouldn't look at me," says Rick Boyte, a Mississippi pediatrician who hada young patient die after a medical error. "I felt so amazingly terrible."
Jarring statistics prompt renewed concerns about doctors' mental health
Most clinicians don't think their colleagues experience emotionaldistress after an error, which increases their sense of isolation, Kliffreports.
Many clinicians say they do not receive support from theirorganizations, either. In a 2007 survey conducted by the University of Missouri, 175 providers said a patient safety eventin the past year caused them anxiety, depression, or other personal issues—and68 percent of those respondents said they did not receive any institutionalsupport.
Hospitalstake action
The survey prompted Sue Scott, a patient safety expert at theUniversity of Missouri, to launch a hotline that university providers couldcall 24/7 for peer support after an adverse event.
The hotline does not require callers to provide identifyinginformation and doesn't have a relationship with the hospital's legaldepartment, Kliff reports.
Missouri's hotline was the first of its kind in the United States,and perhaps the world, Kliff says. About a dozen hospitals have launched 24/7hotlines since.
Challenges
The hotlines can be controversial. "There is real resistancein places," Wu says. "Some of that comes from patient advocates orinjured patients ... where they view themselves as having being victimized bythe health care system. So the idea that there should be service provided tothe perpetrator gets met with some pushback."
Hospital legal departments also can be concerned that the hotlinescould affect clinicians' liability in malpractice lawsuits if information endsup being subpoenaed. Rick van Pelt, who helped set up Brigham and Women's Hospital's hotline, said the organization had"to be really careful making sure [the hotline] was about well-being, andnot about getting information that could ultimately be subpoenaed."
In addition, it can be difficult to measure whether the hotlinesare working, given their emphasis on anonymity. And encouraging clinicians tospeak openly about their mistakes represents a culture shift for someproviders, Kliff writes.
Steve Pratt, who helped establish Massachusetts General Hospital'sprovider support program, says that concern about patients' well-being, more sothan the trauma that providers experience, could ultimately lead organizationsto provide more support.
"Theidea that another patient could be harmed—that the error would hurt someoneelse receiving care —ultimately will" be what drives change, he says(Kliff, Vox, 3/15).
Medical errors and beyond: Help your clinicians consistently follow care standards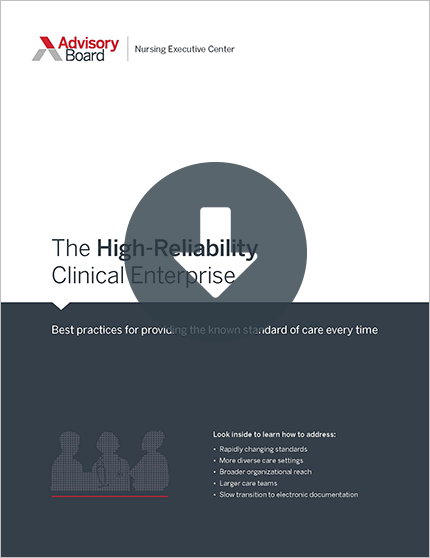 While clinicians' efforts to improve care quality and safety in recent decades have led to significant gains in quality, these improvements are beginning to stall. To resume making gains, clinical leaders need to broaden their ambition to deliver highly reliable care.
This study equips clinician leaders with actionable guidance on achieving high reliability across their health systems despite the many complications posed by today's environment.