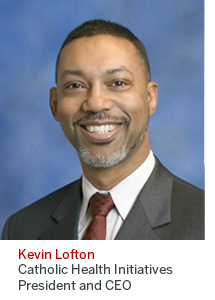 This interview with Kevin E. Lofton, CEO of Catholic Health Initiatives, was conducted by Eric Larsen, managing partner; Chas Roades, chief research officer; and Brad Rose, managing principal, and was condensed by Amanda Wolfe, senior director.
Question: You're one of my favorite people in health care for a lot of reasons, not least of which is you've got this very eclectic background. I can't think of another executive who's at the apex of the industry who was also a cab driver in New York City and a shipment loader for UPS. I'm curious, Kevin, as you reflect on your career and the different peregrinations you went to get to here, what were one or two or three of your 'wow' moments?
Kevin Lofton: When you drive around New York City 10 hours a day, you learn about life. I was 19 years old then, and I learned what life's all about.
Similarly, if you run an emergency department with 137,000 visitors a year— as I did in Jacksonville, Fla., which in the early 1980s had the seventh-busiest ED in the country—whatever you can name and think about eventually is going to come through your door.
Those two experiences gave me the broader perspective around what really happens in life.
One of the things I love about CHI is our focus on improving the health of communities at the base of where life begins, at the base of the interaction on everyday types of activities both inside and outside the care delivery. We have a great system across the country, great leaders and great caregivers, but one of the things that helps differentiate CHI is our focus on the community.
Q: How did your early experiences at CHI shape your philosophy today, particularly around that focus on community?
Lofton: One of the women religious who helped found CHI would use this analogy: a child with pneumonia comes to us for care, and we treat the child. The child gets better, but then he goes back to a home that has no electricity or no heat. Our responsibility extends to ensuring a safe, healthy environment in our communities outside the four walls of our hospitals. The idea of larger community was what CHI was founded on, and that's what we still try to live on.
My role as CEO is to make sure that this focus remains a part of the fabric of our organization going forward—that we continue to do what we can to improve the health of the communities.
We operate a Mission and Ministry Fund, which is our internal foundation, and to which any of our affiliates can write grant applications. Here's one excellent example of a "non-traditional" service by a hospital system for its great community: Our critical access hospital in Baudette, Minnesota, wrote a grant describing how its remote location near the border with Canada would require local residents to drive 30, 35 miles in the dead of the winter to see first-run films at the closest movie theater. On icy roads. People would get into accidents, go to the hospital and some would die.
We awarded the grant, and CHI built a movie theater for the town. So the people who live in that small town didn't have to make a long drive on treacherous roads in the middle of winter to go see a first-run move. It was an unconventional approach to improving the overall health of the community in a proactive way.
It's a great example of the kind of creativity that we can have at CHI where we're providing great care, but at the same time we are addressing the social and environmental aspects that so directly affect peoples' lives.
Q: As you're running a large, multistate health system, with all of the financial pressures and all of the economic realities and operational challenges and so forth, how do you maintain a culture where people care about movie theaters and the social aspects?
Lofton: That's a great question. I think some people chose to work for us exactly for our focus on community. They know the heritage, and they say, 'Well, I want to be a part of that.'
I'll give you an example of how others fit in. About six years ago, we consolidated all of CHI's information-technology operations. A lot of the people we hired had never worked in health care before, let alone for a Catholic or faith-based health system. These were just strictly tech people.
When we recruit a different workforce, part of what we do is talk about CHI's legacy and heritage. We boil down our four core values and our four strategies into single words, which makes it helpful for people to understand. Those are baked in; from the executive level, we talk about how it's not just what you do, but how you do it.
Here's another example. We instituted a violence prevention initiative nationwide. We thought that if we're trying to reduce and eliminate gang violence and domestic violence and child abuse, we should step back ourselves and look at our language. As a result, we eliminated violent terms from our lingo at CHI.
So you're doing a presentation and you've got your Power Point up there and then you're going to say, 'And the next bullet point.' Right? We don't say bullet point. So we say: 'dot point.' You never hear somebody at CHI say, 'We're going to kill the competition.'
At the end of the day, it is part of that culture.
Getting back to tradition and making hard decisions
Q: To shift gears a little bit, what operational challenges are you facing right now?
Lofton: We're at a point of needing to get back to our tradition. I've been here 17 years now, and we've not made budget only two times. Once was in 1999 and once was last year. We obviously have to turn that back around.
Only about two or three years ago, CHI was still a collection of hospitals, and now we've made the transformation to an operating company. Everybody talks about growth, but over a 17-year period, we actually have divested $2 billion in revenue. We're in six fewer states than we were once in. At the same time, we've doubled our annual revenue in the last five years, to more than $15 billion. So we've been focusing on growing from disparate hospitals to larger regional health systems.
In six states, either wholly owned or in partnership, we're over $2 billion in revenue. In four of those states, we're the largest health system.
Recently, we've divested facilities in New Jersey, and in Pennsylvania, where we had single hospital operations in Reading. We asked, "Outside of our critical access hospitals, what impact can we really make with a single hospital?"
Q: Divesting is obviously a hard decision. It's also a big moment for the community when CHI decides, gosh, this is a place where we're no longer going to invest.
Lofton: I'll walk through another example. Just imagine Albuquerque, New Mexico, with a large Hispanic population and over 50% Catholic population. We had the last Catholic health system there, and we made the tough decision that we were going to sell to Ardent Health Services. What it came down to was Albuquerque, with 600,000 people, could not support four different health systems: the University of New Mexico, Lovelace, Presbyterian, and us.
We couldn't acquire Lovelace. They couldn't acquire us. So both sold to Ardent.
When the Sisters came to Albuquerque, they didn't come there to open up a hospital. They came to serve the community. We didn't take the proceeds of the sale back to Denver and spend it somewhere else. We set up a foundation, which now operates as CHI. St. Joseph's Children's in Albuquerque. That money will only be used there. We do 600 home visits a month with low-income families that have young children, many developmentally challenged. The whole notion of the program is that if we can get children into social services, get them ready for school, get them good nutrition, and those kinds of things, we can impact their chance of success.
Hardwiring a focus on community
Q: Kevin, you've guided CHI in some really interesting directions. You mentioned the United Against Violence example. How else does social justice inflect your operations?
Lofton: When I became CEO, one of the Sisters was still a board chair, though about to step down. She said to me, "Kevin, if all CHI is is big, you're not doing your job."
In our investment activities, we have what we call socially responsible investing. We have screens in place so we don't invest our money in nuclear, bioterrorism, armaments, things or products like that.
We have a gray zone, though, where we segregate a pot of money and the returns are never plowed back into anything that we do. We use the equity we have in these organizations to promote the common good. For instance, we'll press them on things like the sale of violent video games, or advocate for more engagement and education in efforts to stop human trafficking.
If you surveyed most not-for-profit health systems on their charity care guidelines, I'm going to venture to say that less than half are above 100%, maybe 120%, of the poverty guidelines. Well, CHI's base is 200%, and we have some that go to 400%. We use the Department of Housing and Urban Development guidelines, which are specific to each community, so we go up to 200% for full charity care and up to 400% for care on a sliding-fee scale.
Our view is we don't want to have to be chasing people down for money they can't pay. And I'd rather have my charity care provisions going up as opposed to my bad debt going up.
Q: Does that social justice ethos and the Catholic mission you're part of affect your partnership decisions?
Lofton: We have a formal discernment process where the mission leader takes charge when it gets to tough decisions. Our mission group writes white papers examining these decisions in great detail.
I'll give you an example. A lot of the Sisters didn't like Walmart because of their wages and some of their employee benefits. But we're in Arkansas—we have CHI St. Vincent Health in Little Rock. And so we were considering a partnership with Walmart in Little Rock. First we had to consider whether Walmart was a partner we would feel comfortable with from a value standpoint. Our mission group wrote a white paper. We analyzed that and at the end of the day, we felt that a partnership with the organization would benefit the community.
When we were just talking to Conifer Health Solutions as a client of their revenue-cycle management services, the one thing that we made clear was where we draw lines with bill collection; we draw a line at taking people's homes—there will be no liens requiring the sale or foreclosure of a primary residence. And we make sure that everyone involved knows CHI's core values and treats individuals with respect and human dignity. From that standpoint, we feel that we're actually helping demonstrate that business can be done within our construct of culture.
Q: That's so interesting. So much of what you've been talking about across this whole conversation goes to the point of the impact that you can have on, not just health care issues, but social issues and community issues the bigger you are. You have a lot more levers to pull than a small system.
Lofton: Absolutely. As I mentioned earlier, our Mission and Ministry Fund has provided funding for hundreds of programs across this country—and throughout the world—to improve the health of the communities we serve. The grants can also go to one of the congregations that has given their hospitals to us to manage.
Our Direct Community Investment Program also gives out a lot of zero to 1% interest rate loans; between the Mission and Ministry Fund and the Direct Community Investment Program, CHI has invested more than $100,000,000 into communities.
One of the things I'm most proud of in my professional career here is this: CHI is truly living its mission by creating healthier communities in each and every one of our markets. 
Get more lessons from the C-suite
See the Daily Briefing's archive of must-read interviews with other top hospital and health system leaders, including: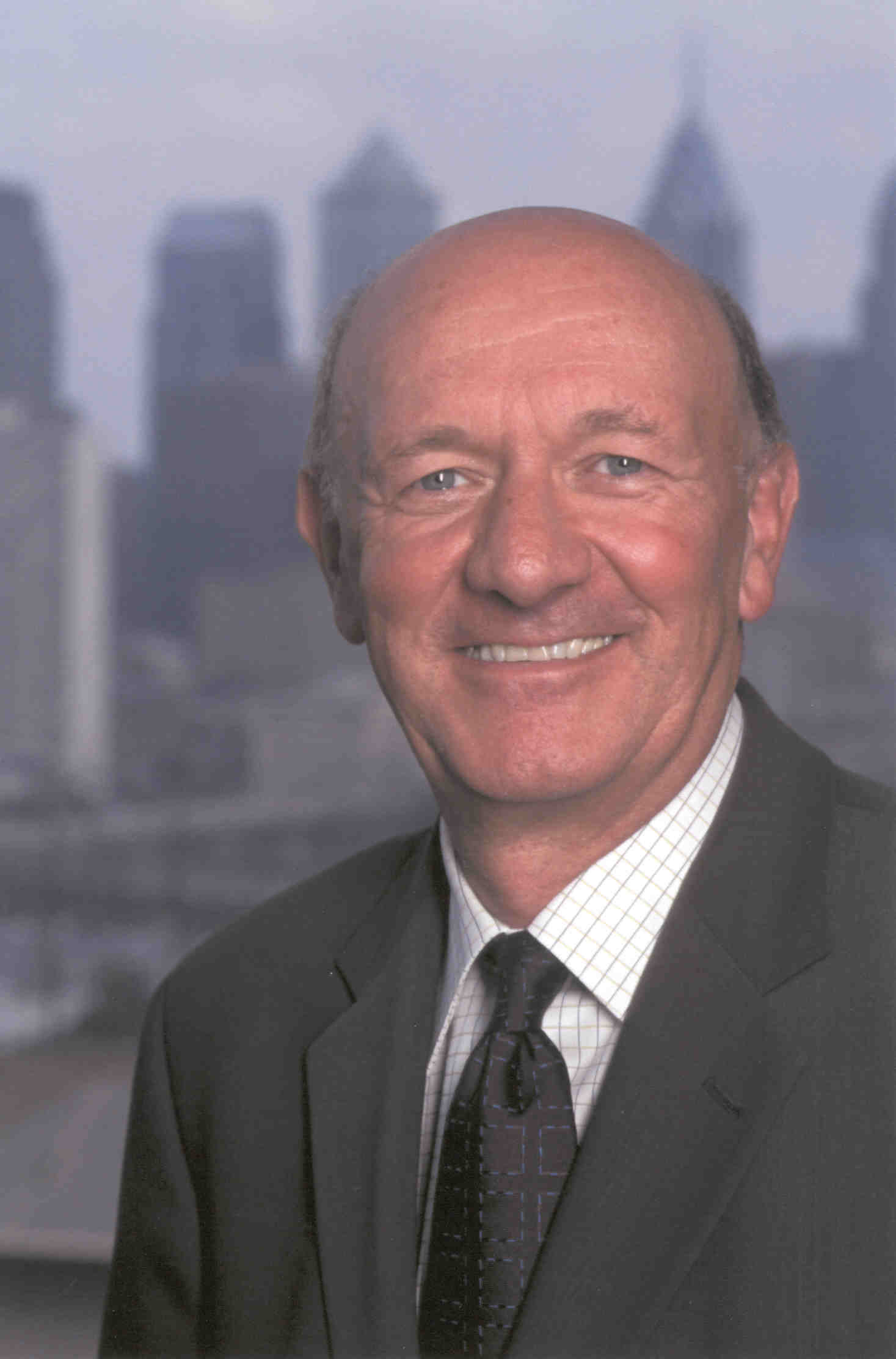 Why this CEO wants to know your favorite baseball team—and how it's shaping strategy

Ralph Muller discusses his path to becoming CEO of Penn Medicine, what factors he considers when weighing consolidation, and investing in the future. Read our interview with Ralph.
CEO: Retail medicine isn't a direct threat to hospitals—but dramatic primary care changes are coming

Steven Lipstein, CEO of BJC HealthCare, weighs in on the right steps to build a system, why he's opting for collaboration over acquisition, and how hospitals should proceed in a world of retail medicine. Read our interview with Steven.