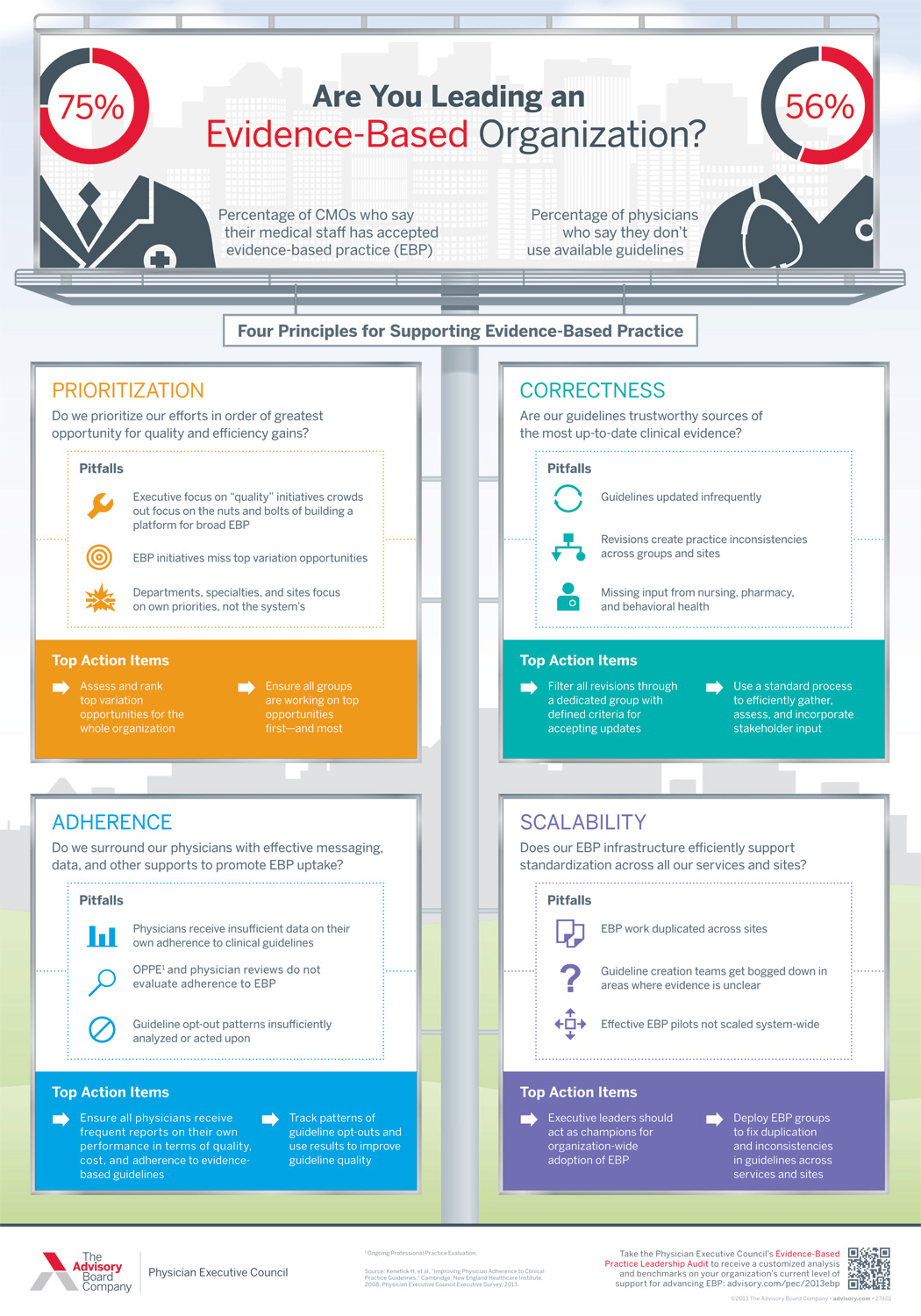 Infographic: Four principles for supporting evidence-based practice
Want to share these principles with your coworkers?
Send them this graphic now.
Common nursing interventions are often based on tradition rather than on evidence-based practices, according to an article in the journal Critical Care Nurse that urges nurses to incorporate the latest research into their practices.
Existing research suggests that less than 15% of clinicians are believed to consistently use evidence-based practice guidelines. Moreover, reviews suggest that it can take up to twenty years for research to make its way into routine clinical practice.
The Critical Care Nurse article examined four care interventions that are commonly carried out by nurses:
Turning critically ill patients;
Promoting sleep in the ICU;
Feeding tube placement in infants and children; and
Preventing venothromboembolism-related complications.
For each practice, researchers outlined the evidence-based recommendations and described their implications for patient care:
Nurses should reposition patients every two hours to prevent poor outcomes;
Nurses should question practices that encourage bathing patients during normal sleep times, consider clustering care, limit unnecessary conversations at the bedside, and manage alarms;
Nurses should use more than one method to determine insertion length for feeding tubes and  placement should be verified radiographically if tube placement is uncertain; and
Nurses should assess all patients at admission to the ICU for risk factors and anticipate orders for prophylaxis based on the risk assessment.
Mayo Clinic study: 146 common practices we should reconsider
"It is important for nurses to continually evaluate their practice to ensure that current best evidence is guiding practice interventions, rather than providing care based on tradition alone," says lead author Mary Beth Flynn Makic, a researcher at University of Colorado Hospital and an associate professor at the University of Colorado, College of Nursing in Aurora.
She adds, "As research and new evidence evolve, nurses are often the frontline catalysts for translating them into practice" (Infection Control Today, 4/2; Flynn Makic et al., Critical Care Nurse, April 2014).
Toward Evidence-Based Nursing
Introducing evidence-based practices at the bedside is not easily accomplished. To succeed, efforts must often be accompanied by a cultural shift that encompasses both leadership support and grassroots enthusiasm.